Tools & Materials
Ultimate Miter-Saw Stand
You designed it and we built it, with the help of some great accessories.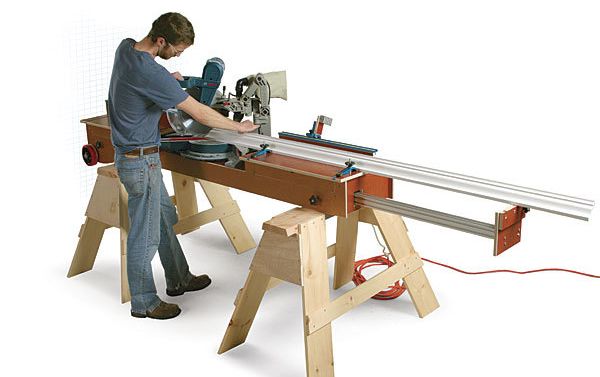 Synopsis: While it's easy enough these days to buy a factory-made miter-saw stand, there's one really strong reason not to: You can customize the stand if you build it yourself. After collecting advice from FHB readers, senior editor Justin Fink built the ultimate miter-saw stand, complete with a series of features that can be adjusted based on your own needs and preferences. Among the details incorporated are sturdy outfeed support, compatibility with jigs, hold-downs, drawers, a power strip, and stops.
These days, there's no shortage of factory-made miter-saw stands on the market. At my last count, there were more than a dozen different models, from simple table setups to complex folding rigs with wheels, priced from $70 to $550. With all these options, why would anybody decide to build one instead? One word: custom.
A shop-built miter-saw stand may not be as lightweight, compact, or collapsible as a store-bought version, but why should the two-minute trip from the truck to the job site outweigh the eight hours of using the stand once it's set up? Just like a custom built-in project, a saw stand can benefit from a thoughtful design that begins with a single question: "What do I want in a stand?"
Start with a set of goals
To start this project, we asked for your help. Baited with the chance to win a Bosch 12-in. dual-bevel axial-glide miter saw (GCM12SD, $800), we launched a massive online campaign of blogs, gallery entries, and newsletters to collect feedback. We asked what our readers liked and disliked about their current stands, what they wanted in an ultimate setup, and what they'd incorporated into their own designs. We found that the likes and dislikes, budgets, and criteria for ultimate varied widely from person to person, but there were a few trends. Many people complained that their current stand fell short in sturdy outfeed support, compatibility with jigs, hold-downs, and stops. Some also complained about the lack of working area on the stand, especially for activities commonly done in combination with many cutting tasks. Armed with a list of criteria and some excellent design inspiration from other people's creations, we started designing.
There will always be trade-offs
Throughout the design process for this saw stand, we were faced with dozens of difficult choices. Should the stand have folding legs and wheels, or is a pair of sawhorses a better solution? Which type of plywood offers the best combination of cost, weight, strength, and durability? Should we design this hold down or material stop, or just buy an aftermarket version and integrate it into our design?
Ultimate is a good objective, but at the end of the day, there will always be trade-offs. It's nice to have extra long outfeed support when cutting 16-ft. stock, but if that's a rare job for you, the extra weight, cost, and hassle may be unnecessary.
After building several versions, we snuck up on a design that suited our needs, answered many of the most common reader complaints and wishes, but had room for customization to suit users with different preferences and work habits.
To help with your stand, we highlighted several areas the ones we most heavily debated during design with suggestions on potential changes to suit your needs.
Combine these ideas with the downloadable SketchUp plans available at FineHomebuilding.com/ extras, and you'll be well on your way to building your own custom miter-saw stand.
For more photos and details on ultimate miter-saw stand, click the View PDF button below. 
View PDF