Patrick's Barn: Siding for the Holidays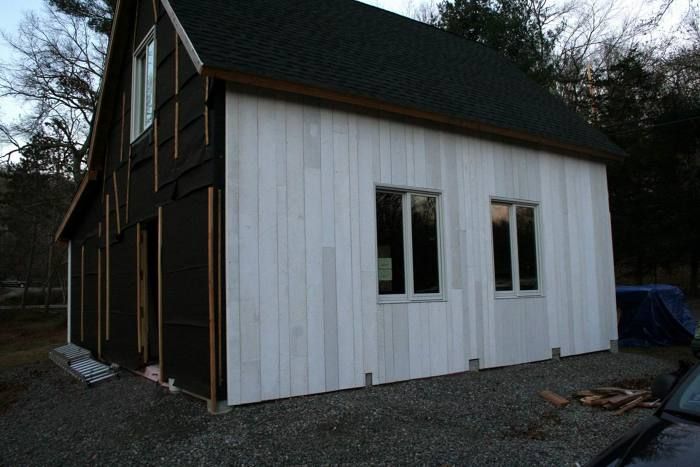 It's been a while since I last posted, but progress on the barn continues. Over the holidays, I used some vacation days to make a big push on the siding. We were able to finish two elevations and a big chunk of another. This might not sound like much, but keep in mind we also had to square and mill the siding edges for a shiplap joint and prime all sides of the boards before they could be nailed to the building.
My guess is that we milled and primed about half of the siding before we started installing it, and milled the second half between Christmas and New Year's. The weather was unseasonably warm for the end of December, which made the process easier and more enjoyable. Even with the unusually warm temperatures, I had to use a shellac-based primer for treating field cuts. Its alcohol-based formula means you can use it in temperatures down to 0 degrees F.
I think the installed siding looks great, but unfortunately, we don't have enough to finish the whole building, so we're going to have to switch to something else for the back side and the front gable. Cedar shingles would be traditional and look great, but the expense and labor to install them isn't as appealing.
I'm a little scared to say on FineHomebuilding.com that I'm considering vinyl, as I know many of you find it detestable; however, I've installed acres of the stuff, and I think it has a lot going for it. It has a built-in rainscreen, it goes up fast, and it's inexpensive and prefinished, all of which sounds very appealing to me at this point.
What do you guys think?
You can read more about my barn here.