Tools & Materials
Tool Test: Sidewinder Circular Saws
The best saws combine speed, visibility, and a guard that opens in any cutting position.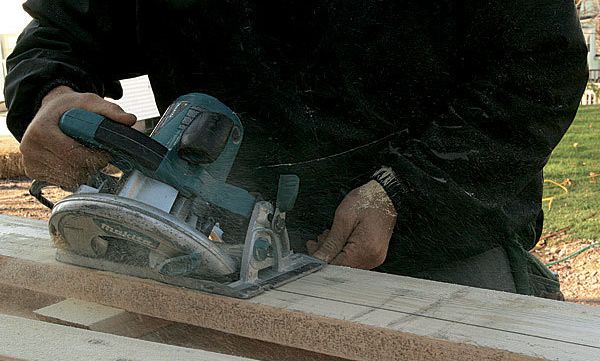 Synopsis: A circular saw is probably the most common tool on a job site. In this article, tool tester and industry writer Michael Springer shares what he learned after putting 14 sidewinder saws through several tests to determine relative power, to determine cutline accuracy, and to assess the retraction of blade guards in various cutting scenarios. To eliminate differences in stock blades, he outfitted each saw with a new Irwin Marathon blade. His top performer was the DeWalt DW369CSK, and the best-value model was the Ridgid R32021. In addition to detailed profiles of seven of the saws, Springer offers a list of features shared by the top saws and how compromises on these features can affect performance: cutline indicators, blade visibility, bevel adjustments, baseplate, guard retraction, saw-to-baseplate connection, and depth adjustments.
The circular saw is arguably the most common power tool on a builder's or remodeler's site, and it probably endures more trigger time than most other tools. For a lightweight, well-balanced saw that's easy to use with one hand and that offers the best cutting accuracy, nothing beats a sidewinder saw. This statement isn't intended to fuel the East vs. West rivalry between sidewinders (perpendicular-motor, direct-drive circular saws) and worm drives (inline-motor, gear-driven circular saws); rather, it's based merely on my experience over the years. I have found sidewinders more manageable and better suited to my style of cutting.
I tested 14 saws for this review, opting to include the top-of-the-line model(s) from each brand. As a user who appreciates moving fast with a saw, I ordered versions with blade brakes when available. The saws are standard 7 1⁄4-in.-blade framing saws, with the exception of a lone 6 1⁄2-in. model designed to compete in the same market.
Street prices for these tools vary from about $70 to more than $170, but for a tool that will be as close a companion as a circular saw, consider spending the dough for one of the best and most comfortable models. Skimping a few hours' pay here won't be worth the savings over the life of the tool.
After outfitting each tool with a new Irwin Marathon blade to eliminate any differences in stock blades, I put the saws through a battery of tests to determine relative power, to measure cutline accuracy, and to assess the retraction of blade guards in various cutting scenarios. I also evaluated each saw's general build quality, ease of adjustments, convenience of features, and feel.
Top performance features
Circular saws are relatively uncomplicated power tools, and in addition to cutting power, top performance boils down to whether a saw has effective features. Ample motors and drive trains aside, the following are the key factors for quick and accurate sawing productivity.
Cutline Indicators
Whether you cut right to your V-mark to save a step (as I do) or draw a line across the lumber first, you need the cutline-marking notches on the baseplate of your saw to be dead-on with the blade kerf for both 90° and 45° cuts. A good indicator accurately delineates both sides of the kerf so you can cut to either the right or left side of the line. An oversize (wider than the kerf of the blade) or misaligned indicator needs to be supplemented with a mark from a scratch awl or fine-point permanent marker.
Blade visibility
A clear line of sight to the cutline is crucial. When the saw is far enough in front of you to block your view of the cutline marker or when your stance makes visibility difficult, a little "window" viewed through the appendages of the saw is all you have to see the cut. The best saws offer a clear view of the blade through this window, at all depths of cut, even with both hands on the tool. Poorly designed saws obstruct the line of sight with handles, guards, and/or spindle locks.
For more photos and details, click the View PDF button below:
View PDF