Design
With Each Door, a Story
Electrical engineer turned woodworker creates one-of-a-kind custom doors.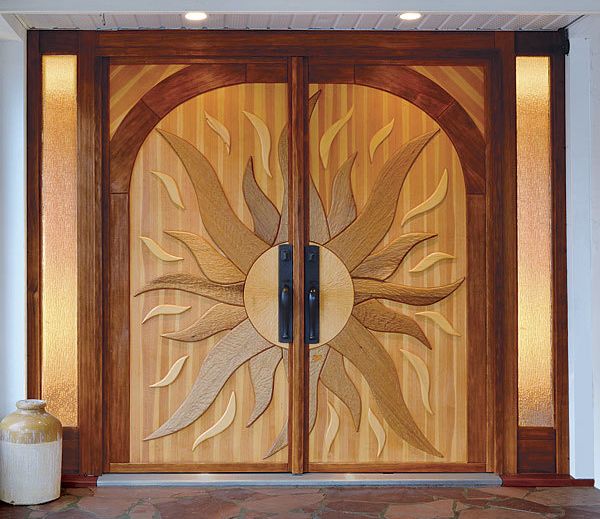 After many years as an electrical engineer, Arnim Rodeck was ready for a change. A self-taught woodworker, he found that change, as well as an outlet for artistic expression, while building furniture and a door for his home. Six years ago, he launched Shama Wood, a custom-woodworking business. Since then, he has built and installed more than 50 one-of-a-kind doors for homes and businesses throughout British Columbia.
Rodeck's handcrafted doors tell the stories of the lives of those who commission them. He carefully documents each project and presents the owner with a photo booklet describing the way the door was made and the meaning of its details. The puerta del sol (door of the sun) pictured above graces a home in the Cowichan Valley of Vancouver Island. The sidelites of rain glass acknowledge the amount of rainfall in this valley, whose name derives from the aboriginal expression for "warm land." The interior carvings represent the view of Mt. Maxwell as seen from the opened door. Rodeck added the family's symbol, a wyvern, chained to a rock to represent how anchored the family is to its home. He named his company Shama Wood as a tribute to shamans, whom he describes as "the people that transform." Rodeck says, "For me, it is the transformation of a piece of wood into a new life—the life of my customer's story."
For more photos of Rodeck's work, click the View PDF button below. 
View PDF