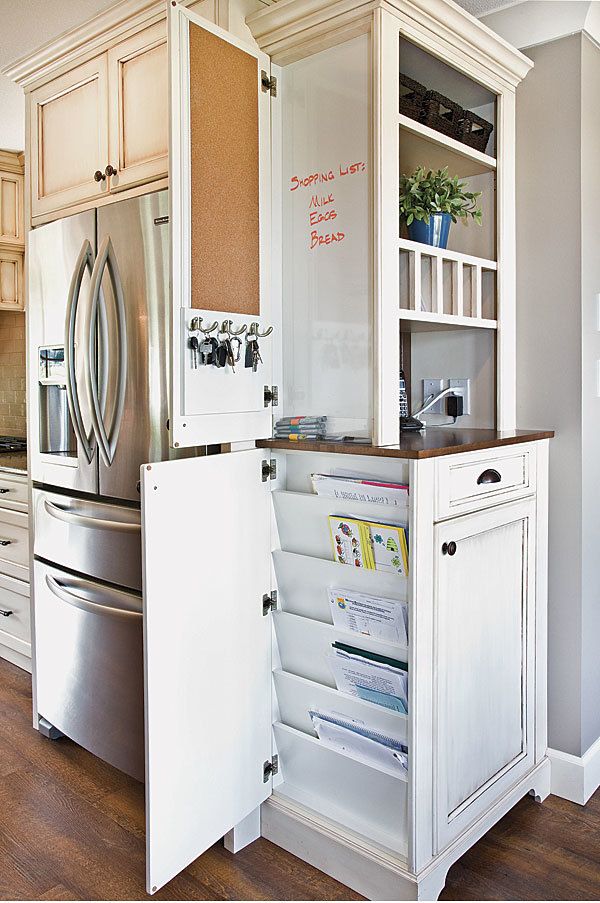 Our clients were living in a 1985 farmhouse that failed to suit their busy lives. Together, we worked to bring organization and order to a complete redesign of the home's main-floor living spaces. This efficient, highly functional kitchen cabinet is a key part of that redesign.
The front of the unit has a 3⁄4-in.-thick maple butcher-block counter—stained American walnut—that houses the home phone. Above the counter are mail slots and some open shelving. Below, we placed a much-needed junk drawer and a cabinet that has a pullout drawer where cell phones and cameras can be charged out of sight.
Along the side of the upper cabinet, we incorporated a 3-1⁄2-in.-deep recess that contains a whiteboard with marker storage, a corkboard, and key hooks. In the lower unit, we made a similar recess and fitted it with slots for the children's important school papers.
The cabinet faces a small seating area and is ideally located close to the rear entry and mudroom.
Photo courtesy of Starline Cabinets