Design
The Passive House Build, Part Three: Superinsulated Slab
If you aren't insulating the edge, you're only doing half the job.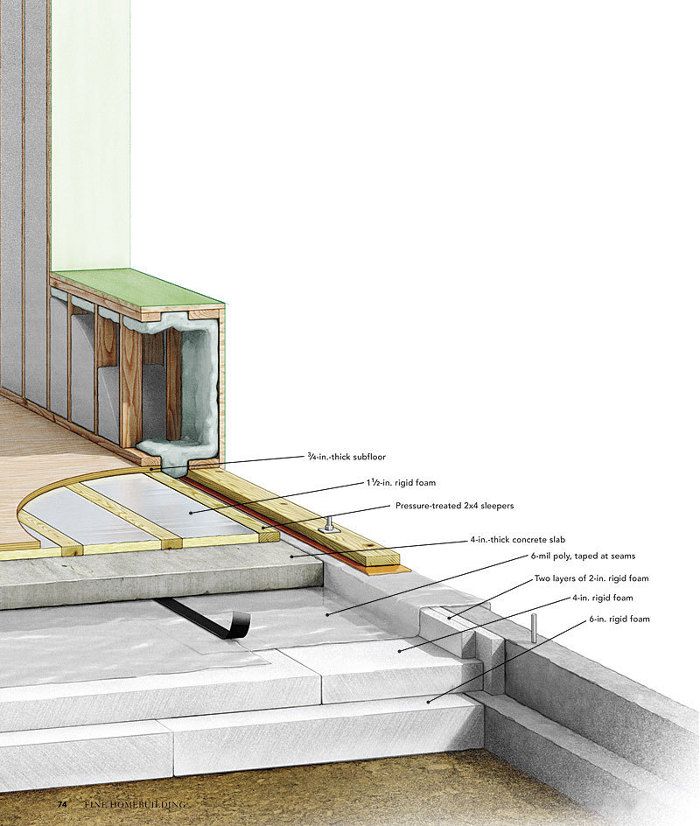 In part 3 of a five-part series on building a Passive House, architect Steve Baczek explains how he and his crew designed and built a concrete slab insulated to R-50. He chose to use 10 in. of EPS under the slab: a 4-in. layer atop a 6-in. layer. Using foam this thick meant that Baczek had to develop some new techniques: using a reciprocating saw rather than a tablesaw or circular saw to cut the foam; drilling a pilot hole for a penetration, then drilling from both sides of the foam with a spade bit; and tacking the inside pieces of foam to the first layer of foam to keep them from shifting. After the slab was poured, workers bumped up the R-value of the floor by fastening pressure-treated 2×4 sleepers to the slab, then fitting pieces of rigid foam between the sleepers and filling remaining gaps with spray foam. Only then did they install the subfloor.
Watch the videos and read the articles in this series (links below), then head on over to GreenBuildingAdvisor.com to join the conversation with the designer of this house, Architect Steve Baczek.
---
All articles in this series:
"The Passive House Build, Part One: Designed for Success" (FHB #240)
"The Passive House Build, Part Two: Air-Sealed Mudsill Assembly" (FHB #241)
"The Passive House Build, Part Three: Superinsulated Slab" (FHB #242)
"The Passive House Build, Part Four: Framing for Efficiency" (FHB #244)
"The Passive House Build, Part Five: Installing High-Performance Windows" (FHB #245)
All videos in this series:
Passive House design
Airtight-mudsill assemblies
Superinsulated slab
Double-stud walls and insulation
Windows and doors
View PDF