A Painter's Tool Bucket
An easy way to save trips up and down the ladder.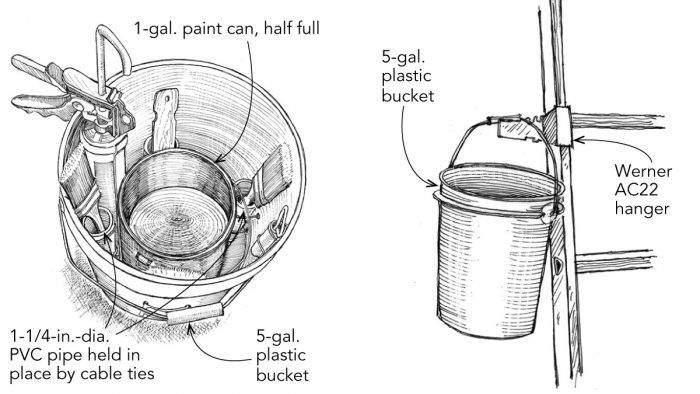 Whenever I have to climb a tall extension ladder for a painting session, I get out my painter's bucket and load it up with the tools I'll need for the job. As shown in the drawing at left, I've outfitted the bucket with short lengths of 1-1/4-in.-dia. PVC pipe held to the inside with cable ties threaded through holes drilled in the bucket's sides. I fill these holsters with a variety of tools, depending on the job's requirements. Scrapers, brushes, stir sticks, caulk gun, 5-in-1 tool—I can fit them all into this rig, with just enough room in the middle for a 1-gal. can of paint where it can't shift around. To minimize weight and spillage, I keep the paint can half full or less. I hang the bucket at a convenient working height from a Werner AC22 hanger. With all my tools and supplies at arm's length, I've cut way back on trips up and down the ladder.
John H. DeRosa, West Dundee, IL
Edited and Illustrated by Charles Miller
From Fine Homebuilding #241