Shower heads that display water temperature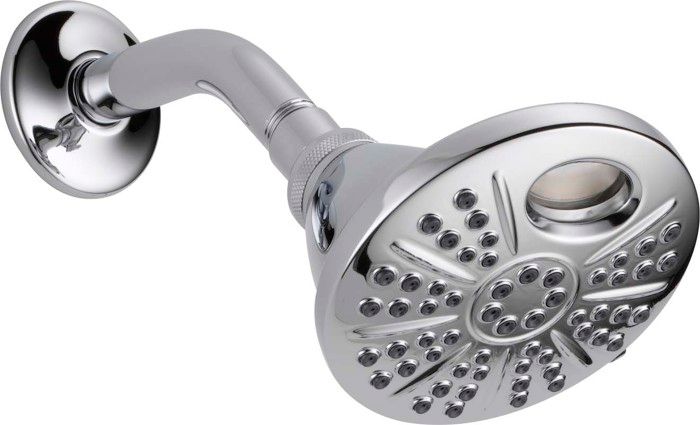 There are probably very few children who look forward to bath time, and even fewer parents who enjoy the hassles that go with it–among them, setting the water temperature so that it's neither too hot nor too cold for the child.
Delta Faucet has taken the guesswork out of that part of the process with its Temp₂O technology. 
Introduced earlier this year, fixtures equipped with Temp₂O provide a visual readout of water temperature before anyone steps into the stream. The feature is available on handshowers, showerheads and tub showers (which include showerhead, arm, controls and escutcheon). 
Temp₂O tub shower kits come with a specially-designed pressure-balanced cartridge that measures water temperature and displays it (in Fahrenheit or Celsius) on an LED screen on the escutcheon plate. The device requires three AAA batteries, which are housed and sealed behind the twist-and-lock trim, where they are accessible with an allen wrench. Expected battery life is two years.
 Temp₂O showerheads and handshowers have an internal thermometer that reads the temperature and displays it (on the top of the handshower and on the face of the fixed showerhead). Both will work with any manufacturer's shower arms and controls, and are accurate within three degrees. The display on the handshower and showerhead is hydro-powered and requires no batteries.  
The digital LED readouts are color-coded for easy reading at a glance. Water temperatures below 80 degrees F (26.7 degrees C) show up in blue. Temperatures above 110 degrees F (43.3 Celsius) are shown in red. In-between temperatures (those most comfortable for showering) show up in a blended magenta readout. 
Temp₂O handshowers and showerheads offer six different spray settings: Full Body, Massage, Full Body with Massage, Shampoo, Shampoo with Massage, and Drenching Sprays. Prices for handshowers and showerheads range from $107 to $319. Prices for tub showers range from $249 to $47. They are available for purchase at The Home Depot and through Delta kitchen and bath dealer showrooms. Check them out at deltafaucet.com.
Temp₂O is available on showerheads (shown), hand showers, and tub shower kits. 
Too cold: Water temperatures below 80 degrees F appear on a blue background.
Just right! Water temperatures between 80 and 110 degrees F. appear on a magenta background.
Too hot: Water temperatures above 110 degrees F appear on a red background.