Fitting a Shower Into a Small-Bath Floorplan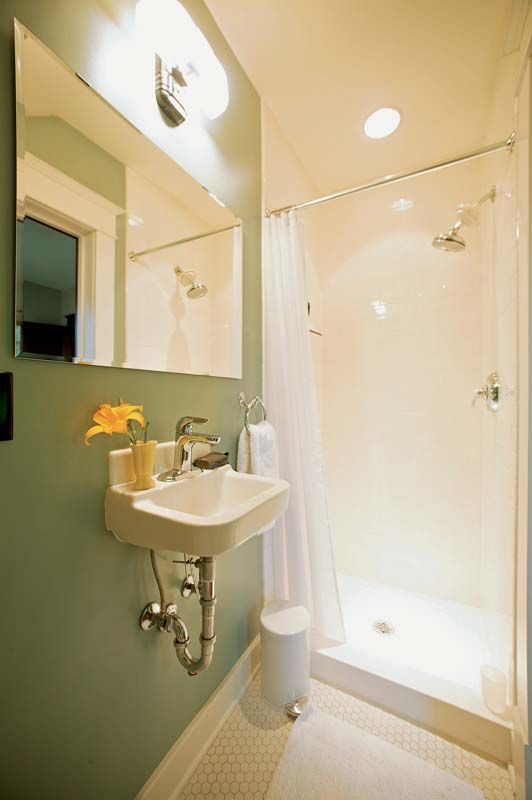 Adding a shower is about all it takes to convert a small powder room into a fully functional bathroom suitable for overnight guests. If your bath already has a claustrophobic shower stall, replacing it with a larger one can make the bath much more pleasant to use. The challenge, of course, is finding the square footage to make these kinds of upgrades.
Not to worry. There are plenty of ways to squeeze a new — or better — shower into a small bath, but it takes some ingenuity and a willingness to rethink the space you've got (while paying attention to code-required clearances). Below, you'll find a few examples from Fine Homebuilding authors.
A new or enlarged shower is, of course, just one of many possible bathroom upgrades. New flooring, cabinetry, and lighting all offer functional as well as aesthetic improvements — and a good time to consider those changes is when the room is being renovated for a shower. Small changes can go a long way in a small space.
---
Shower Solution #1: Finding space under the stairs
This bathroom started out as a closet underneath the switchback stairs of architect Steve Wilmot's Craftsman-style home. Measuring about 3 ft. by 8 ft., the space contained a toilet but no sink. Turning it into a fully functioning bath not only meant squeezing the fixtures into a tiny footprint, but also meeting code requirements for a minimum of 80 in. over fixtures when the ceiling height ranged from 78 ½ in. at one end to 108 in. at the other. Snatching some space from a closet and moving a door made it all possible.
---
Shower Solution #2: Steal from your closets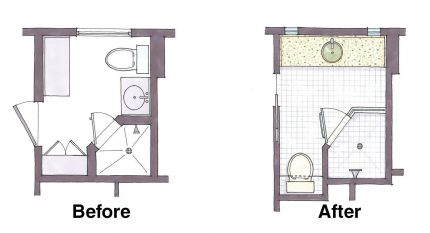 Yes, we all need more closet space. But like these homeowners, I, too, could be convinced to give up a linen closet if it meant a more comfortable shower. That was exactly what Austin architect Paul DeGroot prescribed for this master-bath makeover. In this case, appropriating 5 sq. ft. from two closets allowed the toilet and the vanity to be relocated, and the shower to be expanded.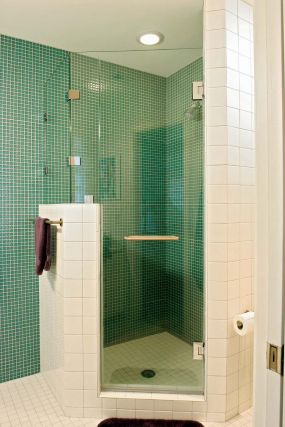 ---
Shower Solution #3: Angling for accessibility
To create an accessible bath for her aging parents, Lubov Mazur decided to swap a soaking tub for a curbless shower with fold-away doors. Heavy-duty double-swivel rollers support the weight of the doors without requiring any curb or track on the floor. Retracted against the wall, the 20-in. wide doors protrude a mere 3 in. This, along with an angled cabinet, keeps the floor open.
More on small bathroom design:
Small Bathroom Ideas — A slide show offering ideas on how small spaces can still have a big impact.
Beautiful Small Bathroom — A look at five bathrooms where smart layout, innovative storage ideas, and careful selection of fixtures and materials all prove that good things indeed come in small packages.
Space-Saving Shower-Door System — Modern rolling hardware provides a practical solution for small bathrooms.
Sink Choices for Small Bathrooms — Stand-alone sinks are often a good choice for a small bathroom. Choices include pedestal, console, and wall-mounted models.
Designing Showers for Small Bathroom — Cape Code bathroom designer Bridget Cahill offers some tips on updating a shower in an older bathroom to make it more appealing and more practical.