A Smart Beverage System for the Kitchen That Has Everything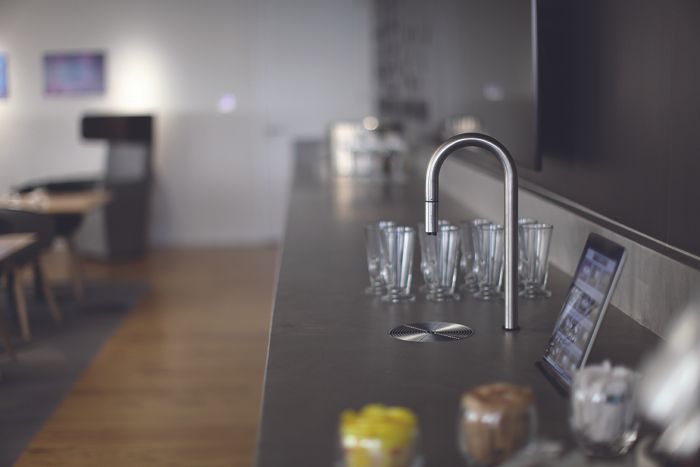 TopBrewer, from Danish manufacturer Scanomat, is like having a barista in your kitchen. Applying decades of experience in automatic coffee brewing, the company has developed a high-end home system that churns out a wide menu of customized coffee beverages (along with hot and cold water and milk) with the tap of a smartphone or tablet.
Using a Bluetooth connection and downloadable apps that allow you to customize your drink choice, your phone communicates with a unit located inside the TopBrewer that directs it to formulate and dispense your choice from its stainless-steel tap. As long as you're within transmission range–no farther than 10 ft. away–you're a click and cup away from your favorite elixir. Standard coffee choices include espresso, Americano, macchiato, cappuccino, latte, and regular coffee, in addition to hot and cold milk, and hot, cold, or (with some units) sparkling water. Drink recipes can also be tweaked to your particular taste.
To ensure that your club soda never tastes like your cappuccino and that your toddler's milk isn't caffeinated by your morning joe, the TopBrewer flushes itself with water after each drink.  And in the unimaginable circumstance that you don't have your phone with you in the kitchen, you can order up your coffee using the brewer's built-in keyboard.
With its workings installed in a base cabinet, all you'll see of this luxury beverage center is a swan-neck spout and a sleek circular grate embedded in the countertop. (If that's too showy, you can replace the grate with an integral drain made from your countertop material.) Hidden behind cabinet doors are a recessed drip tray (or optional drain line connection), coffee-bean bin, grinder, three filter canisters, mini-fridge with a milk pump system (including the MilkSpear, which accesses milk from its cardboard container), and a waste bin. Installation requires a direct water connection, a factory-included ventilation kit, 240v/110v power source, and a base cabinet measuring at least 19 in. wide by 24 in. deep. 
The downloadable apps are free, but the basic brewing system has an MSRP of $7999. An additional $3000 gets you the carbonated drink options and an in-counter iPad mount. The faucet comes with a standard brushed stainless finish; high-gloss stainless, polished brass, or copper patina finishes are available for an upcharge. The TopBrewer is available through kitchen, appliance, and plumbing showrooms around the country. Dealers and specification information can be found at topbrewerusa.com.
TopBrewer blends premium coffee with smartphone technology.
TopBrewer offers an upgradeable alternative to wall-mounted coffee systems.
Choose (or customize) your favorite TopBrewer beverage with your iPad, iPhone, or Android device.