Hot intro for cool appliance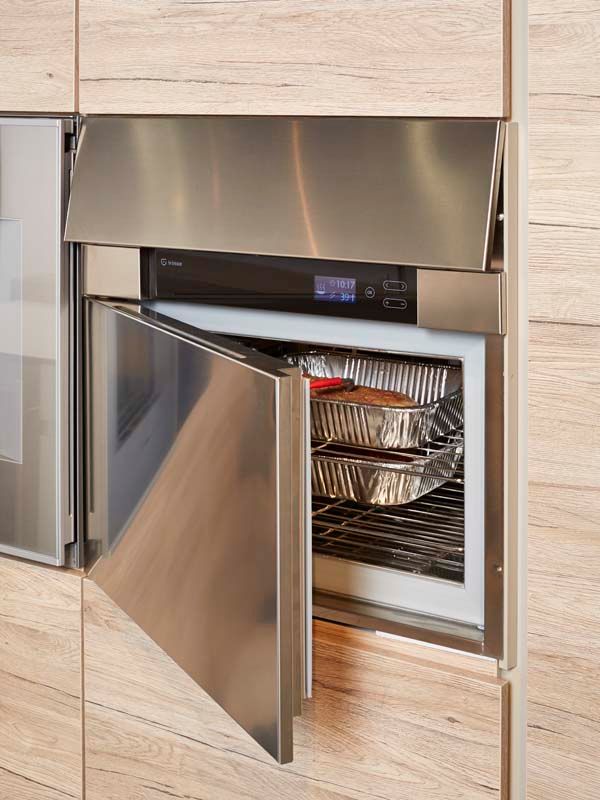 For years, commercial kitchens have taken advantage of blast chillers to preserve their food investments. These powerhouse appliances fast-freeze food to prevent bacterial contamination, and were developed to let restaurants, catering companies, and cafeterias prepare, cook, and preserve hot meals for later use. Their lightning speed also means that frozen items are preserved with much smaller ice crystals (called microcrystals) than a standard freezer produces, better preserving the taste and texture of the dish.
After serving the commercial sector for 25 years, executives at Italian manufacturer Irinox realized there could be interest in blast chillers from the residential sphere, too. So they've introduced Freddy, a blast chiller for use at home.
Unlike its commercial cousins, Freddy performs both freezing and slow-heating functions, with a temperature range from 14 degrees Fahrenheit to 104 degrees Fahrenheit. In addition to fast-freezing overages from your Sunday brunch, it can thaw frozen meals, chill wine, slow-roast a dinner, and leaven dough. A convenience setting allows it to be programmed to keep food inside cool before heating it for dinner. Its chill function enables Freddy to cool hot food to 37.4 degrees Fahrenheit within minutes, extending refrigerator shelf life. It also offers controlled thawing for previously frozen food.
Not a lightweight, the built-in unit is constructed of stainless steel and weighs nearly 100 lb. It measures 23 1/2 in. wide by 23 1/2 in. high by 22 3/4 in. deep and requires 230v power. And with an MSRP of $5199, it'll set you back more than your average microwave.
Freddy is available in North America through its distributor, Purcell Murray.