All-Around Warmth: Fireplace Design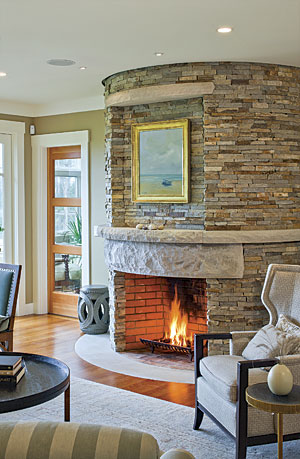 When Charles Orr of Hutker Architects met with his clients to discuss the design for their new home, on their wish list were fireplaces for the living room, the porch, and the master bedroom. Orr easily could have granted that wish by incorporating a stand-alone fireplace in each room, but he had a different idea. Inspired by the site's pastoral setting, Orr designed a silo-like stone structure that is centered on the living room and the combination family room and enclosed sitting porch, and that rises up into the second-floor master bedroom.
Constructed of Virginia ledgestone, the column measures 7 ft. in diameter. On the first floor, in addition to housing two wood-burning fireplaces, the structure includes recesses for the flat-screen television in the family room and art for the living room. In lieu of a traditional mantel, a band of 4-in.-thick stone wraps around the structure beginning above one fireplace and ending at the other and creating a 6-in.-deep shelf where the band meets the living room's art niche. A bluestone hearth flush to the floor circles the entire column. Upstairs, the master bedroom's gas fireplace is fitted with a fixed-glass panel.
A 1-1/2-in. reveal between stone and plaster creates a crisp, clean line where the column intersects with walls and ceilings.
Architect: Charles Orr, AIA, Hutker Architects, Falmouth, Mass.; hutkerarchitects.com
Project Designers: Erin Levin and Gerrit Frase, Hutker Architects
Contractor: Peter Derbyshire, Adamsville, R.I.
Stonemason: Andrew Souza, Dartmouth, Mass.
Photographer: Brian Vanden Brink, brianvandenbrink.com