Strong-Drive TimberHex HDG screws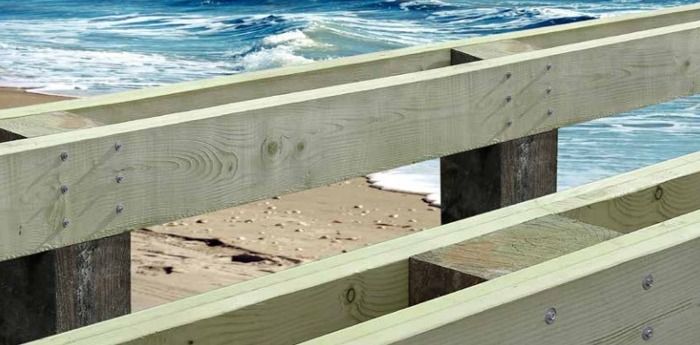 Strong-Drive SDWH Timber-Hex HDG screws are hot-dip galvanized heavy-duty construction screws with features that make it durable and fast to install. 
The 0.276 in. (1/4 in.+) diameter shank has 3 in. of deeply aggressive thread shoulders and a trademarked SawTooth point that speeds screw entry into wood without a pilot hole. The 3/8 in. hex drive head has a 15/16 diameter integral washer so there's fumbling with a loose washer. 
Simpson is marketing the Timber-Hex HDG for coastal post/pile construction however they can be used anytime you need a heavy duty screw.  The technical sheets include tables for Stringer-to-Square Pile and Stringer-to-Round Pile connection loads making it easier for designers to spec the right screw. And complete details showing edge and screw spacing distances make it clear how to install the screws for best performance. 
The Timber-Hex HDG screws come in 4 in., 6 in, 8 in., 10 in., and 12 in. lengths.  Expect to pay a little over $1 for the 4 in. screw and a little over $3 for the 12 in.
 I tried driving a few Timber-Hex screws into some pressure treated southern pine 6x6s. The screws spin for a moment before the threads bite. I found one rap with a hammer set the tip just enough so the threads bit instantly when the drill/driver started turning. You'll need a heavy duty drill / driver to sock the Timber-Hex screws down. Neither my 18V impact driver or 18V drill would drive the screws deeper than 3 in. to 4 in. before the internal breakers cut the power. I turned to a corded 8amp 1/2 in. and had no trouble driving them in. 
SDWH Timber-Hex HDG next to regular SDWS and SDWH for comparison
SDWH Timber-Hex HDG next to regular SDWS and SDWH for comparison