New Lateral Load Connection in 2015 IRC
The 2015 IRC includes a new deck lateral load detail that can be installed entirely from the exterior. Figure R507.2.3(2) shows an angle bracket mounted to the underside of a deck joist and lag-screwed into the top plate of a wall. You'll need to install 4 of these connectors evenly distributed along the ledger. And 2 of those connectors must be installed within 2 ft. of the ledger ends. The size of the deck doesn't matter – whether you're building a 3 ft. door landing 'deck' or a 100 ft. long wrap-around deck, you only need 4 connectors.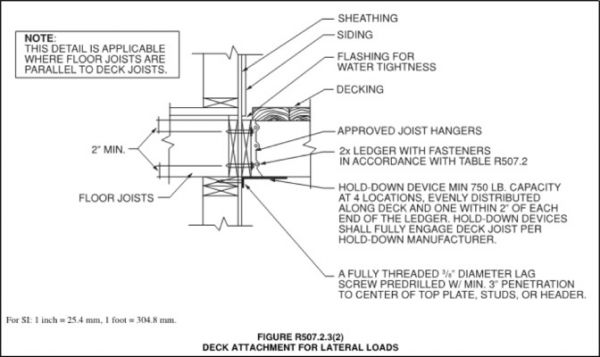 The connectors must to be rated for a minimum of 750 lbs. Two models meet the spec right now: USP introduced their LTS19-TZ in October 2014 and Simpson Strongtie introduced the DTT1Z in January 2015. (see blogs on the two pieces of hardware for more information).
 The code figure shows the lag screw driven into the top plate of a wall. Though it doesn't show it specifically, you could also drive the screw into a mudsill.
The attachment screw must penetrate at least 3 in. deep into the wall plate (mudsill, header, stud).  And the figure states a hole must be predrilled into the framing. Per NDS (an IRC referenced standard) the pilot hole (termed a 'lead' hole) has a range of diameters based on the species of wood. A quick round figure that seems to work for all common deck lumber species is 3/16 in. diameter hole for the 3/8 in. lag.
And one more condition- the lag screw must have at least 3 in. of thread.  Not all lag screws are the same.  Some have short sections of thread and longer sections of smooth shank.  So in order for the attachment to work, measure the thread.
The code limits the use of the new connection to walls where the house floor joists run perpendicular to the rim joist and parallel to the deck joists. So if your house joists run parallel to the rim joist, this detail is not an option – unless you talk with the local building official. The building official may permit you to use the detail.  
Figure R507.2.3(2) from the 2015 IRC