A Loo Fit for Doctor Who: Steampunk Bathroom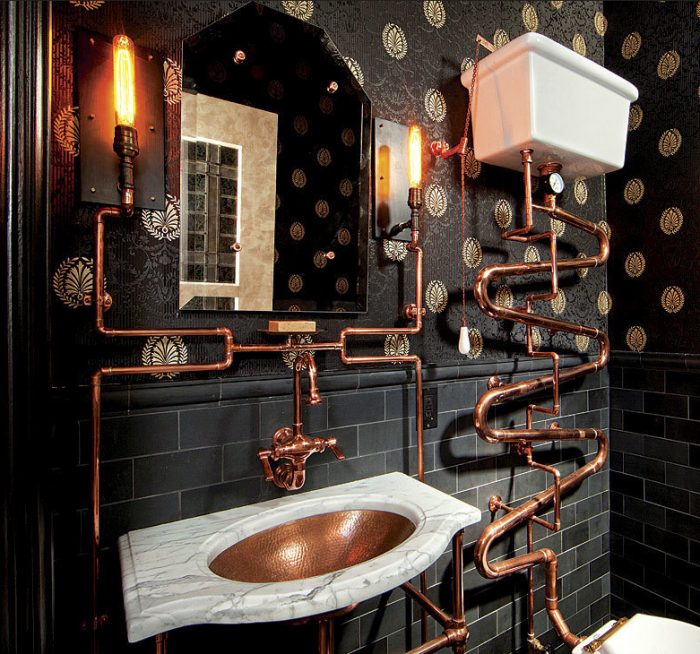 Architect Andre Rothblatt's clients wanted to incorporate some "steampunk" style into their wholehouse remodel. Not quite sure what they meant, Rothblatt nevertheless enthusiastically agreed. He discovered that steampunk refers to a fusion of science fiction and fantasy, often set in the 19th century, that reimagines modern technology as intricately designed, steam-powered machinery. The powder room would be the steampunk stage. Its closed door would reveal nothing of the surprise behind. Inspired by his research and his fascination with the illustrations of Rube Goldberg, Rothblatt began to sketch. His design included a Victorian high-tank toilet and marble-topped console vanity with a copper sink and faucet. He embellished the toilet and vanity with functional but exaggerated piping, and he designed custom wall sconces with vintage-looking Edison lightbulbs. Black subway tiles and black, medallion-embellished wallpaper create a dark background that contrasts with the bright copper.
According to Rothblatt, the design phase was rather fun and easy, but creating the intricate custom plumbing proved to be more difficult. Fortunately, the plumbing consultant, the lighting specialist, and the contractor viewed the project as an exciting challenge. When asked if the elaborate plumbing made for a louder-than-usual flush, Rothblatt said that it wasn't necessarily noisier, just different. The water rushing through the pipes creates more of a whooshing sound, which adds to the total steampunk experience.Flush rush. A gauge mounted below the water tank adds another whimsical element to this steampunk bath.
ARCHITECT: Andre Rothblatt, Andre Rothblatt Architecture, San Francisco; andrerothblattarchitecture.com
CONTRACTOR: Fred Grasset, Frederic Grasset Design/Build, San Francisco; fredericgrassetdesignbuild.com
PLUMBING CONSULTANT: Ragnar, The Sink Factory, Berkeley, Calif.; sinkfactory.com
LIGHT DESIGNER/FABRICATOR: Jim Misner, Jim Misner Light Designs, San Francisco; jimmisnerlightdesigns.com
PHOTOGRAPHS: Marija Vidal, marijavidal.com, courtesy of Andre Rothblatt