Tools & Materials
Tool Test: 18v Cordless Circular Saws
Modern cordless saws cut fast and run for a long time.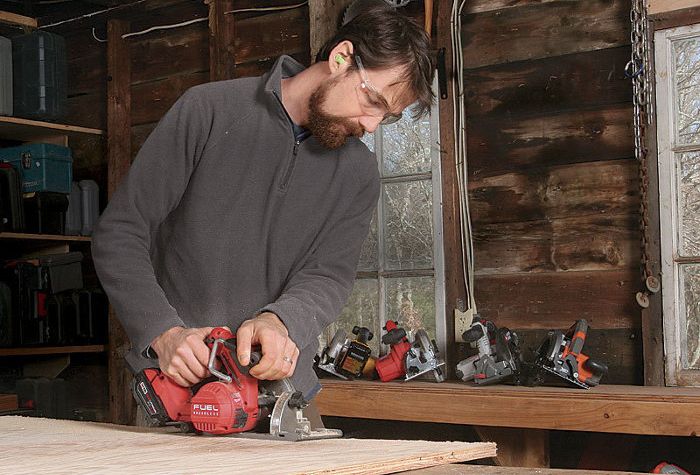 Synopsis: Builders, remodelers, and DIYers can be overwhelmed when faced with purchasing a cordless circular saw. There are many models available and numerous features to consider. Longtime remodeler Doug Mahoney tested all the current 18v 6-1/2-in. cordless circular saws from major manufacturers in preparation for writing this article. He looked at their ergonomics, cutting performance, and any unusual or notable features they had. He tested each saw's cutting speed and how many cuts the saw could make before its battery was spent. After testing all the models, Doug had a clear winner. He also chose the saw that represents the best value. Photo: Patrick McCombe
When I first started as a carpenter 15 years ago, cordless circular saws had weak cutting ability and short run-times. Now with the rise of lithium-ion (Li-ion) technology, 4.0-amp-hour (Ah) batteries, and brushless motors, the newest saws are superior to their predecessors.
I recently tested eight 6 1⁄2-in. 18v models from all the major manufacturers. I looked only at saws that could cut through 2x stock at a 45° bevel, and I focused exclusively on 18v saws because they are the most popular. When possible, I ordered saw kits, which include at least one battery (sometimes two) and a case. Many of these saws are also sold as bare tools, and these are identified in the individual specs. This is important because most builders and many DIYers already have multiple 18v batteries for their other cordless tools, so a nice cordless saw doesn't have to be a huge investment.
The primary strengths of a cordless saw are fast setup and total mobility. When the saw isn't tethered to an outlet, climbing staging to trim a rafter tail becomes a quick task — and with one less extension cord kicking around, it's also a safer one. This "grab and go" mentality is only enhanced by the fact that, on average, cordless saws weigh a pound or two less than comparable corded saws. I especially like them for exterior work, where outlets can be hard to find.
As a carpenter, I always regarded the older nickel-cadmium circular saws as novelty items. Now the latest Li-ion saws are starting to encroach on the capabilities of their corded cousins. More power, longer battery life, and more durable construction mean these new tools can be used in place of corded saws, not just alongside of them.
How we tested
To get a sense of how the tools would perform on the job site, I ran tests for power and run-time. To gauge the overall strength of each saw, I timed 10 crosscuts through a 2×12. To level the playing field, I equipped each saw with a new 6-1⁄2-in. Irwin marathon 20-tooth blade ($14) before testing. Because large dimensional lumber is commonly used for stair stringers, headers, and rafters, this type of cutting ability should be within the strike zone of a good saw. To test run-time, I charged all of the batteries fully, used each saw to cut 1-in. strips from a sheet of 3⁄4-in. A/C plywood, and totaled the amount of linear feet cut before the battery went dead. I ran both tests twice and used the better of the two numbers to rank the eight saws.
In addition to the structured tests, I used the saws around the job site and the shop for cutting everything from lauan plywood to PVC trim. Most of the time was spent making rip cuts and crosscuts in all kinds of dimensional lumber. While doing this, I paid close attention to the ergonomics, the ease of adjustments, and the success or failure of all the other features.
For more photos and details, click the View PDF button below:
View PDF