Design
Spaces within Spaces
Thoughtfully designed nooks offer refuge and comfort in the hustle and bustle of larger rooms.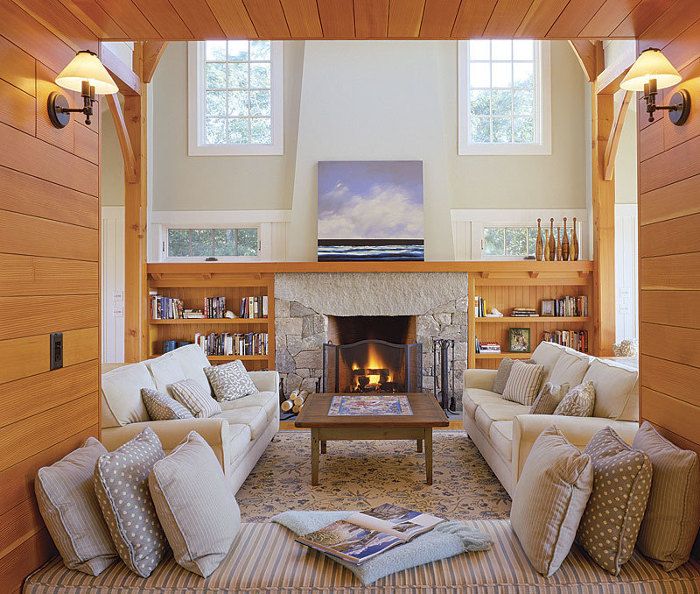 Synopsis: Architect Mark Hutker provides several examples of small, cozy spaces that provide sheltering nooks within much larger rooms. He also gives four design touchstones to keep in mind when designing such spaces: scalability, adjacency, material and thematic connection, and right-sizing.
The houses we build are meant for family gathering. Increasingly, that means creating hybrid spaces that can accommodate large groups when the whole family is present but that also feel comfortable for just Mom and Dad. The key is to create spaces within spaces — nooks and recesses with their own unique attributes that create intimacy in bigger rooms.
Inhabiting these spaces can be very pleasing. Being half in and half out of a public space fosters the feeling of being connected to people and activities while experiencing the shelter, relative privacy, or utility of a smaller, customized haven. We often make desirable berths out of edges and corners of rooms that might other wise be underused, turning them into breakfast spots, window seats, and even playful hideouts for children. Purposeful lighting, custom cushions, and built-in storage bays are little luxuries that enhance the specific identities of these alcoves.
Great-room island
The clients who commissioned this great room wanted a space that would be comfortable for both large family gatherings and intimate weekends. Vaulted ceilings and two stories of windows bring light and openness to the living room, making it a dynamic space for entertaining. A lower, wood-paneled ceiling gives the dining area a more intimate atmosphere for meals. The built-in bench nestled between the living and dining areas takes this intimacy to an even smaller scale, providing a harbor that's perfect for a nap or additional living-room seating when needed. Clear wood trim helps to link all three spaces.
Cooking and eating
This farmhouse kitchen is broken into several different spaces that are thematically linked by shapes yet separated by material choices. Two large islands and a niche for the custom range create distinct, rectangular work zones. To create a visual link between these zones, the same stone is used for their counters. A rectangular, weathered-wood dining table breaks materially from the other zones, suggesting a shift in purpose: from the work of preparing meals to relaxing and eating. Scaled for conversation and comfort, the table and a custom bench occupy a nook that is surrounded on three sides by windows. Timber framing traverses the entire kitchen ceiling, in simple spans across the working areas and in a more elaborate pattern above the dining nook.
Hearth and bar
The focal point of this home's great room is a central fireplace that allows circular movement between the great room and the kitchen and dining areas. A wet bar hidden behind the fireplace creates a sheltered eddy for private conversations. Fostering this sense of shelter at the wet bar is a low pergola that contrasts with the high, timber-trussed ceilings of the overall space. Exposed stonework connects this interstitial space to the great room, while its cabinetry links it to the kitchen beyond.
For more photos and details, click the View PDF button below:
View PDF