Worn-out Wine-Barrel Hoops Find a Bright New Home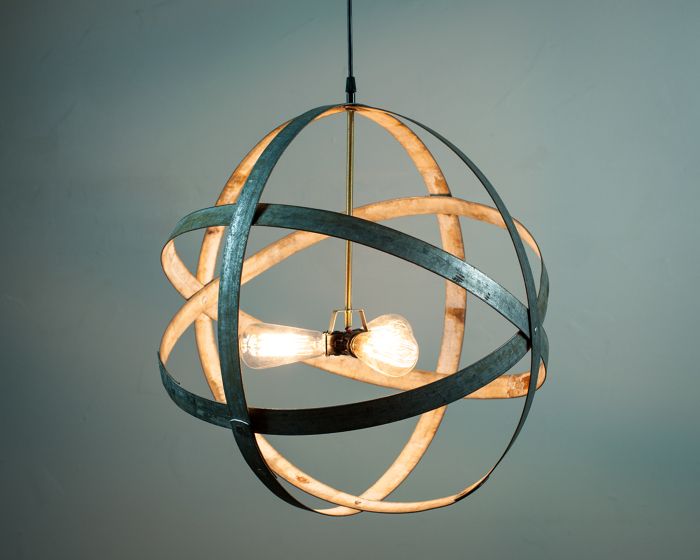 These handmade metal lamps are a perfect blend of modern and rustic
Loose arrays of weathered metal hoops create voluminous focal points while still remaining light and airy, in this whimsical collection of globe-shaped chandeliers from Wine Country Craftsman's California workshop. The intertwined rings that define the aptly-named Atom chandeliers are cast-off parts from old wine barrels, and at each Atom's center–or nucleus–is anywhere from one to six exposed, Edison-style bulbs. Though the lamps each have a one-of-a kind oxidized patina, the sharp angles and spherical silhouettes give them a distinctive, modern feel.  
Product breakdown
lamps are all made of recycled wine-barrel hoops (plus new hardware and electrical components)
available from 12 inches to 30 inches in diameter (custom sizes by request)
vintage-style Edison bulb(s) included
Lamps are made to order, so expect a minimum 2-week lead time
$195 to $750 depending on size and style
Handmade from humble beginnings
Wine Country Craftsman got its start as a one-man shop in a small garage, where designer Michael Weiss created handmade decorative pieces out of materials recycled from the local California wine industry. Today the shop is a collective of like-minded artisans who are just as focused on making work fun as they are on making beautiful things. And the Atom lighting line isn't their only offering; head on over to the Wine Country Craftsman online store to find a whole host of recycled wood, metal, and glass creations, including furniture, housewares, and several other styles of lighting.