What's the Difference: Spray Lubricants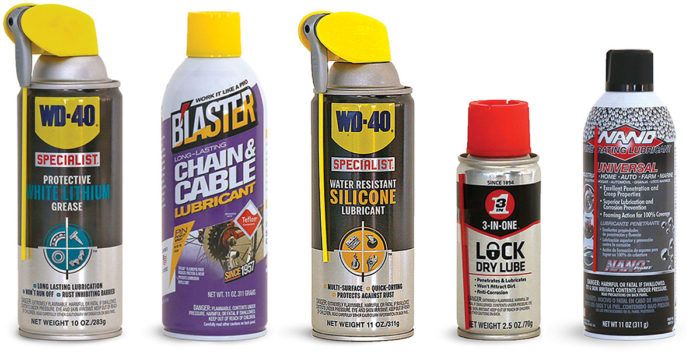 LITHIUM GREASE
A mix of lithium hydroxide and oils, lithium grease is ideal for metal-to-metal contact, especially when pressure or a heavy load is involved. It works great in places such as tablesaw cranks and the metal hinges on garage doors. Just be sure to use a small amount, because contaminants stick to lithium grease and create a messy goo. Since lithium grease is white in color, it's easy to see when it's time to reapply.

PTFE
PTFE is short for polytetrafluoroethylene, but it's best known by DuPont's trade name Teflon. Made famous as a cookware coating, PTFE has a variety of uses, such as lubricating chains and cables. Even though it's chemically different, PTFE has lubricative characteristics similar to silicone. PTFE is not classified as toxic, but a food-grade PTFE spray such as Bel-Ray No-Tox Food Grade Grease with PTFE (belray.com) should be used on kitchen drawers and cabinet hinges.
SILICONE
Most silicone sprays contain only about 1.5% silicone lubricant. The upside of silicone spray is that it helps repel water and performs well in extreme temperatures. Thin and clear, it's also good when neatness counts. In addition to metal, silicone is often safe to use on rubber, wood, nylon, vinyl, and plastic parts. Many sprays are also food safe, but check first. Silicone shouldn't be used where pressure or load bearing is involved.

DRY LUBRICANTS
Dry spray lubricants, most commonly graphite, don't spray on completely dry, but their solvents evaporate rapidly, leaving behind a dry film. Dry lubricants are good for interior hinges, interior locks, drawer slides, and toolbox drawers. Just be sure to wipe off or even buff off the excess. The main advantages of dry lubricants are that there is no oily mess and that dust and dirt don't stick to them. Dry lubricants do not displace water, and they wear off fairly quickly under load, making it necessary to reapply them more frequently than other lubricants.
OIL
Often called penetrating oil, most oil spray lubricants are made from crude oil, but some are made from vegetable oil. Their low surface tension makes them best for penetrating deep into mechanisms and into the threads of rusted bolts and nuts. The key to all penetrating oils is patience. They work much faster than traditional lubricants at freeing stuck parts, and best practice is to reapply them and give them hours or days to work. Because penetrating oil evaporates quickly, once you've freed a stuck part, apply a longer-lasting lubricant.