Garage Roof Framing
Student's highlights of garage roof framing.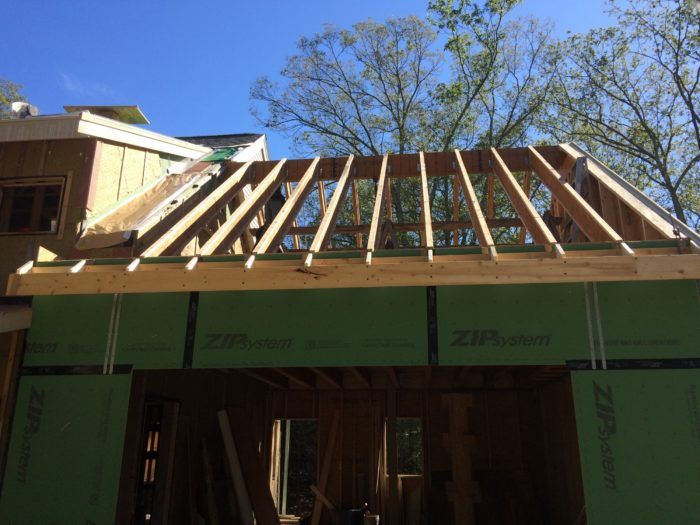 Bruce led the three-man crew — Adam, Brandon, and Max — that is constructing the FHB House garage from the ground up. This past week, these guys did a beautiful job installing the floor system, floor sheathing, and structural ridge.
Just three days ago, we spent a full day at the job site and put up all 18 of the wood I-joist roof rafters across the ridge. We fastened the rafters at the ridge with Simpson Strong-Tie slopeable/skewable U-hangers. The joist sits in the belly of the hanger, and the bottom of the hanger folds up underneath the joist. The hangers were easy to fasten with 2-1/2-in. StrongDrive Connector Screws.
The green Zip System wall cutoffs at the ends of the rafters are web stiffeners.  They are used to fasten the hanger to the joist and to stiffen the web at the points of connection. The bottom of the joists are fastened with Simpson H2.5's.
As the day went by and we had lined up and fastened the rafters to the ridge, my teacher, Mr. Haynes, spotted an error: The rafters were too long.  The template that we had made was unfortunately cut slightly long, by about 1/4 in.  That 1/4 in. made every rafter on the back side of the garage sit up out of the belly of the hanger. Another problem was that the roof sheathing would not slide under the prelaid step flashing that Mike had installed. Bruce, Mike, and Mr. Haynes got together and brainstormed to come up with a solution. They decided to take down one joist and cut it shorter so that it would fit in the hanger and the 5/8-in. Zip roof sheathing would slide under the step flashing like it should. Once the new template was made, we cut the remaining eight joists to fit.
It took 35 minutes to cut and reinstall the joists the way they should have been done. Once it was all fixed, we snapped lines and installed the first piece of sheathing.