Deck Guardrail System — Mounting Post
The student crew lays out and installs the posts for the deck guardrail system.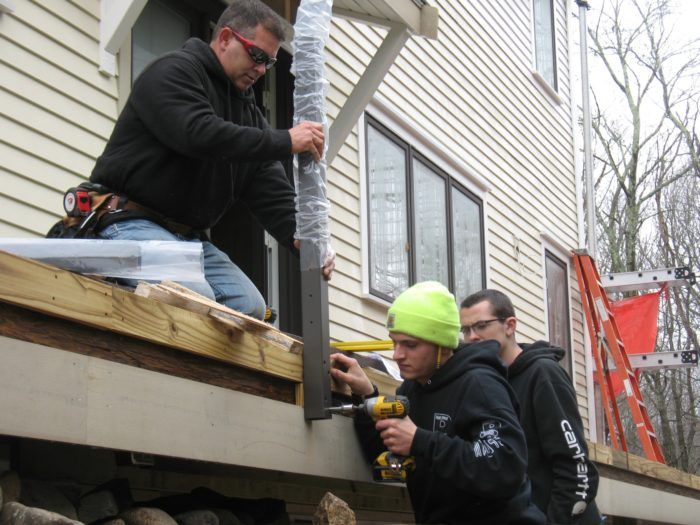 Derek, Nick, Mr. Haynes, and I spent one morning sorting through the Feeney CableRail order and layout. Each of us gleaned a bit of information from the instructions and plan so that collectively we had a good handle on how to approach the installation.
I focused on routing the transformers and low voltage wires to the two posts where the leads are routed up through and into the top rail.
Derek, Nick, and Mr. Haynes laid out the post locations so they'd be equally spaced along each face of the deck. Then they set to work piloting lag holes and mounting the posts.  
The aluminum posts are factory drilled for specific locations based on whether the cables terminate at a post or pass straight through.
The guys made up a pilot hole pattern jig that rested on the 1×8 Boral trim board I installed days earlier. The trim was dead level, so using it as a reference ensured the top of the posts would align.
The posts are mounted over the face of the 1×8 trim and a 1×4 pressure-treated spacer board along the top. Each post is secured with four 6-1/2-in. stainless steel lag screws. The screws penetrate most of the way through the 3-1/2 x 11-7/8 PSL rim beam.
It took a couple of mornings to fasten all the posts. The workers were joined by Ryan, who helped Nick wrap up the work.
After all the posts were installed, I painted the 1×8 trim and Bruce cut and installed pieces of 1×10 trim between the posts. This is a detail Mike Maines sketched out once we knew what railing system we'd be installing. One advantage of the upper trim is
that the cable spanner posts set between the structural posts need to be spaced an additional 3/4 in. off the beam. The trim replaces the spacers that came with the kit and adds visual interest to the fascia trim around the deck.
The next step will be to cut and fit the guardrail cap.