Episode 32: Deck Fasteners and Other Cool Products at the 2017 International Builders' Show
Third of four casts from the International Builders' Show.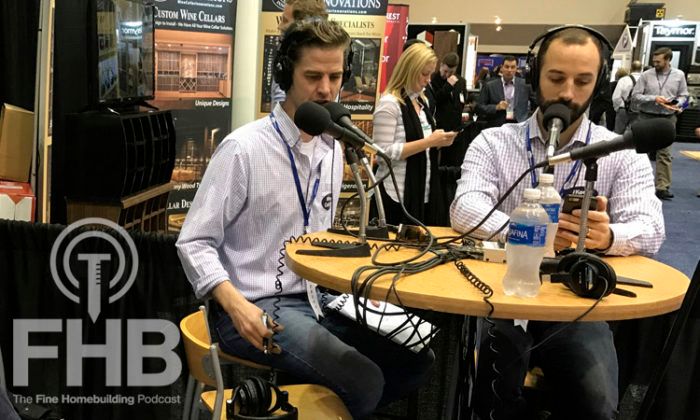 Fine Homebuilding editor Justin Fink and FHB associate editor Patrick McComb talk with industry experts about tile primer, showerheads, wine cellars, dehumidifiers, coil nailers, spray foams, and air and moisture barriers. The show is driven by our listeners, so please subscribe and rate us on iTunes or Google Play, and if you have any questions you would like us to dig into for a future show, shoot an email our way: [email protected]. Also, be sure to follow Justin Fink, Rob Yagid, and Fine Homebuilding on Instagram, and like the magazine on Facebook.
In this episode, Simpson Strong-Tie's product manager for fasteners, Scott Park, offered news about the way the Eb-Ty product line of deck fasteners is changing after Simpson's acquisition of Eb-Ty, which took place a year ago last month. Check out the slide show at the bottom of this post for lots of photos, courtesy of Scott.
Justin and Patrick were joined by FHB ambassador and 365 Construction owner Kiefer "Toolaholic" Limeback, as well as friend of the magazine Matt Risinger of Risinger & Co.
Both Patrick and Kiefer brought up the new FastenMaster FrameFast Structural Framing System — which FHB covered in detail in this article. Patrick highlighted a primer for laying new tile over an existing tile surface.  Custom Building Products offers the product for use even over porcelain, with no scarification needed.
Other cool products discussed included Kohler's wall of showerheads that simulate a real rainfall, this pre-built bomb shelter, fluid-based weather and air resistant barriers, wine cellars (which are a pain in the neck for a builder), dehumidifiers, coil nailers, spray foam, and more.
The Fine Homebuilding Podcast embodies Fine Homebuilding magazine's commitment to the preservation of craftsmanship and the advancement of home performance in residential construction. The show is an informal but vigorous conversation about the techniques and principles that allow listeners to master their design and building challenges.
ALL OF FHB'S IBS 2017 COVERAGE
Please click on this link for all of Fine Homebuilding's reports from the show, including tool and material news, photos, video, links to podcasts, and much more.