Tools & Materials
Haiku Premier Ceiling Lights — Multiple Functionality
From white to warm and dim to bright, these lights suit many scenarios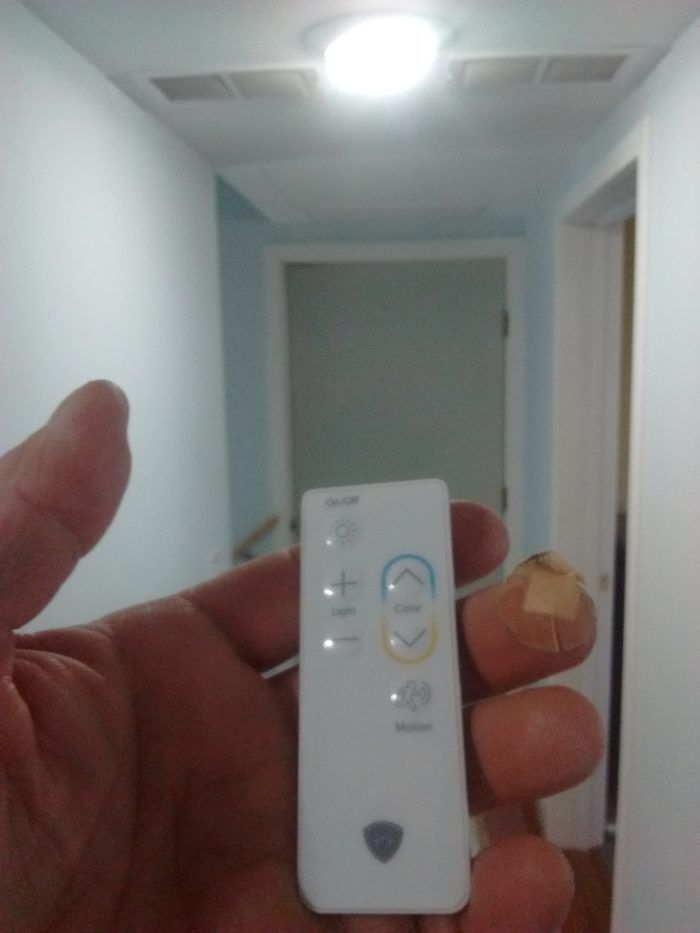 The second floor hallway ceiling was dropped 6 in. for ductwork, so the original ceiling lights Pam selected would hang too low. And the ducts blocked the installation of recessed lights.   Luckily we had a few Haiku Premier lights from Big Ass Solutions. The LED lights are low profile and offer a lot of functionality not found in other lights.
They are a great solution for the low headroom in the hall, plus the built-in motion detector is ideal for a hallway. With the detector function enabled, the lights automatically go on and off. The circuits were already wired with switches, so as long as they remain in the 'on' position, the lights turn on by themselves as someone rounds the top of the stair landing or exits a bedroom. I like the idea of walking up the stairs with arms full at night and not having to try to elbow the switch. Or when exiting a bedroom in the dark, the lights come on automatically.
Each light comes with a wireless controller that can be used to shift the light temperature from a soft/warm 2200K to a bright 5000K, adjusting the brightness. And the lights can be controlled
using a phone app which offers even more functions. Groups of lights can be synchronized even when they are on separate circuits. And you can program the lights to automatically go on or off, change temperature, and dim or brighten on a schedule you set. And all the functions are available remotely when you use your Internet router as the gateway to the lights.
In the past we had to use special hard-wired controllers to give us just part of the functionality of the Haiku lights. Now it's all built into the lights and made simple with wireless tech.
The Haiku lights can be mounted to a standard 4 in. ceiling box or retrofit over a recessed light can.   The max light output is 1378 lumens.   The Haiku Premier lights list for $199 each.
Haiku also offers the Select model that doesn't have color temperature shifting. It renders a 2700K warm light and costs $149.