Working by Yourself: Tips From a Solo Carpenter
Think working alone will lead to low-quality results? Well, you might be surprised when it ups your game.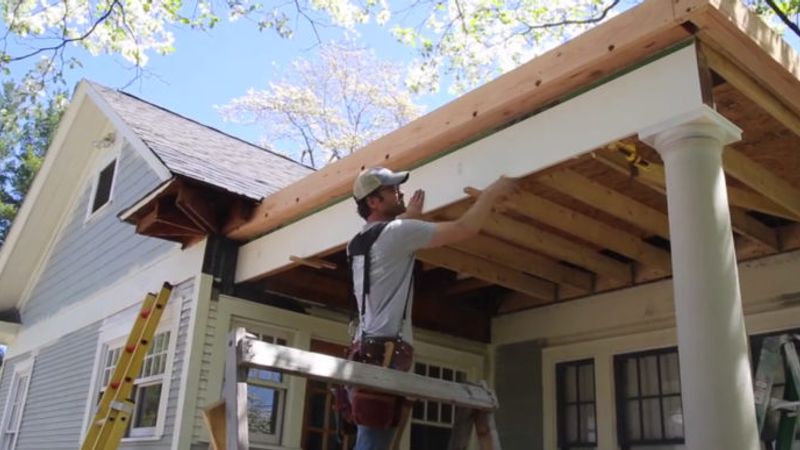 In a recent episode of the Fine Homebuilding podcast, we were discussing whether it was possible to do quality, efficient jobs when working solo. My argument is that it is absolutely possible, and that the majority of the work I do, I do alone.
In this short video alone you'll see several examples of a workflow that's built around working solo.
When working overhead, I like to use homemade scaffolding. When you have to focus on balancing a board by yourself, you'll appreciate having a wide, stable scaffold to work from.
Many teams of carpenters rely on either measuring in team (one at the smart end of a tape measure and the other at the hook) or lifting a piece into place, marking where it needs to be cut, and then climbing down to make the cut. Instead, I often use a laser distance measure to get accurate dimensions to work from. It's also helpful to think about how pieces will come together, because you often can get away with cutting a board just shy of full length, giving you some leeway for adjustment.
I learned the value of temporary brackets from John Carroll (check out his excellent book, Working Alone by The Taunton Press) and have been using them for a variety of tasks ever since. Here I'm attaching them to the underside of the beam, set to the exact height that I need my trim board to overhang the beam. This way the piece of trim can be lifted into place and just set on the brackets. This frees me up to move my ladder, or shift my attention to the corner where my miter needs to come together, and I have both hands available for fastening.
Even if you work as part of a crew, it can be helpful to think about how you would do something on your own. Sure, some things require two or more people no matter how clever you are, but often the process of thinking like a solo carpenter will lead you down the path of safer, less tiring, and more accurate methods of getting the work done.