Podcast Episode 75 — Electrical, Flooring, and the Art of Craftsmanship
Tools, Window Installation, Hardwood Flooring, Circular Saws, and Electrical Panels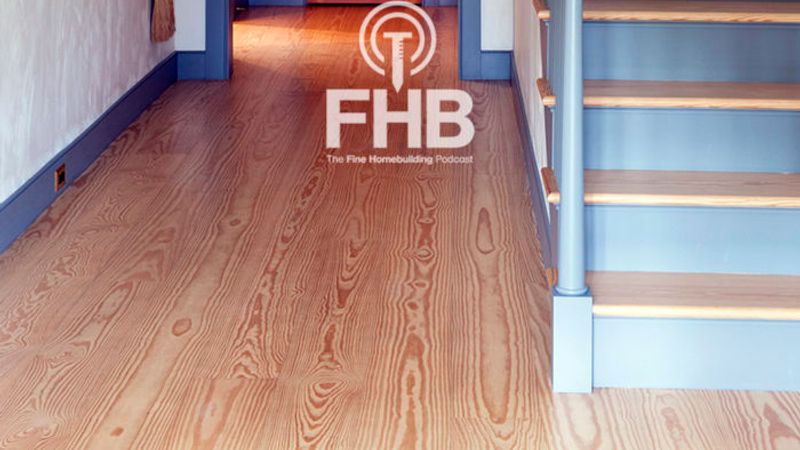 In this episode, the guys discuss the upcoming Remodeling Show and Deck Expo, as well as approaching work as a craftsman and some listener questions. This podcast episode features advice and commentary from Fine Homebuilding editor Justin Fink, design editor Brian Pontolilo, and associate editor Matthew Millham. Matt talks about his two-day photo shoot in California, where he met CJ Nielsen, an electrical contractor in Marin and Sonoma County. You can find CJ, whose company is CNC Electric Inc., on Instagram. The guys talk about CJ's penchant for organization, attention to craft, and neat work. You'll be able to read more in a future print issue of Fine Homebuilding. Take a look at CJ's work as photographed by Matt:
Later in the episode, a question from FHB Ambassador Andy Moore sparks a discussion of timeless hardwood floors. The ur-example, the guys agree, is Red Oak. Here's an example of Red Oak flooring, as well as the chart that Justin mentioned:
The guys also discuss other "timeless" wood flooring options, including cork and Southern Pine. Here's that photo of the Southern Pine, nice and big since it is a super cool example:
Another listener asks about installing head flashing on new windows and doors in a stucco situation. For example:
Finally, a listener asks about worm drives vs. sidewinders, and when to use each one. Check out this video of Justin discussing both.
We hope you will take advantage of two great offers for our podcast listeners: A special 20% off discounted rate to subscribe to the Fine Homebuilding print magazine. The other great offer is … A special offer to buy John Carroll's Working Alone.
We are looking for as many podcast listeners as possible to come out to meet the Fine Homebuilding team at the Remodeling and Deck Show this October in Nashville! We'll be at Booth 424 on Oct. 26, 2017, at the Nashville Music City Center. We're running an Emerging Professionals Event and recording an episode of this podcast from the show floor.
We also have our continuing request for listeners … we need all our fans to take our podcast feedback survey by clicking here. There's a chance to win a $100 American Express gift card. After the promotion ends, you might have a chance to win something else, or our great thanks at the least.
Today's episode of the Fine Homebuilding podcast is brought to you by Zip System Sheathing and Tape.
Zip System Sheathing and Tape has revolutionized roof and wall installation with a built-in air and water resistive barrier. With Zip System Sheathing and Tape, simply hang panels and tape seams for a tight water-resistant enclosure. If you're still using house wrap, hear why builders are switching to Zip System Sheathing and Tape for quicker rough dry-ins and dependable air and water management at ZipRevolution.com.

The show is driven by our listeners, so please subscribe and rate us on iTunes or Google Play, and if you have any questions you would like us to dig into for a future show, shoot an email our way: [email protected]. Also, be sure to follow Justin Fink, Rob Yagid, and Fine Homebuilding on Instagram — and "like" the magazine on Facebook. Note that you can watch the show above, or on YouTube at the Fine Homebuilding YouTube Channel.
The Fine Homebuilding Podcast embodies Fine Homebuilding magazine's commitment to the preservation of craftsmanship and the advancement of home performance in residential construction. The show is an informal but vigorous conversation about the techniques and principles that allow listeners to master their design and building challenges.
Other links related to this issue: