Podcast Episode 101 — Cabinet Door, Hot Water, Deck, and Wood Repair Questions
Lumber, trim, deck ledger flashing, wood rot, wood putty, dogs, and bacteria in the plumbing.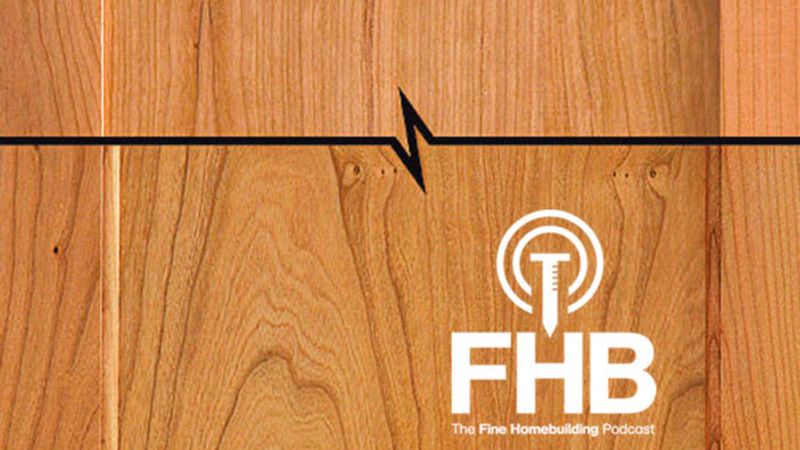 This episode is a bit of an experiment, going out live on social media. Plus, there are a few technical problems with the sound. But pressing on regardless, Justin, Brian, and Rob jump right into listener questions.
Sam writes to ask about tall kitchen cabinet doors, and how to keep big doors flat. Justin suggests that the wood you choose is crucial. Brian says that the lumber choice should be purposeful. "Stock selection and stock prep, those are the two big things," says Justin. Rob mentions joinery as well.
Listener Don has an idea to save money — enjoy cold showers and turn down the hot water heater. Great idea, huh? Well, no. Problem number one: bacteria can thrive if the temperature is lower than 120 to 140 degrees. On the other hand, a tankless water heater may be the answer.
Matthew says he thinks his ledger flashing, the wood underneath feels waterlogged, and the nails are rusty. Our excellent show producer Jeff had a similar problem, and he weighs in on how it went for him.
Listener Paul writes that a bunch of his window sills and some of the vertical legs of door casing have been damaged, with deep scratches, probably by a big dog scratching at them. Paul is looking for a better solution than wood filler. Rob says, replace it. Justin says that some colored waxes and putties may do the job.
We're still running two sweepstakes!
First, celebrate our 100th episode by signing up for a chance at a great prize! There will be four winners in our celebratory sweepstakes, one winner for each tool that we're giving away. Click here to enter our sweepstakes!
Second, please click on over to our HOUSES Readers' Choice Contest. Enter your info, vote for the house you like best, and you'll be entered to win a $500 shopping spree at the Taunton Store. And you can come back every day to vote again, too. The three top house designs, of the ten submitted by our readers, will be featured in the magazine.
This episode of the podcast is brought to you by Benjamin Obdyke.
Benjamin Obdyke would like to use the special occasion of their 150th anniversary to thank the nuisances that builders and homeowners despise. Their premium products protect from those pesky things like rain, snow, humidity, and the neighbor's sprinkler system. Take HydroGap, a drainable housewrap that eliminates moisture from your wall assembly. Or Cedar Breather, an underlayment for wood roofing that allows continuous airflow behind shingles or shakes. One man's headache is another man's successful business. To build better with Benjamin Obdyke, visit benjaminobdyke.com.
We hope you will take advantage of a great offer for our podcast listeners: A special 20% off discounted rate to subscribe to the Fine Homebuilding print magazine. That link goes to finehomebuilding.com/podoffer.
The show is driven by our listeners, so please subscribe and rate us on iTunes or Google Play, and if you have any questions you would like us to dig into for a future show, shoot an email our way: [email protected]. Also, be sure to follow Justin Fink, Rob Yagid, and Fine Homebuilding on Instagram — and "like" the magazine on Facebook. Note that you can watch the show above, or on YouTube at the Fine Homebuilding YouTube Channel.
The Fine Homebuilding Podcast embodies Fine Homebuilding magazine's commitment to the preservation of craftsmanship and the advancement of home performance in residential construction. The show is an informal but vigorous conversation about the techniques and principles that allow listeners to master their design and building challenges.
Other links related to this episode: