Podcast Episode 109: Favorite Articles From the FHB Vault
Floating shelves, cabinets, insulation, drywall, miter vs. bevel, structural panels, painting a radiator, decks, and framing.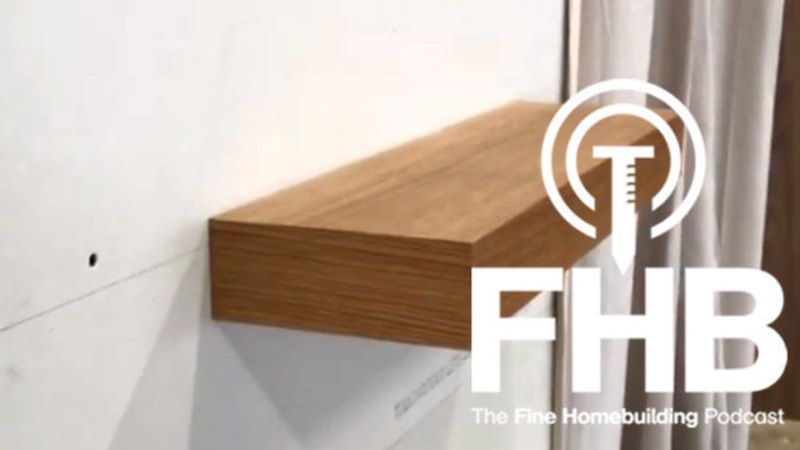 We've got a new design for our Keep Craft Alive shirts, so go check those out at our online store.
In this episode, Fine Homebuilding magazine editor Justin Fink is joined by editorial director Rob Yagid and design editor Brian Pontolilo. Brian was out last week meeting Cliff Ham on the Washington/Oregon border. Here's a video from Cliff's Instagram (@hambuilt) of Brian working in Cliff's shop. Look for more from Cliff in a future issue of Fine Homebuilding, the June/July 2018 issue.
Working with a fine artisan also inspired Brian to finally finish his own kitchen remodel, using what he learned from Cliff to put up a floating shelf.
Speaking of projects, Rob made progress in his own remodel, with a successful inspection of his insulation. Now he is ready for the drywall.
Meanwhile, Justin wrestles with carpentry terminology: miter vs bevel … and two bevels make a miter joint, or at least they used to.
The guys spend some time in the weed on trends in structural sheathing and panels. They also discuss aerosol testing for air sealing.
---
From a listener (Justin misplaced the name, sorry) … How to paint a radiator in cold weather, keeping the smell to a minimum.
Listener Sam from Salt Lake writes about his efforts to air-seal his house, and how to do it best. The guys give him some advice.
---
And Justin introduces a new segment … intended for listeners who are new to the FHB brand and our rich history of features.
Favorites From the FHB Vault: FRAMING
Brian's fave: Larry Haun's 10 Rules of Framing.
Rob's fave: Mike Guertin's The Complete Guide to Building a Deck: Newtown 2014
Justin's fave: John Spier's Frame a Classic Shed Dormer
Speaking of decks, we just finished putting together a special interest publication named DECKS and Outdoor Projects. Click here to check out some of the content, and buy it now at newstands everywhere.
---
This episode of the podcast is brought to you by Benjamin Moore.
Everyone can paint. This is true. But not everyone can get the project done right. And Benjamin Moore knows that's why you're on the job. You're more than a paintbrush and a ladder. Your client can buy those things at a hardware store, but they hired you for your skills and expertise. You know every paint job is different and that it takes more than one coat for the best finish. Benjamin Moore believes in doing things the right way. Because everyone can paint, but to do it right, it takes an expert contractor, it takes more than one coat and it takes Benjamin Moore. Paint like no other.
We hope you will take advantage of a great offer for our podcast listeners: A special 20% off discounted rate to subscribe to the Fine Homebuilding print magazine. That link goes to finehomebuilding.com/podoffer.
The show is driven by our listeners, so please subscribe and rate us on iTunes or Google Play, and if you have any questions you would like us to dig into for a future show, shoot an email our way: [email protected]. Also, be sure to follow Justin Fink, Rob Yagid, and Fine Homebuilding on Instagram — and "like" the magazine on Facebook. Note that you can watch the show above, or on YouTube at the Fine Homebuilding YouTube Channel.
The Fine Homebuilding Podcast embodies Fine Homebuilding magazine's commitment to the preservation of craftsmanship and the advancement of home performance in residential construction. The show is an informal but vigorous conversation about the techniques and principles that allow listeners to master their design and building challenges.
Links related to this episode: