How to Change the Oil in a Worm-Drive Saw
Worm-drive saws have an oil-bath gearbox that should be refreshed periodically to make your tool last longer and run smoother.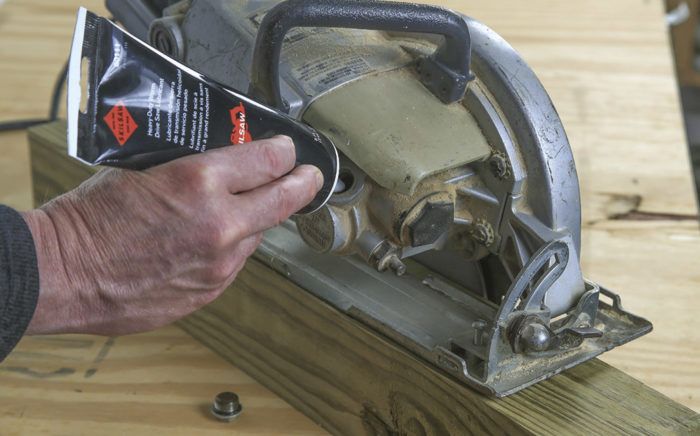 I've been using the same worm-drive saw for years, and I'm embarrassed to say that I have never changed the oil. How often is this supposed to be done, what kind of oil do I use, and how do I even do the job? Is it just a top-off procedure, or a drain-and-refill like in a car?
—Chris, via email
Patrick McCombe, senior editor and host of Tool Tech, replies: You didn't say what brand of saw you have, but I'm assuming you have a true worm-drive saw and not a hypoid saw. Both types are configured similarly with a rear handle and a motor parallel to the blade. However, hypoid saws and sidewinder circular saws have sealed bearings and don't require any maintenance. Worm-drive saws have an oil-bath gearbox meant to provide cooling and lubrication to the gears that transfer motor power to the sawblade. The oil eventually gets contaminated through use. I called both Ridgid and Skilsaw, makers of the two most popular worm drives currently on the market. Both makers said you should change the oil after the first 10 hours of use. Since most cuts take seconds, this is actually a much longer service interval than it would first appear. After the first service, Ridgid says to change the oil every 50 hours, which is likely a lifetime for many users. Skilsaw, maker of the Skilsaw 77 and Mag 77, says you should change the oil every year.
To change the oil, first free-run the saw for about three minutes to warm the oil and then remove the spindle lock/oil-filler plug with a 1⁄2-in. wrench. Tip the saw on its side and pour out the oil into a container for recycling. Using a funnel with a 1⁄4-in. or smaller spout, refill the crank case to the level specified. The Ridgid has a sight glass to make checking the level and refilling easier. Skilsaw's gearbox should be filled to the bottom of the threads on the fill hole.
Skilsaw offers its own oil. You can buy an 8-oz. tube on Amazon for about $5 plus shipping. Ridgid says to use Mobil SHC 636 synthetic oil. This can be tough to find in small quantities, but I was able to find 4-oz. bottles on ebay for about $10 plus shipping.