Framing Shear Walls on the Slab
A mix of sole plate heights and wall heights adds some complexity.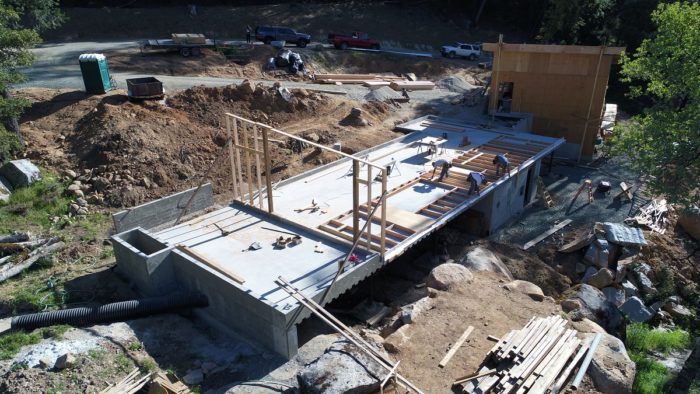 This is not a normal house, as you have probably gathered. There are two plate heights on the first floor and they are both beneath the finished floor. Where the exterior walls are close to grade, they are framed on a stem wall. The plates of the other exterior walls are on the slab.
We also have interior shear walls that the second floor bears upon around the mechanical pit, and these walls are set on the slab. So, as you'll see in upcoming posts, the walls are framed before the floor and there are three different stud lengths in addition to the rake studs.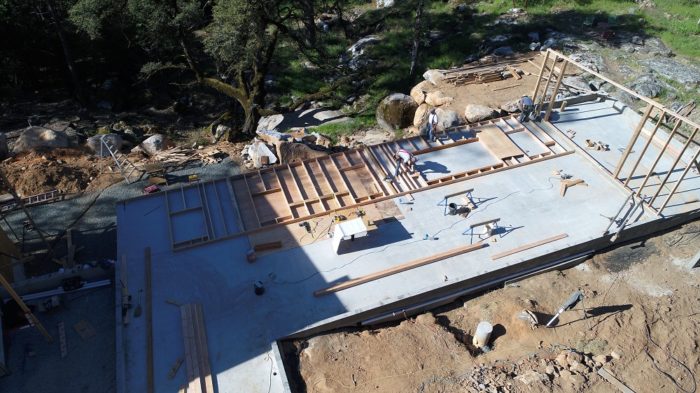 We framed in a temporary floor to cover the mechanical pit, making it safer and easier to work on. The walls resting on the stem walls had to be framed with the plate on edge, elevated on the 10-ft. curbs. Some walls were lifted with wall jacks, but most were doable with the manpower on site (six to seven carpenters). Every exterior wall is a shear wall, and where possible we sheathed the wall before lifting it.