Tools & Materials
Get a Foolproof Fit for Stairs, Cabinets, and More
The Collins Stair-Tread Template Set is indispensable for measuring inset carpentry projects.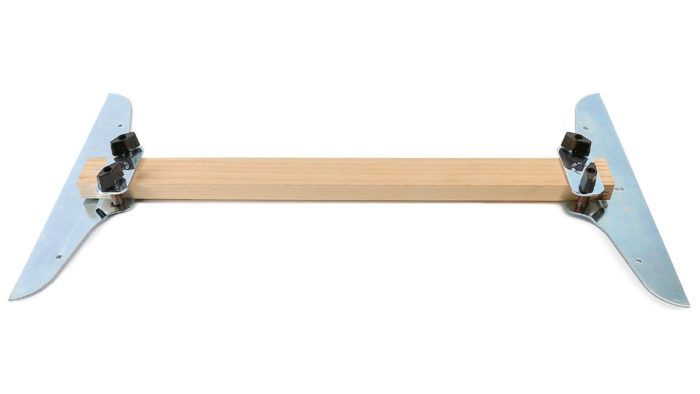 Although it's made for fitting finished treads between stringer skirtboards, I use the Collins Tool Co. Stair Tread Template Set for all kinds of stuff. One of the most practical uses I've found is for fitting shelves in closets and pantries. Just as it is for fitting treads between stringers, the template is a pretty foolproof way to copy the angle of opposing walls when fitting shelf boards.
In fact, because you can fit any length stock between the pivoting ends, you can use the tool on a project of virtually any size where you need to fit something between two things that aren't parallel—from a wall-to-wall mantle, to deep windowsills, to a kitchen countertop. For wider stuff like countertops, I just use a straightedge to extend the line to the stock's edge. The setup is great as is, but I would advise marking one side so that you can more reliably orient the template when transferring from the location being measured to the material being cut. I do this by marking an "L" for left.
Nathan Rinne, a finish carpenter in Roach, Mo.
Photos: courtesy of Melinda Sonido; Nathan Rinne
From Fine Homebuilding #280