Minisplit Heat Pumps Efficiently Heat and Cool this House
Three indoor units provide the right mix of comfort and efficiency for this well-insulated but complex floor plan.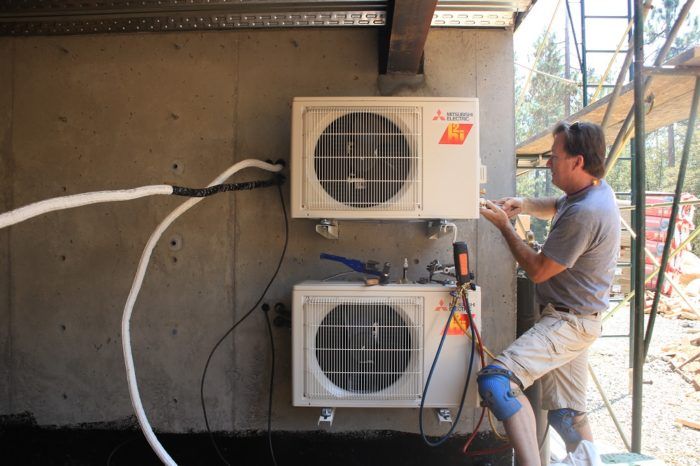 Mitsubishi minisplits will provide all of our heating and cooling. We calculated heating and cooling loads for our home and found ourselves with an interesting challenge: The calculated loads for the home came to roughly one ton for the entire home. And while our house has low loads, it has some compartmentalization and is multiple stories. We wanted to be able to operate the home in two zones, upstairs and downstairs, and wanted to make sure that there wouldn't be much room-to-room variance in temperature.
As Dan Perunko and Gavin Healy, our mechanical contractors at Balance Point Home Performance, say, "People often conflate efficiency and comfort, and while they intersect with each other, it's important to figure out what expectations the occupants have for considerations like system responsiveness." Mela's preference would have been to use a ducted unit for the obvious aesthetic reasons. However, ductless minisplits fit better into our budget, and we were able to meet the climate control goals with three ductless units.
The downstairs load is 8000 Btu and the upstairs is 4000 Btu. The upstairs unit will likely be used more to meet cooling demand. Because the first floor of our house is over 60 ft. long, it's better suited to two wall heads to reduce hot and cold spots, but it's unlikely that all three units will run at the same time.
There may be times when just one of the smaller units is running (which allows for more adjustability, if, for instance, we want the bedrooms cooler for sleeping). Despite the high summer temperatures in our area, there should be long stretches when we let the air conditioners sit idle. With our tight, well-insulated house and a typical 30° temperature swing at night, we can flush the house with cool night air and close it up during the day. However, the poor air quality that comes with more frequent forest fires and a longer fire season means this strategy isn't always feasible.
The capacity of Mitsubishi's smallest heads still exceeds the loads in our two smaller zones. However, by installing three completely separate minisplit units, our overall labeled efficiency is higher. And we expect that the separate pieces of equipment cycling independently from each other will minimize the potential inefficiencies that are driven by oversizing.
More about the California FHB House: