Podcast Episode 155: Do You Really Need a Building Permit?
The Fine Homebuilding editors discuss the dangers of remodeling a house without informing the local building department.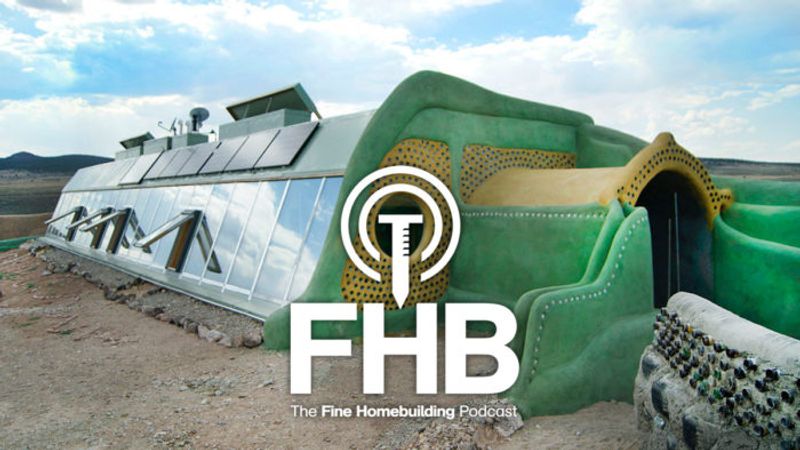 Patrick, Matt, and Rob share some great listener feedback about home-workshop air quality before tackling questions about: legally renovating a home; the pros and cons of radiant floor heating; and how to remove air trapped in a hydronic heating system.
---
Fine Homebuilding at the 2019 International Builders' Show

If you can make it to IBS (Feb. 19th – 21st) in Las Vegas this year, you can get FREE tickets to the floor show courtesy of Fine Homebuilding.
Also, if you definitely plan to be at the show, email us at [email protected] if you would like a chance to join us for the taping of one our 6 episodes at the Fine Homebuilding booth (at 10am and 3pm each day of the show).
---
Editors' project updates

Patrick's closet project: Flooring decisions.​
Matt's new workbench: It's square now.​
---
Listener Feedback: Cold windows and insulated ductwork

Doug writes: Patrick, I just watched podcast 150 and I found your reaction to straw bales interesting. I think most of the people who build them are owner-builders. The appeal is the material cost. These people are willing to trade a lot of their time and energy for a home they can afford. My younger son built an earth ship for the same reason. It was weeks of very hard work but the material cost was next to nothing. I think these types probably do work best in dry climates.
Dean writes: Gentlemen, In episode 151 you discussed Kenneth's question about air quality in his tight building.  One often sees recirculating filters units by Jet, Rikon, and others.  These may be somewhat useful for removing particulates, but still recirculates stale air.
I installed an ERV with a high efficiency pleated filter and just because I am an engineer I added a manometer to monitor filter performance.  The dust accumulated in the filter shown in the attached photo is from normal milling operations.  Any power sanding is done with a HEPA filter shop vacuum connected to the tool.  Annually I remove the ERV element and wash it according to the manufacturer's instructions.
If I have any particularly nasty atmosphere from finishes or other solvents I can open the porthole and engage an exhaust fan. (Photo 2)​
I am installing a similar system in a shop I am building in Northern Minnesota.  Since the building will be heated but not air conditioned I will be installing a less expensive HRV. HRVs by Fantech and others are available for under $700, maybe less if frost protection is not required.
I hope my experience is helpful to your listeners.
Related links:
---
Question 1: Are permits always necessary for remodeling projects?
Nervous Nellie writes: As a homeowner DIYer  in Northern Ontario I have gotten numerous permits over the years for sheds, decks, rebuilding a porch, interior stair handrail replacement, insulation, removing a load bearing wall, rewiring rooms and even new shingles.  I actually enjoy the permit process (doing drawings and specs etc) and am comforted by all the inspections to know that things are done correctly.
So what is the problem?  Taxes.  Permits themselves are cheap but the improvements done to the home increase the assessed value which drives up annual taxes.  In my current home, when I took out a wall and turned two small bedrooms into a large one with walk in closet, along with a partial bathroom reno, my yearly taxes went from $1800 to $3400.
I am now looking to finish my basement and install a bathroom – all from scratch.  I want to do it all without a permit to save on taxes but am nervous.  If I hire reputable licensed tradespeople for the important stuff (plumber, electrician and concrete guy) is there really a risk?  I'm thinking that the one time added cost of the pros will be significantly cheaper than never ending taxes.  But I also want to be able to sleep at night… Would love to hear your thoughts. And if you could withhold my name it would be appreciated.  Thanks, Nervous Nellie.
Related links:
---
Question 2: Contemplating radiant floor heat for a new home?
Ben from Sioux Falls, South Dakota, writes: Gentlemen, I'm a long time listener of the FHB podcast and an avid reader – thank you and the others at Taunton for producing such quality content! My wife and I are currently in the process of designing a new home for our family – we have a multitude of questions but our hot-topic of the moment is about in-floor radiant heat: should we incorporate into our plans, or omit?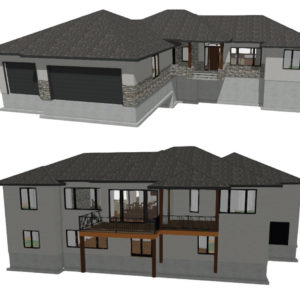 Some info about our design and location:
We're in Climate Zone 6 (Sioux Falls, South Dakota) – it gets HOT here in the summer (90 deg +) and crazy COLD in the winter (-10 deg or below)
Front of house faces south, back of house faces north (lakefront in backyard on north side)
Home design is a single-story ranch walk-out (plans, not finalized, are attached – still working on basement layout and exterior appearance)
Basement/Foundation footprint is approximately 2,300 sq. ft.
Will likely have traditional forced/central air heating & cooling (have considered mini-split systems, but most HVAC contractors in this area are unfamiliar with this technology and this size of a home would likely require multiple units, which I've been told would cost more than a traditional system…)
When the basement is finished, the majority of the floor will be carpet (less the mechanical room, bathroom(s), area near the basement stair, and mini-lower level garage)
So, in your opinion, is it worth it to install in-floor (slab) radiant heat? If so, can you suggest any recommendations for heat source? we've seen (and heard) from various contractors and other homeowners that some use a boiler, others just a normal water heater, and others yet with a tank-less water heater.
Thanks for any feedback you can provide & keep up the good work.
Ben writes back: Hey Patrick, Yes, Natural Gas is available. We will more than likely have our forced air system set up for natural gas use.
Not sure if using natural gas for the water heater (and whatever device we use for the radiant heat system – if incorporated) is more efficient that electric or not (maybe electric w/heat-pump is better?)
In case it's useful, we intend to live in this house for at least 20 years, if not longer, so we're willing to invest in some things (building envelope stuff, insulation, etc.) that will (hopefully) yield us some benefits that many short-term homeowners may not fully capitalize on.
Related links:
​
---
Question 3: What's the best way to insulate a concrete crawlspace?
Tim from Edinburg, VA, writes: Greetings FH Team, I have a vented crawl space that I want to insulate and make part of the heated and air conditioned space in my house.  The crawl space is concrete block construction with a concrete floor.  Basically, it is the sameconstruction as the house basement but is only a four-foot high crawl space.  I'm not sure why it was built this way but I'm sure the previous owner had a reason.  I also plan to seal the vents and insulate the rim joist with whatever material I use for the rest of the crawl space, and seal the edges with spray foam insulation. The heating/AC ducts run through so I plan to add a couple of vents to heat/cool the space.
My options, based on what I have read are 2″ Extruded Polystyrene covered by a layer of drywall, 2″ Polyisocyanurate, and Rockwool Rigid Boards. The Rockwool option looks good, if I can get the quantity that I need.  I'm sure there is something I have overlooked, or perhaps a better approach, hence the reason I'm asking the team of experts. I would appreciate any guidance or helpful hints that you can send my way. Thanks in advance for your assistance.
Patrick: One polyiso product, Dow THERMAX, has a Class I fire rating, allowing it to be left exposed in crawlspaces that are only accessed for maintenance and repairs.
Related links:
---
Question 4: How do I remove air trapped in a hydronic heating system?
Monish writes: 
Hello Justin and Company:
I am a regular listener to your podcast and congratulate you on the fine job you guys do. It's very practical and informative.
I am from Midland Park,NJ – and a homeowner & home-self-maintainer.
I have a question about my hydronic heating system. We had an addition put up about 2-3 years ago and we added a extra zone to the baseboard heating system. This zone consists of a toe-kick heater installed in parallel with 1/2″ pipes to the zone's 3/4″ baseboard pipe. The kick heater is installed using 3/4″ to 1/2″ diverter valves – both inlet and outlet.
The problem: every so often the toes kick heater gets air bubbles, and water stops circulating, thus making it useless. I have to uninstall a cabinet drawer and bleed the air from the heater to get it operational.
Remedies: the zone air vent was installed on the return side of the system, so I installed one on the supply side at the highest point near the heater unit.
I still get air once in a while. Please suggest a more permanent fix.
Professional plumber Mike Lombardi responds: Toe space heating units don't always require 2 Venturi or scoop tees. Usually, when the unit is above the heat loop piping, one Venturi tee is enough.  I prefer for a single Venturi tee to be mounted on the return side of the unit with the branch connection facing sideways (horizontal); air bubbles travel along the top of the water flow and won't be as likely to enter the toe heater through the horizontal branch. Mount a standard reducing tee on the supply end of the toe space heater, again with the branch connection horizontal.
Infiltrating air comes from several sources, and entrained O2 takes several weeks of repeated heating to be released from fresh water. Non barrier pex tubing should not be used in closed hydronic heating systems. O2 can pass through non barrier pex and cause flow problems and worse – continuous and rapid corrosion of all ferrous heating system components.
Circulator location is important. Circulating pumps mounted on the system return piping pumping towards the expansion tank   (even through the boiler) will create a pressure drop while running and can cause the fill valve to add water, especially  if the valve is located behind the circ; fresh water = more 02. The boiler automatic fill valve should always be connected at the expansion tank.  Circulator pressure drop can also cause automatic vents to open in reverse and suck air into the system. Circulators work best on the supply piping  "pumping away " from the expansion tank.
The standard two chamber air scoops that mount on the supply piping above the boiler are often incorrectly installed. They work best when located 18″ or more from the transitional elbow (from vertical to horizontal). This distance gives any O2 a chance to escape turbulence & rise to the top of the flow where it can " burp " at the automatic vent.
Some tips for air elimination and improving flow: Purge with pressure at or above 20 psi. Raise the boiler temp to 200 degrees or higher when purging. Higher temps reduce the size of air pockets and bubbles – smaller bubbles equals better flow. It can help to add a shot glass or so of Dawn dish detergent to your system after the initial purge; it will have a positive effect on the boiler fluid surface tension and improve flow.

Related links:
---
 In the news… 
The Fatberg: One British sanitation official urges people to only flush the three "P"s…or this might happen again:
---
This episode of the podcast is brought to you by Huber Engineered Woods
This episode of the Fine Homebuilding Podcast is brought to you by Huber Engineered Woods, makers of  AdvanTech and ZIP System products.
If you're going to the International Builder's Show in Vegas, don't miss Huber Engineered Woods – they will have two locations. The Prove It Tour product experience will be right outside on your way to pick up your badge near Show Village. Try ZIP System liquid flash, stretch tape and register to win a $15,000 product rebate prize. Catch Huber's booth in the Central Hall where they will host the 2nd Annual "Best of Social Awards" with Matt Risinger Wednesday at 3:00. Not going to the show? Follow @huberwood on Instagram to see.
We hope you will take advantage of a great offer for our podcast listeners: A special 20% off the discounted rate to subscribe to the Fine Homebuilding print magazine. That link goes to finehomebuilding.com/podoffer.
The show is driven by our listeners, so please subscribe and rate us on iTunes or Google Play, and if you have any questions you would like us to dig into for a future show, shoot an email our way: [email protected]. Also, be sure to follow Justin Fink and Fine Homebuilding on Instagram, and "like" the magazine on Facebook. Note that you can watch the show above, or on YouTube at the Fine Homebuilding YouTube Channel.
The Fine Homebuilding Podcast embodies Fine Homebuilding magazine's commitment to the preservation of craftsmanship and the advancement of home performance in residential construction. The show is an informal but vigorous conversation about the techniques and principles that allow listeners to master their design and building challenges.
Other related links