How-To
Warm Floors on a Tight Budget
Using factory-assembled pieces and swapping a boiler for a water heater can lower the cost of radiant-floor heating systems.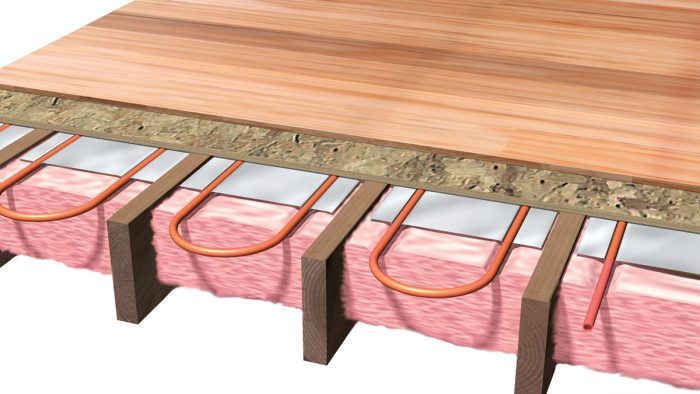 Synopsis: For many years, radiant-floor heating systems have been too pricey to entice many homeowners. According to contributing editor Scott Gibson, however, with simpler, less expensive heating systems and factory-assembled components now on the market, some companies are trying to make radiant-floor heat a bigger player. To generate cost savings, newer radiant-floor heating systems are replacing expensive boilers with more affordable water heaters. Also, some suppliers sell systems online. Radiant-floor heating systems are available as either closed or open systems. Closed systems circulate the same water or glycol in an isolated loop. Open systems access the water used in household plumbing. Open systems can be indirect or direct. In indirect systems, water used for heating is separated from water for household use; in direct systems, however, the same water is used for heating and for household use. This article includes sidebars on water-heater vs. boiler usage; the way a condensing water heater works; the controversy over the health safety of direct systems; and a first-person commentary about installing a radiant-floor heating system ordered online.
Our radiant-floor heating system is everything the heating contractor said it would be: quiet, efficient, and unobtrusive. The heat is even. There's no blower noise and no radiators to arrange furniture around. I like everything about it—except what it cost.
The three-zone system, designed around a German-built Viessmann boiler, cost $29,000 when our 2100-sq.-ft. house was built three years ago, or roughly $14 per sq. ft. That's apparently not out of line with national averages for a system with similar components, but it's more than forced-air or conventional hydronic heat would have been.
After getting an estimate like that, some homeowners take a deep breath and go ahead anyway, but many run the other way. Despite a number of attractive features, radiant-floor heat accounts for as little as 5% or 6% of the U.S. market, according to the Radiant Panel Association, and high cost is certainly one of the big reasons why.
That's exactly what a variety of parts suppliers and system designers would like to change. By using simpler, less expensive heating equipment and factory-assembled components, companies such as Warm Floors, Radiantec, and Hannel Radiant Direct are making radiant-floor heat more competitive with conventional hydronic systems. In the process, they've touched off a war of words with more traditionally minded plumbers and mechanical contractors.
Conventional systems usually include a boiler
The basic idea behind a radiant-floor heating system is pretty simple: To keep the house comfortable, all you have to do is pump heated water through loops of plastic tubing placed in or under the floor. Tubing can be stapled to the bottom of subflooring, encased in a concrete slab, or inserted in grooves formed in special types of subflooring.
No matter how tubing is deployed, the system needs a way to heat water. The Radiant Panel Association estimates that in 90% of all radiant installations, water is heated in a boiler, the centerpiece of conventional radiator and baseboard fin-tube hydronic systems.
Boilers are ideally suited to produce water in the 160°F to 180°F range, just what most hydronic systems require. Boilers can be equipped with sophisticated controls, such as outdoor resets that regulate water temperature according to demand, and mixing valves to regulate water flow and temperature. They also can provide domestic hot water via an indirect water heater or a heat exchanger inside the boiler itself. All this probably explains why most heating contractors continue to specify boilers in radiant-floor designs.
Boilers and related controls, however, can be expensive. Our Viessmann (www.viessmann.com) is the Mercedes-Benz of boilers, as the installer put it, but it cost $2100, not including the $1170 indirect water heater or the $965 mixing block. Other controls were extra. That is one of several reasons why radiant-floor systems are expensive, but by no means the only one. Labor is another. If a heating contractor or plumber does the work, high labor rates add up quickly. Radiant systems also tend to be designed and built one component at a time by an on-site contractor, so each system is essentially a custom installation. Add it all up, and what you get is expensive.
For more photos, drawings, and details, click the View PDF button below:
View PDF