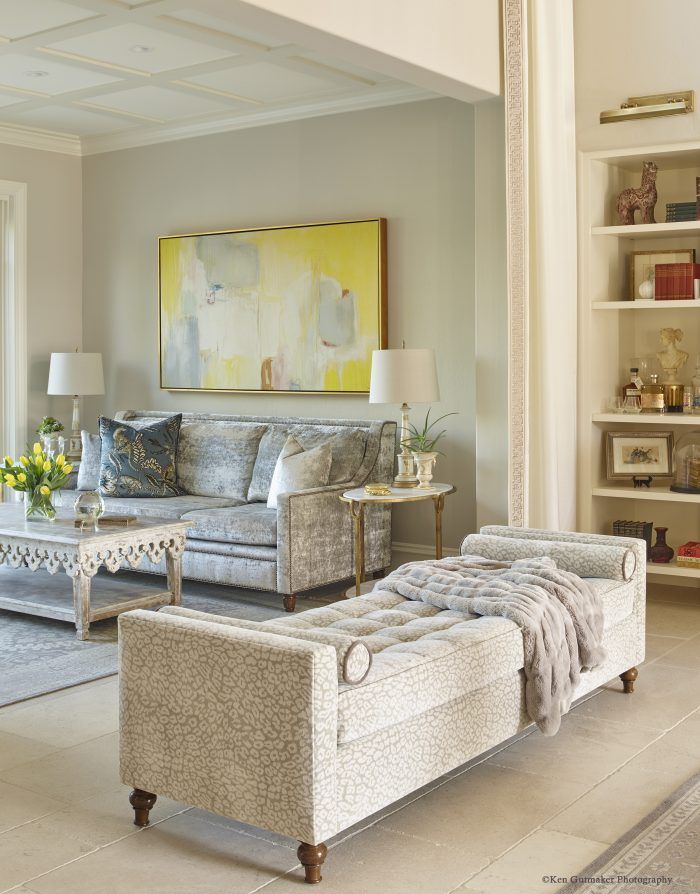 This elegant living room space had "a long road to travel" to get to its current state.
The designer puts it this way . . .
"You know those silly rooms that are decorated but that no one ever sits in? Living rooms that nobody lives in?
Well this room started out that way. It had a lot working against it. It was sunken. It was over-filled with a grand piano that no one played. Large scale furniture filled the room–but not in an inviting way. The 1980s vinyl windows were an eye sore. French doors opened to yet another unused outdoor patio space and the beautiful view beyond was obstructed.
We started outside by tearing down huge decorative exterior columns to open up the amazing view. Then we pushed the interior wall out to capture that patio space, and double the indoor area. Now the doors open up to steps that lead right to the yard and pool. In addition, the floor was originally sunken about 6". Together with a structural engineer we were able to come up with a very stable method for raising the floor height to level it with the rest of the house. We also carefully designed the new exterior walls to look as though they had always been part of the architecture. The new design integrates into the home beautifully and seamlessly. In fact, the new flooring, windows and doors actually have a more timeless style than what was originally appointed in the 1980s.
We added a gorgeous paneled ceiling, raised the floor and carried through exquisite French limestone. All of the windows and doors were replaced and reconfigured. We incorporated a beautiful built-in bookcase in what was previously an awkward niche.
Window treatments and luxury custom furnishings and accents were then layered in to make this a stunning and welcoming space. Perfect for entertaining and relaxing, our clients now spend all their time there. It no longer feels like a museum. Finally, it's called the "living" room for a reason."
Interior design https://nicoleyee.com
Photographer- http://www.kengutmaker.com
The "Before" Image