Modern Passive House in the Vermont Wilderness
An architect builds a new energy-efficient home with plans to live simply on the land, paying homage to the farmstead that once stood on the site.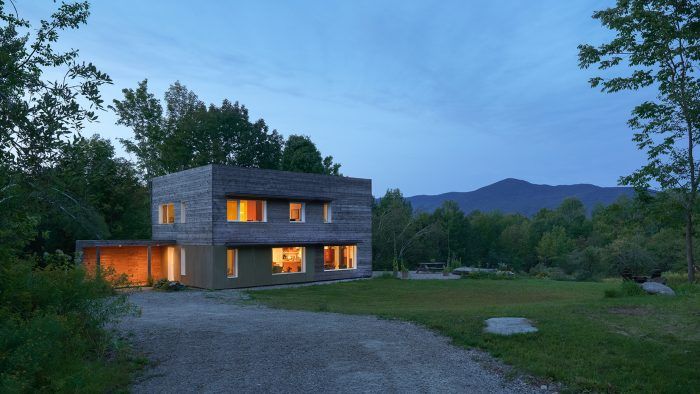 The site for this Passive House was first discovered by the architect while he was hunting grouse with his Springer Spaniel. The area was covered in overgrown fields, crumbling foundations, and collapsed structures, the last remains from a deteriorating Vermont farm. The architect had a vision to build a home to connect the inhabitants back to the land, closer to the way their predecessors had lived on the property years before.
He did so by building a Passive House (PHIUS certified), a structure that has a reduced ecological footprint, particularly due to extremely low energy demands for heating and cooling. The house is specifically angled to receive the most solar energy during the day. The structure is also heated by the occupants, appliances, and a cold-climate heat pump for high efficiency.
The materials used in the Passive House also contribute to its minimal environmental impact. The envelope design of the house–thick walls with using cellulose insulation over spray foam–retains much of the solar energy collection during sunny days. The house also utilizes UPVC triple pane windows and doors for maximum efficiency. The siding is unfinished Eastern Hemlock, locally sourced from an old barn, over a fully vented rain screen. The old boards will weather to a silver grey and require minimal maintenance. Like the old barns of New England, this home was built to last generations. Fragments of the old stone wall borders and foundations were preserved and integrated into the site as landscape features connecting the past and present. The new structure is integrated into the landscape seamlessly with its placement in the open field that transitions to the old orchard and deep woods.
| | |
| --- | --- |
| | |
"The people that eked out a living on this primitive hill farm were resourceful and wasted nothing.  Their efforts forged a vernacular aesthetic unique to Vermont. Today we also hope to live with the environment and enjoy its beauty and the way of life it offers…..and we do this thinking the way they thought, but not building what they did."
Architect: Studio III Architecture, Gregor Masefield
Builder: Silver Maple Construction