A Custom Fireplace Becomes a Focal Point
Modern accents surround this traditional hearth and make it a commanding centerpiece in the FHB House great room.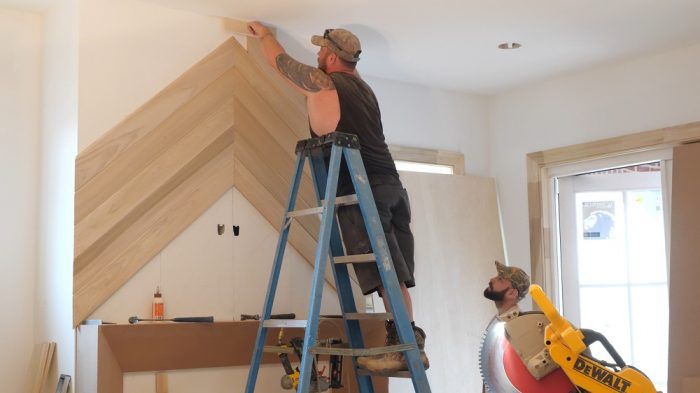 There is something about a hearth that speaks to us on an instinctual level, and naturally draws our attention when we enter a room. Gretchen and I wanted to take this concept to the next level by designing a visual treatment that would make the fireplace a powerful focal point and the centerpiece of the room. While the great room has a traditional feel, we saw the custom fireplace surround as an opportunity to play with modern flourishes. Shiplap accent walls are popular these days, and we dressed up this cladding by installing it in a chevron pattern for a more modern interpretation of the traditional mantel. And although we didn't envision this room with a TV over the fireplace, the arrangement is common enough that we wired the chimney for power and cable/internet and added blocking for a possible future television installation.
Find out more about the 2019 Fine Homebuilding House:
What is a New Urbanism Development? – Walkable neighborhoods and more interconnected communities are why homeowners, developers, and municipalities all find this this unique design philosophy attractive.
A Courtyard Room Creates Privacy on a Narrow Lot – A well-designed courtyard connects the outdoors to the first floor, a big plus in a home with neighbors so close by.
Air-Sealing and Insulating – Planning ahead and focusing on the details are the keys to creating a tight envelope with Zip System sheathing and spray foam.