Podcast Episode 175: Stair Stringers, Laser Levels, and Duct Design
The Fine Homebuilding editors offer advice about framing new stairs for a deck, choosing the right level for a whole-house construction project, and figuring out how to upgrade an old HVAC system for efficiency and comfort.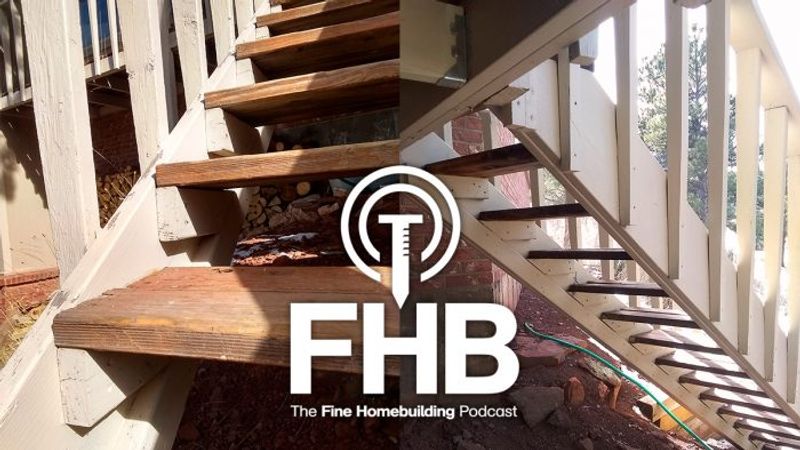 Follow the Fine Homebuilding Podcast on your favorite app. Subscribe now and don't miss an episode:
Patrick kicks off this week's conversation with an update on his trial of Spray & Forget mold remover to clean up the grungy siding on his house, then Rob contemplates some interesting architectural follies he saw on a local country road. Matt gets us into a more technical topic–one contractor's peculiar way of insulating the underside of a house built on piers–before the crew jumps into answering a few listeners' emails.
---
Editor Projects

Patrick's Wet & Forget experience: Seems to be working.
Rob's Architectural Oddities: It's a matter of taste?
Matt: One method for insulating the underside of a house on piers: Working backwards?
Listen to three conversations we had with a few exhibitors from the 2019 JLC Live show:
---
Question 1: What's the best approach for wide deck stairs?

Curt writes: Hi guys, I am looking at a deck upgrade on an existing twenty year old deck. We want to widen the stairs, currently 30″ and replace the decking. I plan to use composite decking material, but my question is regarding rebuilding these stairs.
I haven't built deck stairs over 4 treads. I have used 2x12s and cut them for stringers in the past, but I am leery of a stringer this long and high with so many cuts. As you can see in the original picture these stringers are solid 2x material with 2×4 cleats as tread supports. The new treads will be 4′ wide, so there will be at least one more stringer, if not two, which will have to be cut, but wondering what the best approach is overall. Are there exterior rated LVLs I could cut for this? If the lumber seems good on the existing stringers it would be nice to re-use them.
I also thought a post and new concrete pier might be a good addition to support where the stairs connect to the deck beam, but not sure if this is overkill.
Related links:
---
Question 2: How much should I spend on a laser level?

Kevin from Sacramento writes: Hi All, I enjoy listening to your podcast and would appreciate any help you can provide with my conundrum.  I am currently moonlighting as an owner-builder in an effort to construct a new-construction 2-story house for my wife and myself in the Sacramento Valley.
I have finally reached a point in the construction process where I believe I need a laser.  The task at hand is measuring the length for studs to build a stem wall that will match up in height to a concrete stem wall that doubles as a retaining wall.   The issues at hand are that I don't know what else I will use a laser for and what type of laser to get.  I am trying to decide between the PLS 180, PLS 6, and PLS 480.
My first question is what are realistic uses for a laser in a new construction project?  So far I've determined that I could use a laser for measuring the aforementioned studs, installing trim work, and lining up tile and can lights.  All of these are valuable and could be done with the PLS 180, but I'm wondering if I am overlooking anything.
My next question is what is the value of a laser to plumb and square walls?  While I understand this can be done with a laser, is it actually a good idea?  Do you still end up checking everything with a carpenter's square, tape measure, or plumb bob?  I worry that I would spend money on this feature in a laser and find myself unable to use it in an outdoor, new-construction environment or that I wouldn't trust it.  I feel like this is the determining factor in going from the PLS 180 to the PLS 6.
My final question would be in regards to the PLS 480.  This laser is a 3-line laser; it has the same plumb and level lines as a PLS 180 and also has a square line perpendicular to the plumb line.  Do you foresee any use for this feature in a new construction project?  I saw the recent write up on this unit in the November 2018 issue, but it didn't really answer any of my questions..​
Related links:
---
Question 3: What should I replace my old HVAC system with?

Scott from Eastern Mass. writes: Hi FHBPod team.  Thanks for the great show – been listening since episode 1.
We currently plan to replace our current HVAC system.  It is forced hot air, with an older atmospherically vented oil burning  furnace, and a traditional 3 ton central A/C.  The house is in eastern MA, is single story, ~1700 sqft, built in the 40's, with an unfinished full basement and attic.  We had an energy audit when we first bought the place, and they came in and air-sealed in the attic and basement as well as blowing in some more insulation in the attic.  I also have a PV solar array on the roof that is currently generating a little more electricity than we are using (~1500 kwh extra in the first year).  The home  is shaped like a  U, with a deck in the middle, the kitchen in the "base" of the U, the family room on one end, and the master BR on the other.  In the winter, the current comfort is "OK", but as you might suspect, the BR and family rooms on the ends of the "U" tend to be  bit chilly compared to the other parts of the house.
I suspect the comfort issue has more to do with system (or duct) design than it does type of system, but now seems like the time to address it all.  You've stressed on the show before the need to get a manual J load calculation done.  I seems like a good idea, but it also appears that being an existing house, lots of assumptions are going to need to be made about what's in the walls, the performance of the windows, etc.  Just wondering if after all of those assumptions are made, how much different is that from a rule of thumb guess an experience HVAC guy is going to make.
But if I'm going to be replacing the whole smash, what would you choose to replace it with?
Traditional single zone HE gas furnace?
Ground source heat pump?  (seems really expensive and I might have siting limitations for the wells)
HE low temp air source heat pump or splits?  Mini splits mounted on the walls are a no go.  Just too darn intrusive (i.e. ugly).  But would ducted splits mounted in the basement in different areas make any sense?  Does anyone even install these?
Thoughts? Keep up the good work, and thanks for making my Friday commutes a bit more tolerable.
Related links:
---
#KeepCraftAlive

Support the trades! Buy a #KeepCraftAlive hat or t-shirt.
---
This episode of the podcast is brought to you by MiTek, ZipSystems, and Danner boots
This episode of the Fine Homebuilding Podcast is brought to you by Danner boots. We're not fortune tellers, but when you lace up our new Stronghold work boots, it's easy to see that the future looks strong. We're Danner, and after 85 years of making boots for the unforgiving Pacific Northwest… well, that means our boots come with deep roots. And the new Stronghold work boot is no exception. This is what happens when iconic quality runs into modern technology. You get tomorrow's classic today. Get into the Stronghold for strength that starts right from where you stand. Find your local store at Danner.com. 
We hope you will take advantage of a great offer for our podcast listeners: A special 20% off the discounted rate to subscribe to the Fine Homebuilding print magazine. That link goes to finehomebuilding.com/podoffer.
The show is driven by our listeners, so please subscribe and rate us on iTunes or Google Play, and if you have any questions you would like us to dig into for a future show, shoot an email our way: [email protected]. Also, be sure to follow Justin Fink and Fine Homebuilding on Instagram, and "like" the magazine on Facebook. Note that you can watch the show above, or on YouTube at the Fine Homebuilding YouTube Channel.
The Fine Homebuilding Podcast embodies Fine Homebuilding magazine's commitment to the preservation of craftsmanship and the advancement of home performance in residential construction. The show is an informal but vigorous conversation about the techniques and principles that allow listeners to master their design and building challenges.
Other related links