Custom Collaboration: Lindal Cedar Homes and OM Studio Design
A model house plan is the jumping off point for one builder's vision of the ideal modern home.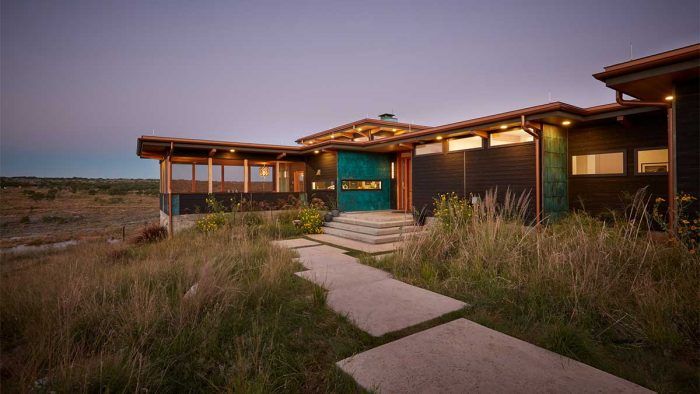 Located in Texas Hill Country, this solar-powered modern home has distinct origins. It is a highly customized version of a Lindal Cedar Homes model designed by Aris Georges of OM Studio Design. It is also the home of builder Jeff Derebery and his wife, Janice Fischer. "After years of building houses for other people, he had a vision for his own home and this design came close to it," says Aris. Jeff adds: "We had virtually identical floor plans, and Aris had the structural expertise that we needed to build an engineered post-and-beam structure."
Aris explains Lindal's approach to home building—the "Elements" system—is based on a square grid. All of the walls and windows fall on that grid, so if the house dimensions are scaled up or down, the character of the design remains intact because the proportions stay the same, as evidenced by the modifications made on Jeff's house, which included the roof dimensions and some added spaces. Additionally, the system offers multiple roof styles that can be rotated in response to a given site, and clients have the option to substitute spec'd materials and to select windows, doors, roofing, and siding.
Aris began working with Lindal Cedar Homes when they launched Lindal Architects Collaborative. At the time, he was teaching at the Frank Lloyd School of Architecture and was part of a team that presented a residential design plan to the company using the Elements method, which Lindal describe as "a fully developed system of parts that can be combined in an infinite array of individualized designs." Jeff's house is a variation of the 2246-sq.-ft. three-bedroom Hestia model.
Aris has since been asked to apply the system to some of his own designs. "My idea is that each design should have a unique floor plan," he says. "My training at the Frank Lloyd Wright School taught me that it's the way people live in a home that determines its shape. Wright called that designing from within outward."
Wright's influence is visible in the way this house centers around a courtyard. Every room has a connection to that space and to the surrounding trees and/or distant river. In fact, upon entering the house, the first thing one sees is a corner of the courtyard. "You are in the building but you haven't been excluded from the landscape," Aris explains. Similarly, every corridor ends with a view. "There's a window at the end of all of your movements. As you move around the house, you always have a glimpse of what's outside."
Jeff and Janice have a penchant for Japanese architecture and design, so the courtyard idea spoke to them. Jeff ordered charred (shou sugi ban) cypress boards from Nakamoto Forestry to use for siding, and he built copper panels for the entry, fireplace, and other key features. Interestingly, for a quick patina, he applied Miracle-Gro, which gave the panels their striking color. "Because of the courtyard, all of that expensive siding can be seen and appreciated from their living room," Aris notes, adding that the outdoor space is lit at night. "Those large windows become like mirrors; the light softens the feeling of being surrounded by black glass, which makes it a lot more enjoyable."
Other notable design elements include the high-gloss concrete floors—surprisingly, there's no applied finish coat. It took six or seven passes of grinding and polishing to get that look. Aris also points to what he calls "ribbons of glass" between the kitchen counter and cabinets that were added to capture indirect light.
For his part, using standard products, Jeff designed and built a three-unit system comprising the solar panel array, the rainwater cistern, and the carport canopy. "The carport definitely has some stories associated with it, as we are on a ridiculously hard limestone here called dolomite. Building the carport required 48-in.-wide by 96-in.-deep piers," Jeff recalls.
This is the first of this Lindal model that Aris has seen built; a second is under construction in California. In both cases, bodies of water were a design priority. "The idea for the house was to expose a natural element with movement—like water. That's something I learned to factor in when I design because Frank Lloyd Wright believed nature is something we need to have near us in our homes. Even when I design suburban homes on small lots, I always pay attention to how the vegetation and landscape enhance the experience from the inside."
Aris provides a testament to the solidity of the post-and-beam construction with steel moment connections: "Two of Lindal's homes are the only ones left standing in a neighborhood that experienced Hurricane Sandy." Jeff's own house remained perfectly still and quiet during a major storm with 45-mph winds.
Lindal's approach to home customization puts the designer directly in touch with the homeowner, who benefits from the efficiencies of the product and the one-on-one attention of an architect. In this case, the result was a hyper-efficient, low-maintenance house imprinted with Jeff's artistic eye and building expertise.
Photos courtesy of Lindal Cedar Homes
If you have a project that might be of interest to our readers, please send a short description and images to [email protected].
For more house plans: