Tools & Materials
Smooth Operator
The bidrectional teeth on Starrett's Dual Cut jigsaw blades eliminate tearout on veneers and laminates without making your saw jump like a reverse-tooth blade can.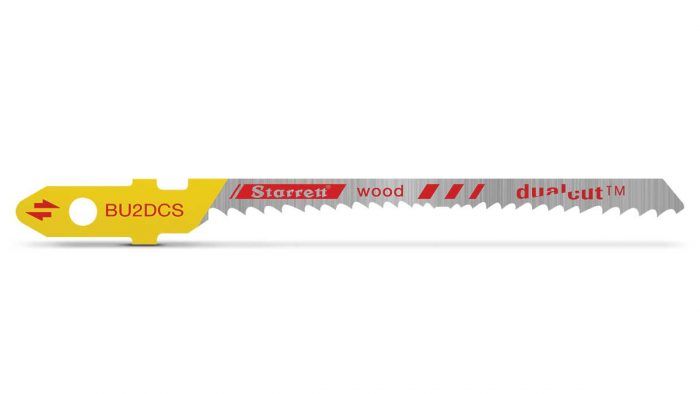 One of the problems with using jigsaws to cut highpressure laminate and veneer plywood is the tearout caused by the blade's upstroke. That's why blades designed exclusively for laminate have teeth that point down—but this tooth arrangement makes the saw jumpy and tough to control. Enter the Dual Cut jigsaw blades from Starrett. They have teeth on the top part of the blade that point down and teeth on the bottom that point up, a new arrangement that's meant to eliminate tearout and chipping on both sides of the stock.
At a recent trade show, I was able to try some tight scrolls on a piece of laminate countertop. The cuts were impressively smooth and the saw was easy to control. The company claims the blades work just as well on one and two-sided veneer plywood and MDF.
Dual Cut bi-metal blades fit both universal and Bosch-style jigsaws. They are sold in packages of two, five, 20, or 100.
Starrett Dual Cut jigsaw blades
BU3DC: 3-in. by 5⁄16-in. by 0.60-in.
BU2DCS: 2-in. by 3⁄16-in. by 0.50-in.
Price: $7 for 2-pack
P.M.
Photo: courtesy of Starrett
From Fine Homebuilding #285