Trading in Your Hammer for a Clipboard
When tradespeople transition into project-management roles, mastering record-keeping and communication skills is essential to success.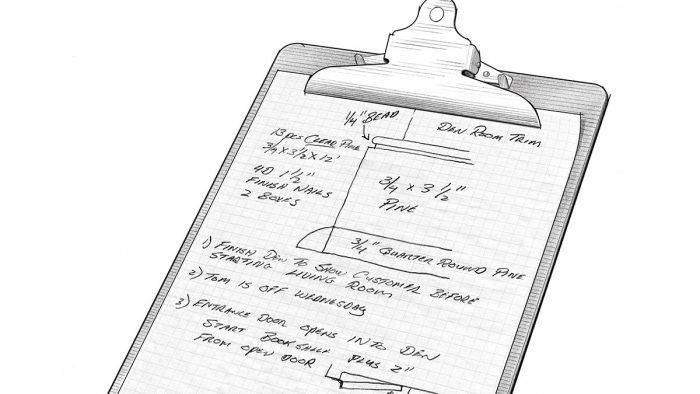 Synopsis: Many carpenters will one day take on the role of project manager, which requires a new set of tools: a clipboard and pen, or any other record-keeping device. Keeping detailed notes of project requirements keeps a volume of information clear and under control, and helps manage meetings with clients and designers and bolster communication between carpenters and clients.
---
Most project managers start out as workmen, at least on the residential side of construction. If you're a young carpenter with a modicum of intelligence and reasonable people skills, you will likely one day be asked to step into the role of lead carpenter and, eventually, project manager. For many of us it's not a conscious decision—it just happens. One afternoon you realize that your hammer hasn't come out of it's loop all day because you've been yakking and pointing and calling and counting since 7 a.m., so you take off your tool belt and hang it on a nail. And there it stays. Congratulations—you're a boss.
The material you will be working with in your new role isn't wood or steel or concrete. It's information. Just as you gathered an assortment of physical parts and organized and shaped them into a coherent assembly, you must now do the same with the mandates that come down from the decision-makers above you— the designers, the owners, and the contractors. Then you must communicate that information to the crews, the subs, and the suppliers. It all sounds very logical, but in the chaos that is a building job, you will be doing most of this on the fly. That's OK; if you were able to concentrate on framing a wall when there was snow falling and the nail gun jammed and Donny never showed up, then you're no stranger to confusion. The main thing is to keep calm and fall back on familiar steps: Double- check the RO dimensions and figure out a lifting strategy for the manpower you have. In other words, never stop flying the plane.
But now you have a new assignment with different equipment and tricks, so you'll need to figure out which tools work best for you. Some of that is generational. I had my own business long before smartphones arrived, so I'm comfortable with paper-based systems. I can write faster than I can peck at a keypad, and I like having the ability to toggle between writing and drawing without switching applications. But I can see the advantage of having everything stowed away in one brightly lit phone or tablet. I'm sure there are digital versions of the paper "devices" that I depend on—a clipboard and a memo pad. If they work better for you, by all means use them, and understand that the advice that follows is just as applicable regardless of whether you are old school or new school.
The shortest pencil beats the longest memory
The first and most important hurdle to overcome when transitioning from hands-on to managerial work is to understand that you will be processing a much larger and more fluid volume of information. As a carpenter, you might be able to keep the details for a particular task in your head. But now you are gathering information for many tasks to be done by many people. As a result you must write (much) of it down. I say "much" because the reality is that you can't write it all down. There will be times when the pressure is such that the best you can do is pass along a directive by mouth and trust that it gets done properly. But the less you depend on your own memory to deliver the message—and the hearer's ability to remember and interpret that message—the better off everyone will be. Yes, jotting down a note on paper or in your device takes a few minutes, but avoiding one serious mistake will pay for those minutes many times over. "She wanted an outswing entry door? I could've sworn she said inswing…"
So, whether you write on a clipboard or a tablet, in shorthand or chicken scratch, in English or Spanish —just write it down. When I'm cruising the job, I assign places on the page for the most common lists so I can sort details as I go. For instance, "Questions for architect," "Supplies from yard," and "Tasks for laborers" will almost always have entries. Sorting them at the gate saves time untangling them later.
The chief limitation of a clipboard or tablet is when you need both hands for carrying something or climbing on a scaffold. That's why I carry a memo pad in the inside breast pocket of my fishing vest. As a carpenter, I used the memo pad for measurements and sketches, but now I use it mostly to capture those elusive thoughts that might not stay in the front of my brain until I get back to my clipboard. It's also a quick way to snag the contact info of a tradesman or a potential customer when I bump into them on the street.
By the end of the day the clipboard will be a mess. There will be many items that didn't fall into the usual categories, as well as sketches, receipts, and product literature. If left in this condition, a clipboard soon becomes useless. To freshen it, the first step is to file away the collected paperwork to the appropriate subfolders in the job file, such as "Stairs," "Kitchen," and the like. Then you need to convert today's incoming notes and lists into tomorrow's outgoing e-mails and work assignments. Instead of doing this in the afternoon (when I'm tired), I tackle yesterday's notes first thing in the morning as the birds chirp and the java courses through my system. Then it's easy for me to see who needs to answer what questions and who needs to accomplish what tasks. If I have to compose an e-mail, the words come easily.
Manage the meeting
Meetings with clients and designers are essential to a happy outcome, but they can be difficult to arrange and are costly in terms of lost production. So as the pivotal person in a meeting, you need to come in fully primed and loaded. All of the questions that couldn't be resolved by e-mail should be waiting on your clipboard as a carefully combed-through, typed list. Double-spacing the list gives you room to make notes. Incorporating probable choices into the wording of the question is helpful so you can quickly circle the winner instead of writing: "The front door should be in-swing or outswing?" Whatever the method, record the answer somehow. You think you will remember, but you won't.
The order of questions should be in sync with a walkthrough that you have already planned in your head. At each stop on the tour, the questions should be prioritized, moving from the major thorny issues to the minor items.
The delicate dance of communication
Once you have the answers, you need to pass them on to the crew. A task list is a good place to start, but don't depend on it to get stuff done right. One picture is worth at least ten thousand words, so a sketch, even a crude one, will help to form a picture in the mind of your carpenter that aligns with the image in your head. Don't be shy about making notes on the sketch to stress fine points or avoid pitfalls: "Front edge of gutter must align with plane of roof!" What happens to the sketch after you hand it off is important, too. You don't want it stuffed in a pocket and forgotten about. I often mount sketches and printed drawings on scraps of plywood that can be tacked to the wall for easy viewing. Spray adhesive works well for mounting the paper, and you can preserve the board by laminating it with clear packing tape if moisture is an issue. This may sound overindulgent, but it sends the message that you need to get these details right.
After providing a list and a drawing, you still need to talk the job through. There's an art to cross-examining a carpenter to make sure he or she "gets it" without making him or her feel like an idiot. It takes time and patience. You may be running late for a meeting and have a million other things on your mind, but you need to create a safe space where confusion can be expressed and ideas exchanged. Everybody benefits. My carpenters often point out subtleties I'd overlooked. We discuss any special tools or processes, and I try to remember to mention where I left those toggle bolts (note: write it down). We chew on the plan for a few more minutes until the conversation peters out. For now my job is finished. I have loaded my rider's saddlebags and set him on a swift horse. It's time to let him run.
From Fine Homebuilding #286
More about managing a construction business
How to Grow a Construction Business – The goal of many construction businesses is growth, but undisciplined growth will put you out of business or stunt your growth just as fast as running out of money.
3 Ways to Price Construction Projects – Construction is a cost-based business. Use these three methods to determine the correct price for your construction projects.
Construction Schedule Templates – Using a Gantt Chart for your overall company schedule and project schedules will ensure your construction business operates efficiently and your projects run smoothly.