Mechanical Advantages
Lifting material into the air requires enormous power from tools such as wall jacks, telehandlers, and giant cranes—but these machines come with limitations and safety restrictions.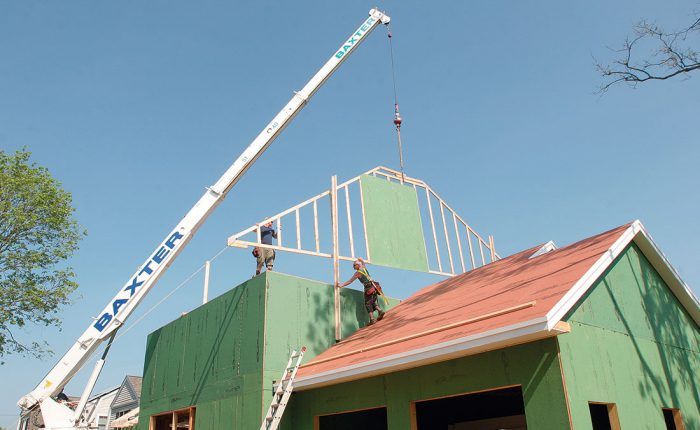 Synopsis: Building a house requires lifting a huge amount of material into the air and across the structure. In this edition of As-Built, Scott McBride defines a series of lifting devices—wall jacks, telehandlers, and cranes—and includes his fraught and funny experiences using these monster machines.
---
There are about 50,000 lb. of lumber and structural panels in an average house, and standing them in the air requires two fundamental capabilities: reach and lifting power. At 6 ft. 2 in. tall but only 140 lb., I'm well-favored in the former but somewhat challenged by the latter. Whereas my beefier comrades can often prevail with a huff and a grunt, I learned early on to use my best muscles—the ones above my neck—for the big lifts, along with the right equipment.
The most practical lifting device for framing is a set of wall jacks. They're used mostly for walls too heavy to lift by hand, but they can be used for beams as well. There are two types: One uses a metal pole with a side-mounted winch, and the other works with a binding action, walking along a double 2×4 like the pump jacks used for scaffolding. I consider the winch style to be safer because the operator can stand outside the footprint of the load throughout the entire lift. Pump-style jacks require the operator to move forward as the wall rises, placing him in harm's way should something fail.
When using wall jacks, it's important to understand that the wall's center of gravity shifts as it rises, so the bottom of the wall needs to be secured against sliding forward just the same as when raising a wall by hand. This can be done with blocks scabbed to the rim joist or with metal straps fastened to the bottom plate.
Not long after I had forked over a nice chunk of change for a new pair of 20-ft. Proctor wall jacks, I had an unfortunate incident. I either forgot to secure the bottom of the wall or failed to appreciate the physics involved. We had cranked the wall up about 4 ft. when the whole thing slipped forward off the foundation. Fortunately, it was close to ground level. No one was hurt, but the wall-jack poles had gained considerable momentum during their unexpected journey, and, coming to a sudden stop, they bent. This was problematic because it compromised the safe lifting capacity of the jacks, shifting any future load away from the poles' center. The other bummer was that the poles, which are built as two halves that telescope for transport, were now so bent that the upper tube would no longer slide inside the lower tube.
The story would end sadly had it not been that the client for this job happened to be a Bulgarian-American machinist named Alex. Building Alex's garage had been interesting from the get-go. When I told him I needed to buy anchor bolts for the sills, he rummaged around in his boneyard for some rod stock, bandsawed it into bolts, threaded them on his lathe, and bent them with a torch. They were the prettiest J-bolts I've ever shoved into wet concrete.
The crashing sound of the Great Wall-Jack catastrophe brought Alex out of his shop to survey the wreckage. He saw me struggling in vain to slide the now banana-shaped wall-jack tubes together and offered to help. We placed one of the tubes under the ram of a hydraulic-press frame and Alex began propping it with V-blocks. When I saw what he was attempting, I was skeptical. There's only about 1⁄16 in. of sliding clearance between the 11-ft.-long tubes.
Alex prowled around his patient, eyeballing it from every angle. Behind his darting eyes I imagined little gears analyzing parabolic curvature and the deformation memory of mild steel. Then he started tweaking; a crank here, a reposition, a crank there. In a few hours my wall jacks were once more nesting together happily. Every time I raise the poles on a job I salute my immigrant friend.
The operator tried lifting the machine by pushing down with his side stabilizers; imagine King Kong climbing out of a bathtub. It was a good strategy, but the stabilizers just plunged into the muck with no effect.
My quest for mechanical advantage eventually led me to purchase a telehandler, sometimes referred to as a shooting-boom forklift. It was the bottom of the 2009 recession and heavy equipment was going for fire-sale prices. After the purchase, I assumed that my lifting problems were over, but in practice I discovered that the usefulness of a telehandler is limited by its size and tremendous weight. Although they're terrific for building a new structure on a flat, unfinished site, the fear of rutting a lawn or cracking a driveway makes them impractical for remodeling. It's also difficult maneuvering on tight lots or steep ground.
Telehandlers face another limitation: When exterior walls go up, their reach is greatly impeded. To extend over the wall you must back up the machine or steepen the boom angle. This can make placement of interior beams and trusses impossible. If I did more framing work, I would invest in a truss jib, which is an attachment that extends the boom for placing relatively light loads at a greater distance.
These heavy machines come with heavy responsibilities. Legally speaking, operators must be trained, certified, and re-certified periodically. Regulations aside, it's morally imperative that operators know and obey all the rules, especially when there's a work platform on the end of the boom. I have seen OSHA photos of forklift tip-over accidents, and they are not pretty.
The ultimate lifting device is a crane. With a big enough machine, you can hang a gable wall or a structural ridge wherever you want it. The problem can be getting the sucker on site. I once ordered a crane for raising a large stick-and-timber-frame addition. At $800 a day, the rental was nothing to sneeze at. I also had to supplement my crew on lifting day with additional carpenters to take full advantage of the crane.
In preparation, every component was numbered; every move choreographed in advance. We stood around nervously until the diesel-guzzling behemoth arrived. I directed the operator to set up on a rise behind the addition. The bank leading up to the rise was still soft from the previous night's rain, and as the crane started climbing the bank, the tires began to spin. Soon the beast was mired in wet Virginia clay and my grand plan had come to a screeching halt. The crane rental plus the extra labor meant that the meter was running north of $300 an hour, and I was a growing warm under the collar. The operator tried lifting the machine by pushing down with his side stabilizers; imagine King Kong climbing out of a bathtub. It was a good strategy, but the stabilizers just plunged into the muck with no effect. A voice in my head hollered, "Think, damn you, think!" Gazing into the distance to compose my thoughts, my eyes fell upon a nearby culvert bridge, its sides faced with dry-laid fieldstone. Light bulb!
There was no time to get the owner's permission, so I just gave the order: Everybody haul rocks! We had no tractor and no wheelbarrows, just a half-dozen pumped-up carpenters waddling back and forth from the bridge to the crane like penguins carrying 40-lb. eggs. There was a lot of praying and cursing. Successive batches of stones were rammed into the mud until finally the crane began to rise. A cheer went up. By this time, the road's surface had started to dry, and we sprinkled it with sawdust. I exhaled, and soon we were flying exterior walls into place.
From Fine Homebuilding #290