Tools & Materials
Gift Guide: Editor Top Picks
From shop vaccums to tablesaws and more, here are 8 tools ideas to gift a home builder.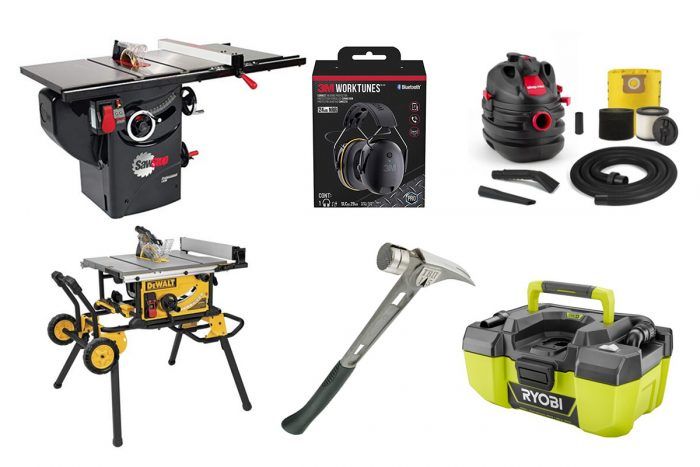 We recently asked the Fine Homebuilding editors what tools they would recommend for a home builder's gift list. The tools in this list are favorites from a few of our editors' own tool kits. And oddly enough, Patrick, Matt, and Colin all included tools for job-site cleanup—it seems that Fine Homebuilding editors are a tidy bunch.
If you buy products through the affiliate links in this article, Fine Homebuilding may earn a small commission. 
Patrick McCombe, FHB Senior Editor
DeWalt 20v Cordless Blower

I love my DeWalt 20v Cordless Blower. I use it to blow leaves off our decks and clear away piles of sawdust left from outdoor cutting. It's not a substitute for a high-powered backpack blower, but I use it more than I could have ever imagined. If you're not on DeWalt's system, you can find similar blowers from most cordless tool manufactures.

It sells for $180 with a 5-Ah battery. Without the battery it's $150.

Superior Block Plane

If you're hoping to take your furniture making or finish carpentry to the next level, a good place to start is a high-quality block plane from Veritas or Lie-Nielsen. My Veritas Apron Plane is a joy to use and it's small and light enough that it's not a burden in my tool belt. Properly sharp, it will make even end grain curl, and I can't image a more enjoyable way to ease edges and scribe parts to fit.

It sells for about $100.

Safer Tablesaws

Truth is, I never used to worry about cutting off my fingers with a tablesaw, but my job has introduced me to a surprising number of smart carpenters, cabinetmakers, and furniture builders who are missing fingers from accidents. I often hear carpenters say that this type of injury can always be prevented. That may be true, but carpenters are often forced to work long, arduous hours in all kinds of less-than-ideal conditions. And even if everything is perfect, people make mistakes and there's always the potential for distractions outside your control.

In my mind, a SawStop saw is cheap insurance against a painful, disfiguring injury that could end your career. If you're a carpenter, get the Legacy Jobsite Saw or the Jobsite Saw Pro. If you're a cabinetmaker or have a home shop, get one of the cabinet or contractor saws.

Prices start around $1500.
---
Matt Milham, FHB Deputy Editor
Titanium hammer

I picked up my titanium Stiletto TBII 15 hammer a little over four years ago after developing painful trigger finger in two fingers of my swinging hand. Until then I'd only used steel hammers with a variety of different handles and grips. A guy I knew had switched from a steel to a titanium hammer to deal with carpal tunnel, so I decided to try the same. Within weeks, my fingers started to feel better. Years later I still have a small nodule at the base of my ring finger, but it doesn't hurt.

If I didn't already have the TBII (which I plan to take to the grave), I'd splurge for one of Stiletto founder Mark Martinez's customizable M1 framing hammers. His new company, Martinez Tools, is putting out some really well-thought-out gear that has earned a rabid following. Titanium hammers aren't cheap, but for a tool that gets constant use, I think it's worth it to save the wear and tear on your body.

It sells for around $250.

Portable vacuum

I bought Ryobi's 3-gal. Project Wet/Dry vacuum only because it came with a battery and a charger. I didn't need the vacuum; I just needed the battery and charger to go with a cordless Ryobi sander I bought to avoid having to buy a longer extension cord. This whole scheme sounds dumb, but getting the vacuum kit worked out cheaper than if I'd bought the charger and battery combos that were in stock at my local box store at the time. (Yes, getting the extension cord to run my Makita sander would have been cheaper, but also unsatisfying because A: there was no deal to be had there, and B: I wouldn't have this rambling recommendation to give you).

Little did I know I'd end up using this little vacuum all the time. It's lightweight, highly portable, and has a decent amount of suction for such a little thing. It's great for getting sawdust out of vehicle upholstery and off of shop benches and equipment, and for attaching to small power tools when working in finished spaces on quick jobs where lugging in a corded vac is more hassle than it's worth.

It costs between $100 and $150.
---
Colin Russell, FHB Video Director, Senior Producer
Portable Tablesaw

I work out of a shed, and often out of my pickup truck as well. The DEWALT 10-in Carbide-Tipped Blade 15-Amp Portable Table Saw easily collapses and wheels around just like a traditional hand truck. I have a bad back, and this saw has never been a hassle when moving it or loading it back onto my pickup.

It costs around $500.

WorkTunes Protection Headphones

I always use ear protection, and now I have access to my e-books, music, and podcasts as I work using my 3M WorkTunes Connect Plastic Hearing Protection Earmuffs. They are Bluetooth compatible, comfortable, and last the entire day on a singe charge.

These headphones are not meant for audiophiles, but for a weekend warrior like myself, they're just right.

They're a great value for around $45.

Shop Vacuum

The Shop-Vac 5-Gallon 6-HP Shop Vacuum is small and easy to move around any interior repair job. I really like that it has the option of using a bag, which makes for easy clean up. It's also very powerful for such a small unit, and it works great hooked up to my power tools for dust collection.

It sells for around $90.