Tools & Materials
A Durable Yet Affordable Timber-Framing Chisel
Arno's timber-framing chisels offer a quality cutting edge at a low price point.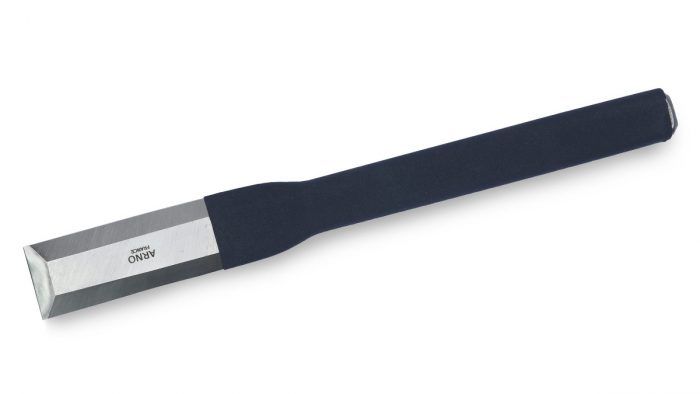 I've got antique chisels and new chisels; wide ones and skinny ones; plastic handles and wood handles; expensive and cheap. Yet out of all these chisels, the one I keep reaching for lately is my Arno timber-framing chisel.
Purchased on a whim, mostly due to the low price compared to other "slick"- style timber-framing chisels, the Arno chisel has proven itself an absolute workhorse. Made in France and available in 20-mm, 25-mm, 30-mm, and 40-mm widths (roughly 3/4 in. to 1-1/2 in.), with lengths ranging from just shy of 11 in. to nearly 14 in., each chisel is forged from a single piece of steel. The cutting edge of the chisel is hardened to Rockwell 58-60, putting it right in that sweet spot for holding an edge without being brittle, and the butt end won't protest under even the heaviest hammer blows. The handle of each chisel is dipped in PVC to form a thick no-slip grip that is soft and comfy, which means it also comes in handy for tapping wood patches into their newly chiseled homes without marring the surface.
Despite the relatively low cost of the chisel (prices start at about $45), the quality is impressive without being so precious that I'm afraid to toss it into a tool bag. The chisel is sharp enough out of the box to get right to work, but it can be honed to a mirror-polished edge with minimal time on the sharpening stones.
Justin Fink, a remodeling contractor in Plainville, Conn.
From Fine Homebuilding #309
---
RELATED STORIES