Tools & Materials
PPE Kit Checklist
Keeping a kit of personal protective equipment on the job-site helps you and your crew stay safe and comfortable.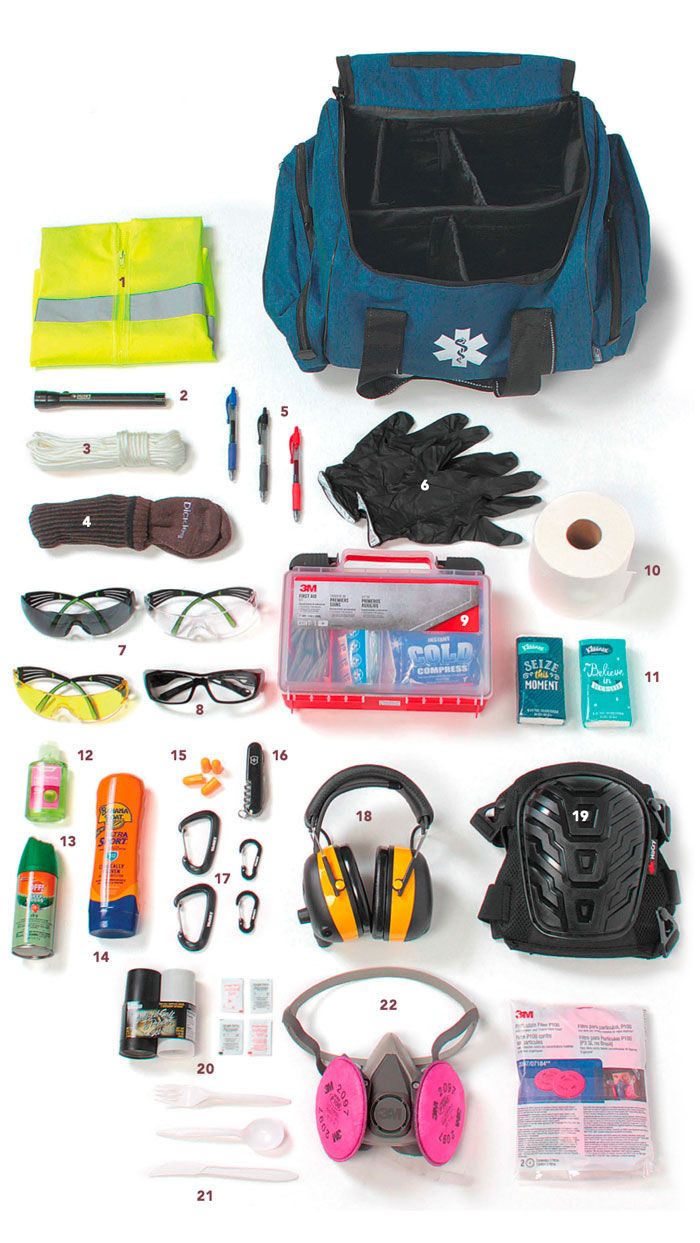 I may be a slow learner, but the longer I'm in the trades, the better I am at wearing personal protective equipment (PPE). The key, in my experience, is to make it easy. To this end, I created a kit with all my personal protective gear, first-aid supplies, and related items in one organized bag that moves from my truck onto every job site. I've found that if you have to go back out to the truck, you might be tempted to skip a safety measure.
My kit is reasonably compact, convenient, and light. I use a medical bag from Ergodyne (Arsenal 5215 Large Trauma Bag) that costs about $60. It has Velcro dividers for configuring the space to suit your needs, and I like that it has the medic logo and reflective trim that makes it easy to spot. It also makes it obvious to anyone on-site where the first-aid kit is. It has sturdy handles, a carrying strap, and generous side pockets. Besides a first-aid kit, I carry all the safety gear that helps me avoid needing medical supplies in the first place. I also throw in a few convenience items that make life more comfortable on the job site.
High-visibility safety vest
Flashlight
Parachute cord
Extra socks
Pens
Gloves in nitrile (shown)regular work gloves, coated cloth work gloves, and chemical-resistant gloves
Safety glasses in clear, light tint, and dark tint
Reading glasses (for the not-so-young finish carpenter)
First-aid kit
Toilet paper
Facial tissue
Hand sanitizer
Insect repellent
Sunscreen
Foam earplugs
Swiss army knife
Carabiners
Hearing-protection headphones
Kneepads
Salt and pepper
Plastic cutlery
 3M 6291 half-mask respirator with P100 particulate filters
You should be able to find most of these items in your local hardware or building-supply store, but search Amazon or other online retailers for whatever you can't source locally.
Photo: Melinda Sonido
From Fine Homebuilding #291