Podcast 263: Basic Tools, Wet Walls, and Is the Deck Stacked Against DIY?
Kiley, Brian, and Patrick hear from listeners about sawhorses and thermography before taking questions on a basic DIY tool kit, brick walls without overhangs, and testing waste lines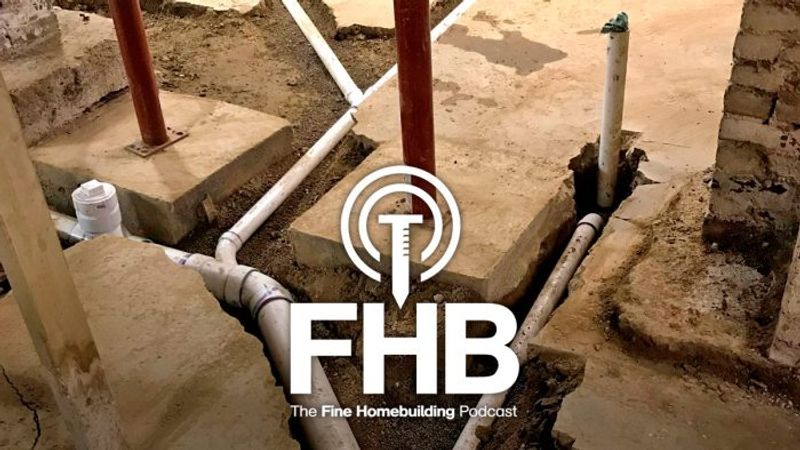 ---
Follow the Fine Homebuilding Podcast on your favorite app. Subscribe now and don't miss an episode:
Brian Pontolilo—one of the original FHB podcast hosts—joins Patrick and Kiley for this week's episode. Mike Guertin writes in with some thoughts on foamed attics. Jay and David have some thoughts on sawhorses. Adam was disappointed with our discussion about tools in Episode 55. Josh inquires about vapor open paint and Austin asks, "Is the deck is stacked against DIY?".
---
Editor Updates:
Brian's projects at GBA
Kiley's Rotted eaves
Jeff's Weedwackery
Patrick's Sawhorses
---
Listener Feedback 1:
Mike Guertin writes: Hi Patrick, In your discussion of attic foam I think one of you mentioned the risk of roof leaks going undetected leading to rot. Joe Lstiburek recommends that roofs with sprayfoam be checked every couple of years with an IR camera to see if water is getting under the roofing.
Seems like a good suggestion. It could spawn a new practice for home inspectors who could do biannual checks of houses.
From Dr. Joe Lstiburek: Mr. Guertin in his discussion on unvented roofs with spray foam repeats the typical concern about not seeing a roof leak with closed cell foam.  That is not the case in my experience and I am bold enough to say that I have more experience than anyone in this area… spray foam does not hide important leaks… and minor leaks are just that…minor.  Having said that I recommend an IR scan every couple of years… for all roofs.  Today IR cameras are cheap…you can attach one to your I-phone…and while you are at it… scanning a roof… do the walls and really look at the areas under doors and windows and where decks are attached… etc…
I hope to see all of you at Summer Camp….I will supply the beverages and Mr. Guertin and I can discuss the finer points of water leakage and water dilution in Scotch…
---
Listener Feedback 2:
Jay from Greenwich, CT writes: Hi all, Loving the show as always. Thanks for keeping it great, even during these crazy times.
Following your mention last week, I'm sharing my homemade sawhorses. I built a pair of them several years ago when my wife and I were still living in Manhattan. Work and storage space were, of course, a major factor. I actually built them by dragging all of the materials and tools out through our bedroom window onto the roof of the McDonalds next door. Only had one employee come up to ask me what I was doing. I think he was impressed with the ingenuity.
They are based on a design I found online (sorry can't locate it again). It's basically made from a couple of 1X6s and a 1X3, if I remember correctly. The 6-block walk back from the lumber store on 2nd Avenue using only a folding shopping cart was an adventure and true NY moment.
The legs and supports are half-lapped, so it's super strong. The only power tools that I used were a circular saw, router, and drill. You could probably even do it without the router, if you're willing to spend some time handworking the half-laps. I tweaked the design a bit to include cutouts so that materials could be clamped on top.
Here's why I really like this design:
• Super sturdy
• Not too heavy
• Folds up flat for easy transport and storage; hand holds make it easy to carry
• Sacrificial top can easily be replaced when it gets too cut up
• The shelf; OMG, I love the shelf! It's so convenient to have a place to put tools and materials down there when you're working (thought they do get covered in sawdust)
If I had to do it over, I'd make a couple of small tweaks:
• Raise the lower cross supports a bit so the handles are a little higher when carrying
• Make the cut out larger by simply bringing the top support down a few inches (no need to actually "cut out" anything)
I hope you like them. Can't wait to see what other listeners have shared.
Keep it up, guys. I never miss a show (and, Patrick, I'm digging the PRO TALK series).
Can't wait for that sticker!
---
Listener Feedback 3:
David from Detroit writes: For what it's worth I use the plastic/aluminum adjustable sawhorses quite a bit. They're light and easy to throw in the truck or move around the area I am working.
I also have two sets of the Trojan sawhorse legs that I really like a lot. You need to watch your fingers setting them up and taking them down but they are just so strong and stable that I find them hard to beat. Used them throughout the gut and renovation of our house over 12 years ago and then they sat outside with the same 2×6's on them for about 10 years. I would pull them over to my work area when needed and they never failed.
Thanks and love the show. Brings me comfort knowing that I'm not the only one who hasn't finished their house yet and that I'm not the only one with weird house problems.
---
Question 1: What basic tools should every remodeler own?
Adam R. from Chittenango writes, Hello FHB podcast crew, I have been a digital subscriber to Fine Homebuilding and Fine Woodworking for over a decade, but I only started listening to the podcast about a year and a half ago (which then talked me into joining GBA). So I am currently working my way through the podcast back episodes and it is absolutely hilarious to hear the old crew have on special guest "Patrick McCombe" who I think of as the "normal" host!
I find it interesting he put normal in quotes.
So this request is actually in regards to the way back past episode "Episode 55 — How to Spend $2,500 on Tools". As a DYI'r that has done one full gut remodel (one room at a time while living there) and is about to start a second, I was so excited when the episode started thinking I was going to learn hidden little gems of professionals, instead it ended up as nerdgasm over big ticket items. From listening to that show and reading the lists apparently you don't ever need to apply any drywall compound or paint during a home remodel. So my request is that you revisit the original topic of "how should a DIYr kit out for working on their own home" with the current crew, but focus on the small stuff that people that aren't professionals will have never heard of that can save time and or money.
Don't forget to cover tools for outdoor DIY, I bet Kiley has some pretty strong recommendations on that topic.
From my admittedly limited experience:
• Battery powered tools are for professionals not DIY, with the exception of a drill driver set, buy everything with a cord. Corded tools are cheaper and there are no batteries to go bad on you when it is 6 months between uses. When you are working on your own house you can just leave extension cords in place when you are done for the weekend and there isn't other crews competing for outlets.
• The single best purchase I made while remodeling was a Senco corded collated screw gun for drywall. As a DIYr you don't hang drywall enough to get good at fumbling a screw onto the bit and driving it home one handed, so the collated screws let you get enough screws in the field to hang the sheet and you can come back through and finish up the and hard spots with a normal drill (I can't do corners with a collated gun).
• You need to mix even "pre-mixed" joint compound before using and you can either spend a fortune on a large enough drill, or spend 15 bucks on a huge potato masher. I actually found that since for DIY the batch sizes are smaller the potato masher was quicker once you included setup and cleanup time.
• I first used cordless drills (Makita) on a summer job building refrigeration units back in 1996, since then I have used lots of different models and brands and my favorite is now the Bosch 12-volt kit. The batteries might not be enough for a professional but I was able to sink 5 inch lag bolts (with pre-drill) to hang a cabinet rail (ikea) with no problem using the Impact Driver. I can also say from experience that If you are very careful the drill can run a 6″ hole saw through roof sheathing and shingles when adding a kitchen vent. The tiny size means your hand and arm don't get fatigued and they can fit anywhere without any issues.
A tool I wish I had known about is a paint roller spinner recommended by the Vancouver Carpenter on youtube, if it is as good as he claims it would have saved me hours of nasty work.
Thank you for the many hours of edutainment!

Related links:
---
Question 2: How can I safely insulate an old brick-cladded wall from the inside?
Josh from Travelers Rest, SC writes, Hello, I'm about to begin gradual room-by-room renovations on our mid-50s ranch. Since our house has no roof overhangs and a brick veneer, I'm concerned about moisture buildup in the stud cavities. Here in upstate South Carolina we had about 25″ of rain in May.
I've attached a graphic of the wall assembly I'd like to use. Because I want to maximize drying I would like an airspace between insulation and the sheathing. I would have to fur out the studs (perhaps with 1/2″ rigid foam) and one or two window frames per room as well.
Since we're in a cooling climate, I would like a very vapor-open drywall coating. I've read that two coats of latex paint can take drywall from over 20 perms down to 2 or 3. I'm interested in trying Ace McArleton's hybrid lime plaster, but if there are any premixed products or vapor-open paint, I'd be interested in them too.
Many thanks for the work you do, I look forward to listening to the podcast every Friday!
Related links:
---
Question 3: How are DIYers supposed to educate themselves about permits, codes, etc.?
Austin from Columbus, Ohio writes, Hello Podcasters! It's Austin the crazy DIYer from Columbus Ohio. Progress is coming along very slowly on the house, but that's not why I'm writing.
On a recent episode, I heard someone say that the FHB podcast was "Car talk for houses." So in that spirit, I'm hoping you can resolve a conflict I'm having with my wife.
As you know, I'm a DIYer. I have no professional experience in the trades. Everything I've learned from videos, reading, or just hacking into things.
But on this current project I am using permits. And herein lies the conflict. The bottom line is that my contention is that the process is somewhat of a black hole, my wife thinks I must be missing something.
For example, I just had my underground plumbing inspection today, something I have never had done before (I've never had a plumbing inspection of any kind before). The inspector was great and liked my work, but I didn't have it water or vacuum tested. So he told me what to do, and I'm about to go get the stuff I need for that test, and he'll be back tomorrow. My wife says, "How did you not know you needed that? Don't they give you a list of everything you need to do to pass inspections when you get your permits? If they don't tell you, how are you supposed to know? I feel like you must be missing something."
I tried to explain that most people are not DIYers and that they learn about this stuff on the job. So, it's constantly being passed down through experience. My wife–"Yea but don't they have workshops or a packet or something for DIYers? How are you supposed to learn the codes, Don't they give you a list of the codes you need?"
So help me out, am I missing something, or is the system really not built for DIYers.
Having said all this: I know it's different city to city, for example just a few towns over they require licensed contractors for almost all work.
Thanks. Keep up the good work!

Related links:
---
END NOTE:
Radiant and Hydronics: This is a great story of how to find leaks with mid-century  copper in-floor radiant heat. Levittown home price: less than $7000– now worth median listing $500k.
---
If you have any questions you would like us to dig into for a future show, shoot an email our way:

[email protected]

.
If we use your question we'll send you a FHB Podcast sticker!
---
FHB Podcast T-shirts!
Represent your favorite podcast! Available in several styles and colors. Made from 100% cotton. Find the Podcast t-shirt and more cool products in the Fine Homebuilding Store.
---
This episode of the Fine Homebuilding podcast is brought to you by Feeney.
Today's episode of the Fine Homebuilding podcast is brought to you by Feeney®. Who knew extremely durable top rails could look this good? DesignRail® from Feeney makes it easy for you to bring your vision to life with its wood grain powder-coated top rail finish that provides an extra layer of durability, coupled with the beautiful look of wood. But don't take our word for it, discover how Feeney can elevate any project with a Cherry, Walnut or Weathered Gray wood grain top rail.
Feeney Makes it Easy. Visit FeeneyMakesItEasy.com to learn more and find your nearest Feeney dealer.
---
Fine Homebuilding podcast listeners can now get 20% off anything in the Taunton store, including the The Visual Handbook of Building and Remodeling, 4th Edition.
Use the discount code FHBPODCAST to take advantage of this special offer.
---
We hope you will take advantage of a great offer for our podcast listeners: A special 20% off the discounted rate to subscribe to the Fine Homebuilding print magazine. That link goes to finehomebuilding.com/podoffer.
The show is driven by our listeners, so please subscribe and rate us on iTunes or Google Play, and if you have any questions you would like us to dig into for a future show, shoot an email our way: [email protected]. Also, be sure to follow Justin Fink and Fine Homebuilding on Instagram, and "like" the magazine on Facebook. Note that you can watch the show above, or on YouTube at the Fine Homebuilding YouTube Channel.
The Fine Homebuilding Podcast embodies Fine Homebuilding magazine's commitment to the preservation of craftsmanship and the advancement of home performance in residential construction. The show is an informal but vigorous conversation about the techniques and principles that allow listeners to master their design and building challenges.
Other related links