Podcast 269: Home Appraisals, Protecting Workers, and New Home Must-Haves
Matt, Rob, and Patrick hear from listeners about frozen hellscapes and pitch pockets before taking listener questions on real estate appraisals, treating tradespeople with respect, and energy improvements in a new build.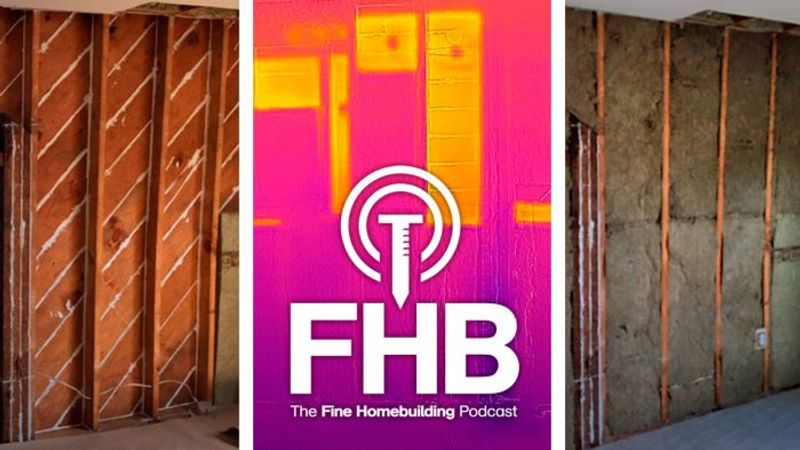 ---
Follow the Fine Homebuilding Podcast on your favorite app. Subscribe now and don't miss an episode:
Help us make better episodes and enter for a chance to win an FHB Podcast T-shirt:
www.finehomebuilding.com/podcastsurvey
Steve reminds the crew that the upper Midwest gets hot too. Andre describes his method for making watertight AC roof penetrations without sequencing problems. Barbara has an explanation of why Kiley's Covid key quite working. John asks why efficiency improvements don't show up in home appraisals. Another John asks how to ensure contractors are treating their employees right. Andy asks the crew what features they'd want in a high-performance home. Another Andy describes his method for air-sealing a house with board sheathing.
---
Editor Updates:
Rob's Porch remodel
Matt's Fire blocking
Jeff's Windows
Patrick's Secret weapon tools: Adam wrote in around the middle of June regarding "Episode 55 — How to Spend $2,500 on Tools". As a DYI'r that has done one full gut remodel (one room at a time while living there) and is about to start a second, I was so excited when the episode started thinking I was going to learn hidden little gems of professionals, instead it ended up as nerdgasm over big-ticket items.
---
Listener Feedback 1:
Steve, Minnetonka, MN writes: Hey FHB podcast team, I wanted to respond to the discussion that we Minnesotans use our ice skates to go to work bc it's the frozen tundra up here 🙂
To make a point, the only month on record that hasn't snowed in MN is July…. so, it can be volatile. HOWEVER, this past Saturday the 18th we hit 118 with the heat index in southern MN, and in the twin cities 107 with dew point hitting 82 degrees. Yes, it was DANNNNGGGGGG hot (please read this like the squeeeeak screws few weeks ago, funny stuff).
So, it gets hot here, and humid. I have a global job that has taken me to Kuwait 118 degrees, but like 14% humidity. Dubai heat index of 123 and humid, and Singapore – think that was about 115 and very humid (was there in the fall too). So, I have experienced hot weather and can confirm it can get wickedly hot here. It can get wickedly cold too. I believe that last year we had a couple days of wind chill (real feel) of almost -50. Walking to your car after a full day's work, yeah its COLD!!! and we question why we live here. We also like to openly complain about when it gets like 95 degrees plus and steamy.
For the Duluth comment, they do get some lake effect. We have left the Twin Cities, drove the 2.5hours north and it was 85 here and then 60 degrees there. So, in general down by the water it is brisk as I want to say Lake Superior is something like 36 surface temp in the summer so Duluth is on its own and can't really compare to the Twin Cities due to lake effect.
But I do believe that one of the reasons we live here is the spring and fall and the changes of the seasons. Know you likely also enjoy those changes and working outside when it's not on fire and your dripping with sweat or having to layer just to go shovel your driveway.
Hopefully this helps give a little perspective that it def gets HOT in the twin cities even though we do share a border with Canada… I would summarize it as such – winter time is long but there are maybe 10-20 days of really REALLY cold. Summer usually has 10-15 days of super-hot like 95-105 temps. and we attempt to focus on those days in the spring and fall that are lovely and not humid.
Related Links:
---
Listener Feedback 2:
Andre writes: Listening to Episode 261 this afternoon and I want to chime in on the AC boot discussion.
What I have found during installing kitchen refrigeration systems (usually there are 6 systems per kitchen) is that you are completely right on the sequencing comment – it's a challenge to get all the trades lined up.
What works is installing a piece of drain pipe through the roof. A 4″ will do for 2 systems. single systems will fit through a 2″ or 3″ pipe. Every job site has a mechanical contractor that you can 'borrow' 30″ of pipe from.
Friction fit 2 90s of the same pipe diameter to form the 'gooseneck'
The roofer knows what to do with a pipe penetration with standard flashing kits and life goes on and the job progresses with a 'roof jack' that works with your roofing system.
As sparky and the refrigeration guys get around to it they can run their services through. The loose elbows help out during rough-in and get glued after the services are in place.
Add a little (that's a LITTLE BIT – if you ever want to be able to take it apart) spray foam at both ends and it's a durable assembly.
What I have found is that pitch pockets or gum boxes are regional standards with a lot of variability. And I just don't like depending entirely on sticky stuff being the only seal. Everyone, everywhere understands flashing a pipe and the products are in the back of every roofers truck.
Stay safe and keep giving out those stickers. We moved during spring and I have to figure out a pride of place location for my sticker in the new shop.
---
Listener Feedback 3:
"Ask Barbara"
Barbara writes: Hello FHB Podcast Crew, I was just listening to the pod as I walked up my driveway to put a package in the mailbox and by the time I got back to the house I was yelling physics at my phone. It was good you put that at the beginning because I have to save the rest of the podcast for later.
Yes, of course I know why Kylie's doo-dad stopped working on capacitive touchscreens when the humidity went up.
I must be on the right part of the internet because I've never seen an ad for a Covid Grabber. I'm glad Rob said it's like a skeleton key because at least now I can make up an answer. I do know what Kylie was talking about as far as the antimicrobial properties of materials. I read that paper a few months ago, the one that concluded the hospital design trend to favor stainless steel over brass door handles and handrails was a huge mistake. (It was about coronaviruses specifically.) The scientists inoculated samples with the virus and then tested them at intervals and compared how much viable virus they found. They tested plastic, stainless steel, copper, and cardboard and compared the rate of decrease from the initial level. Copper was the winner. (Brass is mostly copper. I think it counts.) I was interested because I sell a board game made of fiberglass and copper. It's better than any other board game for germophobes. No viable virus after 4 hours. I haven't gotten around to making click bait ads for it though. Honestly cardboard didn't do that bad in the experiments, no viable virus in 24 hours. But my game is also dishwasher safe, so I win.
Anyway, the fact that copper is a good electrical conductor is both why it doesn't support microbes and why it works on touch screens. And why it stops working when it gets humid. It's oxidized. That thin layer of corrosion is electrically insulating. It's like what makes an old lamp flicker sometimes when you turn it on. But if you take the bulb out and sand the butt end of it with an emery board and scrape the part at the bottom of the socket then it's good as new again.
So take your Covid Grabber and polish it with some Barkeepers Friend and it will work again.
I recently read a thread on Twitter of people reminiscing about the old days working in bars and restaurants. One of them said they had to polish the brasswork once a week. Others said they did it every night. Some of them hated it, but a few of them said it was their favorite part of their job. I think having the rag get black and seeing the shine come back is probably really satisfying.
Victorian kitchens and bathrooms were all about the white glazing and copper and brass. Funny how they got it right on the first try. I was really skeptical back in the '90s when that rough and rustic tile look got so trendy. I bet there are a lot of houses out there now that have more soap scum than grout in their stonelike doorless shower grottos.
Looks like the trend has gone back to minimalism and cleanliness though. Just in the nick of time.
Related Links:
---
Question 1: What is the most undervalued home improvement project?

John writes, Hi, Thanks so much for all the great information and conversation ya'll provide weekly. It seems like every week some subject comes up that I have been pondering a solution to. I really loved the last question on episode #265 about changing careers, circuitous routes to employment, and different options for learning.
It resonated with me, as I am 32 but have switched my income streams multiple times in my life.
I am a partner in a 2-person remodeling and custom carpentry business based in Providence, RI. The company is called Civic Contracting. We do a blend of small to mid-sized residential/ light commercial interior/exterior stuff. Projects are a mix of kitchens, baths, remodels, decks, porches, and built-ins, with some repair work. I love the work I get to do.
I also work part time as a real estate appraiser (which I don't love as much, but hey), and I am writing to ask if you guys have any thoughts about how additions or upgrades to homes are valued. As you have mentioned before on the show, many improvements do not directly contribute to the sale price of a home. What do you folks think is the most undervalued improvement or upgrade in the current home market? I am thinking air sealing followed by insulation, as it really could make a difference in what a homeowner can afford long term. It is a strange situation as expenses can make a large difference in commercial valuations, but are not really accounted for at all in the typical residential purchasing process.
I am not sure if this is the best topic for discussion on the podcast, but I wanted to open a dialogue with you guys. I really love the show, and the magazine, and am grateful to be able to use your brains as a resource. I think there could be good potential for an article or two about the appraisal/ valuation process and its impact on the homebuilding and design world, but I don't have a proposal for a specific article lined up.
Also, should I go for a 10″ or 12″ sliding miter saw? Typical jobs are 2-4 days, so we set up and break down a lot, but we have to crosscut big trim with a circular saw right now and I don't like it!
Related links:
---
Question 2: Should provisions for worker safety be included in remodeling contracts?

John writes, Thank you for creating so much educational content. The podcast is great and I'm currently going through one of your books to help learn about building a "high performance" home.
Question:
Fine Homebuilding and Green Building Advisor have pages [High Performance Scopes of Work][Create a Scope of Work][10 Provisions for Construction Contracts] for establishing expectations and standards through contracts and scopes of work; these documents usually seem focused on the materials, tasks, and building performance.
I believe that people perform better when they are treated well. I also want to serve as a good host for people at my home. What can/should I request from a builder that would make it better for people working at the site? (Specific enhanced safety standards, for example?) Has anyone developed "best practice" contract standards for worker welfare (maybe as part of commercial construction contracts)?
Thank you! I look forward to every episode!
Related links:
---
Question 3: How can I incorporate building science into my home-building plans?
Andy Grace writes, Hi Podcast, I'm building a new house this fall and winter. What would be the few building science items you would have to use? I'm definitely doing spray on WRB because I think it's super cool. It will be gas forced air. I'm probably going to do an ERV. I have to pass a blower door test so I'm confused about the insulation.
I like to do dense pack cellulose and some kind of sheathing foam? They have committed to solar as well. What am I missing/any advice?
The budget is $200/sq ft. I would say reasonably efficient. They have natural gas and it's so cheap, I have trouble rationalizing too much extra cost. We are doing an ERV. We are doing solar. They have lots of room so we are doing ground mount. The bonfig walls are very interesting. I love the spray on WRB because they have a basement waterproofing system that uses the same equipment. Also, A local contractor friend of mine is finally retiring and he will sell me the spray rig cheap. He only used it on his own house. The Aerobarrier is very cool. I wonder if anyone does it around here? There is only one guy around here who does blower door tests. As you may have guessed, that has piqued my interest in buying a blower door kit. He gets $500/pop! It does sound like an interesting narrative. Somebody as cheap as me trying to come up with a cohesive plan for a better house. I'd read that. I kinda wish it already happened so I could just read it now lol.
Thanx for all the help.
Talking point: Mike from Bend, OR writes: Hey guys, I'm a high performance designer/builder in high desert, climate 5, Bend, Oregon.
I've enjoyed listing to your podcast for years and want to thank you for your contribution to better building.
I was listening to your comments on a listener's letter about flash and batt.
I'll try to not go on a too much of a rant….
First of all, the flash of spray foam is meant to be an air seal. BUT, most building science folks know that spray foam is NOT a reliable air seal. So, if it's not a reliable air seaL, WHY would you use it to air seal??
Second of all, it's not cheap. That's why it's only a flash, right? Why would you use a product that's not reliable AND expensive?
A way better option is … using AeroBarrier to air seal and then insulate with insulation of choice (I prefer dense packed cellulose for vapor control and carbon negative properties, to mention two benefits).
AeroBarrier and dense packed cellulose will give you a better HERS rating AND cost less than flash and batt! Again, that's not even getting into to the global warming potential or toxicity risk.
Sorry, if that was too long but this is me holding back.
Keep up the good work!
Related links:
---
Question 4: Is caulking board sheathing from the inside a smart way to air-seal an old house?
Andy in Norfolk, VA writes, Dear FHB Podcast, I love the show. I look forward to every Friday morning for the podcast, and then jumping on the website or YouTube to see the pics that go along with the podcast.
Rather than a question, I have a comment about question number two from podcast 261 by Jon in Everett, Washington. It was the question about air-sealing and insulting a wall cavity. Boy do I have experience about air sealing a home.
I am renovating a 1924 home that has board sheathing, tar paper and cedar shake, and a leakage rate of 18.9 ACH. I chose the caulking and taping method. I have learned it may be a low-cost method, but the labor is off the charts. Of course, my personal labor is "free." I have committed to the project, so I'm essentially going room by room in a battle of wills. I ruled out the flash and batt method mainly because I plan on putting on exterior insulation when the cedar shake is replaced, in about 10 years. I looked at using the Knauf Ecoseal system, but when I looked into renting/buying a paint sprayer plus the combination of having to work under a deadline, and the hassle of getting the machine to the areas I needed, I ruled this out. I am currently on my 120th tube of caulk. Once I put the drywall back up, I plan on getting a blower door test to see if I have lowered my 18.9 ACH.
These are my steps.
1. Hand clean out stud bay
2. Vacuum out stud bay
3. Vacuum out every crack between every sheathing board
4. Put in backer rod where needed
5. Caulk first time
6. Visually inspect
7. Caulk second time
8. Use my iPhone Flir camera to look for missed spots
9. Caulk a third time
10. Put in airtight electrical outlets
11. Put in mineral wool
I don't know how many hours I have spent on this, but in audio book time it's all the Harry Potter Books plus about half of the Game of Throne books.
Thanks for all you do.

Related links:
---
End Note:
---
If you have any questions you would like us to dig into for a future show, shoot an email our way:

[email protected]

.
If we use your question we'll send you a FHB Podcast sticker!
---
FHB Podcast T-shirts!
Represent your favorite podcast! Available in several styles and colors. Made from 100% cotton. Find the Podcast t-shirt and more cool products in the Fine Homebuilding Store.
---
This episode of the Fine Homebuilding podcast is brought to you by Feeney.
Today's episode of the Fine Homebuilding podcast is brought to you by Feeney®. Who knew extremely durable top rails could look this good? DesignRail® from Feeney makes it easy for you to bring your vision to life with its wood grain powder-coated top rail finish that provides an extra layer of durability, coupled with the beautiful look of wood. But don't take our word for it, discover how Feeney can elevate any project with a Cherry, Walnut or Weathered Gray wood grain top rail.
Feeney Makes it Easy. Visit FeeneyMakesItEasy.com to learn more and find your nearest Feeney dealer.
---
Fine Homebuilding podcast listeners can now get 20% off anything in the Taunton store, including the The Visual Handbook of Building and Remodeling, 4th Edition.
Use the discount code FHBPODCAST to take advantage of this special offer.
---
We hope you will take advantage of a great offer for our podcast listeners: A special 20% off the discounted rate to subscribe to the Fine Homebuilding print magazine. That link goes to finehomebuilding.com/podoffer.
The show is driven by our listeners, so please subscribe and rate us on iTunes or Google Play, and if you have any questions you would like us to dig into for a future show, shoot an email our way: [email protected]. Also, be sure to follow Justin Fink and Fine Homebuilding on Instagram, and "like" the magazine on Facebook. Note that you can watch the show above, or on YouTube at the Fine Homebuilding YouTube Channel.
The Fine Homebuilding Podcast embodies Fine Homebuilding magazine's commitment to the preservation of craftsmanship and the advancement of home performance in residential construction. The show is an informal but vigorous conversation about the techniques and principles that allow listeners to master their design and building challenges.
Other related links