Podcast 297: Short Doors, Basement Insulation, and Wood Foundations
Matt, Kiley, and Patrick hear from listeners about AeroBarrier and blower-door fails, before taking listener questions about basement doors, basement insulation, and finishing windows.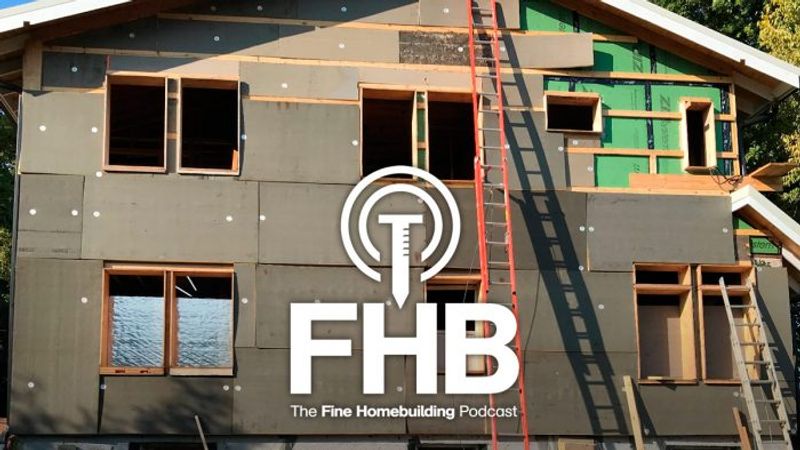 ---
Follow the Fine Homebuilding Podcast on your favorite app. Subscribe now and don't miss an episode:
Help us make better episodes and enter for a chance to win an FHB Podcast T-shirt:
www.finehomebuilding.com/podcastsurvey
Austin writes in with an update on his owner/builder progress. Andy brags about his blower-door numbers. Chris asks what to do about a non-standard-size door. Jeff asks how to insulate around his basement stairs, and George asks for advice on finishing his new windows.
---
Editor Updates:
Jeff's blower-door test
Kiley's blower-door test
Matt's air-sealing
Patrick's thoughts on Kiley's basement door
---
Listener Feedback 1:
Austin from Columbus, Ohio writes: Hello podcasters! I'm just writing to give you an update on my Columbus, OH, 1930 craftsman (which I'm not sure is a craftsman anymore). So many things to talk about, but I'll try to keep it to a couple, related points.
When I last wrote in there were some questions about how I was going to seal up the outside of the house where I transitioned from brick to stick framing. I was originally planing to scribe some rigid foam to fit the gaps then spray foam the exterior, but for a lot of reasons & after much back & forth, I decided the best solution was to use 3 layers of rigid foam & to make the top layer foil-faced polyiso that will serve as my water control layer & primary Air barrier.
This turned out to save me A LOT of money (Patrick will like that). I was able to get most of the insulation from a used insulation dealer out of Indiana (discountinsulstion.net). The total cost, delivered, was under $3000. It has been a lot of work, however. I tried to pay someone to do it, but he & his crew bailed at the last minute, so I've been doing it with the help of some local teenagers on nights & weekends for the last month & a half. Needless to say, it's going slower than I'd like. Meanwhile my fancy Marvin windows & Provia doors are setting inside the house waiting to be installed.
Now for my problem: once the windows & mechanicals are in I'd like to use AeroBarrier to really tighten the place up, as I'm sure the house is super leaky as is. But here's the funny thing (and maybe you guys can help me out with it) even though they are based out of Dayton & have an office in Westerville, a Columbus suburb, there is not a single contractor who does AeroBarrier in Ohio. I emailed them & asked. I even offered for them to come & do a demo at my house for potential franchisees. They said that I was too far from them to come do such a thing. Then I got to thinking, maybe they'd do it for me if Fine Homebuilding was involved. So, do you want to shoot an AeroBarrier demo at my house for the magazine? It's the perfect application: gutted, old, leaky, difficult to air seal with traditional methods. (That's a real request/offer by the way). In any case, I'm honestly really surprised at how unavailable the product seems to be. No one in Ohio? According to their website there isn't a dealer within 3 hours of Columbus. I actually find that many high-performance products are not available in our area. Zip liquid flash for example—I had to order it online. I'm curious what others around the country experience in terms of product and service availability.
Anyway, thanks for following my progress. Having my home featured on the podcast is a real point of pride for me.
The pictures show the house in various stages of insulation installation (try saying that 3 times fast).
Best & congrats on all of your promotions!
---
Listener Feedback 2:
Andy in Norfolk, VA writes:  This is an example of a fail. Two box fan taped into a window do not a blower door make. Too weak!
PS my actual 2nd blower door test, with a real blower door was completed. I have gone from 18.9 ACH to about 15 ACH. So I'm almost passive house!
However, I did sprain my pointer finger laying so much caulk.
Related Links:
---
Question 1: What's the best way to cut 10 inches off of an entry door?

Chris in Chicago writes, Good day FHB peoples. A bit off your usual topics of air-sealing, blower doors, and rusty cars.
I have installed my fair share of pre-hung doors but have been tasked with replacing a basement entry door on the back of a 1920's Chicago bungalow. Unfortunately the existing door measures on 72 inches. I have cut a few inches off the bottom of many doors but 8 -10 inches is a new one. My thought is I will have to disassemble the top and bottom and cut equal dimensions from both sides and reassemble the top and threshold without getting into the hing plane.
Any suggestions would be loved. Keep the podcasts coming.
Related links:
---
Question 2: How can I insulate my basement wall where the stairs are right up against it?

Jeff from Campton, NH writes, Dear Fine Homebuilding Folks, Thank you for all the advice over the years! The magazine and online resources are always helpful. The podcast is crucial though. You all do a great job taking the building science and then consider what is practical in unique situations. The part of building I enjoy most is the problem-solving and balancing all the variables. It is immensely helpful to hear you guys hash out different scenarios.
Months ago, you gave me some advice on fixing the slab in my basement. You steered me away from trying to put in a floating floor and suggested a cement slab as a tried and true method. I took your advice and had a slab poured, and I am very happy to have a solid floor to start really finishing the basement. The contractor did not like putting a vapor barrier under the slab, because it took forever to dry (they were in my basement until after 10pm). I can already tell the difference in the moisture levels and I'm glad I stuck to my guns.
Now I am insulating my basement by studding out the walls leaving a 2″ space. Then I will have 2″ of closed cell foam sprayed behind the studs. From what I have read, this is the safest option for a basement that is pretty dry, but not perfect. My quandary is with the stairwell. Once again, my question is "what is good enough?" The stairs are 35″ wide where the concrete walls pinch in. I would like to insulate here, too, but the stairs still need to be usable. If I continue the spray foam and stud wall combo here, it will narrow the stairs (2″ foam, 2×3 studs and 1/2″ drywall). On the other end of the spectrum, I could leave this corner of the basement uninsulated. I could do 1″ or 2″ of foam board with strapping/drywall as an in-between option. I have even thought of using 1″ or 2″ foam board and putting plywood right overtop as the finished surface. Living in New Hampshire, I know I need to be concerned about condensing layers. Is 1″ of foam too little?
What is an acceptable width for basement stairs that are already less than code? I should add, I have a 32″ walkout door in the basement for moving things in and out, so the stairs do not have to accommodate a water heater/couch etc.
Thank you for your input!
ps: I had the rim joists spray foamed when I was doing another project, and you can see that in the photos. The spray foamer has not come back to do the basement walls yet.
Related Links:
---
Question 3: Whats' a simple and efficient method for staining a house full of wood-frame windows?

George from SW Washington writes, Hi FHB podcasters, Love the show. It's become a Saturday morning routine. My question probably belongs to the crew at Fine Woodworking; but I'm just a FH subscriber, and I thought you could ask your cubical mates for some input. I'm installing aluminum-clad windows in a new construction project. The wood is unfinished Douglas fir. I want a stain finish, no paint. What should I do? Some of the attributes I would like to address:
Maintain the relative light color of the Douglas fir
At the same time, minimize the effect of UV on the south facing windows
With 22 windows in place, keep it simple
It would be nice to have a water-soluble product, but not a deal breaker
I'll light sand to take off the sharp edges; do I need to do more than that?
Thanks for your consideration
Related Links:
---
Question 4: Do permanent wood foundations make sense?
Pulper11 writes, The recent BS and Beer webcast talked about Permanent Wood Foundations. Kiley you helped host the event. Can you please tell us about it? Mike Guertin and Jake Bruton were special guests.
Related Links:
---
Visit the Taunton Store  •  Magazine Index  •  Online Archive   •  Our First Issues   •  All Access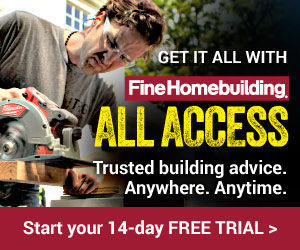 ---

---
Help us make better episodes and enter for a chance to win an FHB Podcast T-shirt: www.finehomebuilding.com/podcastsurvey
---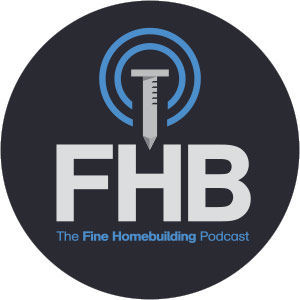 If you have any questions you would like us to dig into for a future show, shoot an email our way:

[email protected]

.
If we use your question we'll send you a FHB Podcast sticker!
---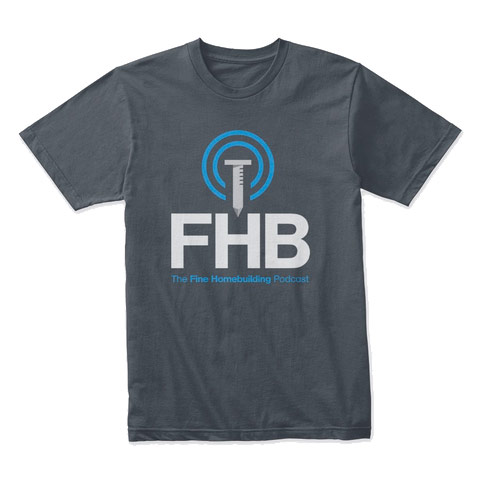 FHB Podcast T-shirts!
Represent your favorite podcast! Available in several styles and colors. Made from 100% cotton. Find the Podcast t-shirt and more cool products in the Fine Homebuilding Store.

---
This episode of the Fine Homebuilding podcast is brought to you by BuildBook.
Happy Clients. More Profits. Less Stress. That's the trifecta of the construction business. We all want that, right? Well, after working and talking with 100's of home builders and remodelers over the past 2 years, BuildBook has discovered the one common ingredient that determines the success of your construction business…the client experience.
Yes, if you drop the ball anywhere in the client experience from the first impression to the final payment, things can get super messy super quickly.
BuildBook has spent the past several months developing the first-of-its-kind platform that focuses on helping you deliver throughout the client journey the one thing standing between you and achieving the trifecta of construction.
It starts with marketing tools to attract the right leads. Add in sales tools so you can win the best projects. And finish with project tools that knock your clients socks off!
If you're looking for an unfair advantage in your business, this is it. Head on over to BuildBook.co now to try it free for yourself.
Visit BuildBook.co for more.
---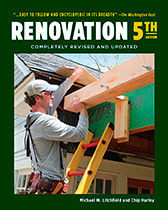 Fine Homebuilding podcast listeners can get 20% off anything in the Taunton store, including the Renovation, 5th Edition.
Use the discount code FHBPODCAST to take advantage of this special offer.
---
We hope you will take advantage of a great offer for our podcast listeners: A special 20% off the discounted rate to subscribe to the Fine Homebuilding print magazine. That link goes to finehomebuilding.com/podoffer.
The show is driven by our listeners, so please subscribe and rate us on iTunes or Google Play, and if you have any questions you would like us to dig into for a future show, shoot an email our way: [email protected]. Also, be sure to follow Fine Homebuilding on Instagram, and "like" us on Facebook. Note that you can watch the show above, or on YouTube at the Fine Homebuilding YouTube Channel.
The Fine Homebuilding Podcast embodies Fine Homebuilding magazine's commitment to the preservation of craftsmanship and the advancement of home performance in residential construction. The show is an informal but vigorous conversation about the techniques and principles that allow listeners to master their design and building challenges.
Other related links