DIY Dump Truck
Use plywood resting on tennis balls to slide trash and other loads out of a truck bed.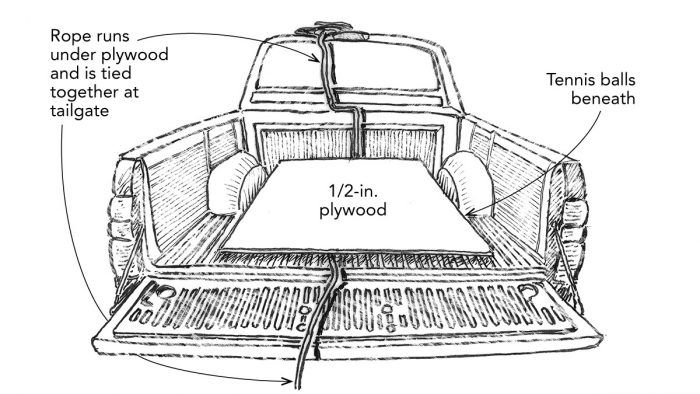 Here is how I get bulky loads out of my pickup with minimum effort. First, I put about eight golf or tennis balls around the bottom of my pickup truck bed. I lay a rope down the middle, and toss it over the cab of the truck—this is the pull line. Then I put a 1/2-in.-thick sheet of plywood between the wheel wells, on top of the balls. I load the debris onto the plywood, tarp it, then pull the rope that was on the cab over the tarp and tie it down near the tailgate.
When I get to the dump, I drop the tailgate, untie the rope, and pull on both ends to slide the load out of the truck. When I'm done, I pick up the plywood, tarp, and tennis balls and go home without an aching back.
—Steve Larson, Santa Cruz, Calif.
Edited and Illustrated by Charles Miller
Published in Fine Homebuilding issue #301 titled "Build a Dump Truck"