Modern Remodel in a Traditional Neighborhood
This bungalow renovation fulfilled the requirements of its historic district while incorporating a decidedly modern perspective.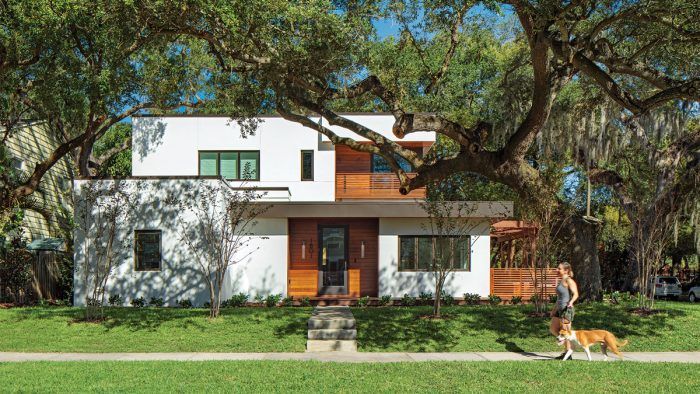 In love with their site and neighborhood, but not with their house, Studio MM's clients approached them about transforming their traditional Tampa, Fla., bungalow into a home that would meet the needs of their immediate and extended family. They were particularly intent on renovating it into a modern home—the first of its kind in the historic Hyde Park district of Tampa.
While the original bungalow was not listed as a historic structure, there were a number of strict Architectural Review Committee (ARC) design guidelines they needed to follow. The primary concern was that the new home fit in with the fabric of the neighborhood, requiring careful attention to massing, setbacks, texture, horizontal articulation, and overall scale of the home. Studio MM made compromises with the ARC on materials, ultimately deciding on a muted gray stucco with warm wood accents.
Another joy and challenge of the site was the presence of a number of Grand Oak trees, well known in this district. The architect worked to design the house on the existing footprint of the bungalow to minimize disturbances and to preserve the majestic trees—no small feat in transforming a bungalow into a contemporary home. Ultimately, Hyde Park House brings a bold, fresh perspective to the neighborhood, while paying its respects to neighbors and the intentions of the district.
Designer Studio MM, maricamckeel.com  
Builder Robert H. Delafield, Inc., delafieldinc.com   
Location Tampa, Fla.
Photographer Brad Feinknopf/OTTO
From Fine Homebuilding #301
---
RELATED LINKS