How-To
High-Tech Heating and Cooling Systems
A new generation of variable-capacity heat pumps and air conditioners promise quieter operation, increased efficiency, and greater comfort.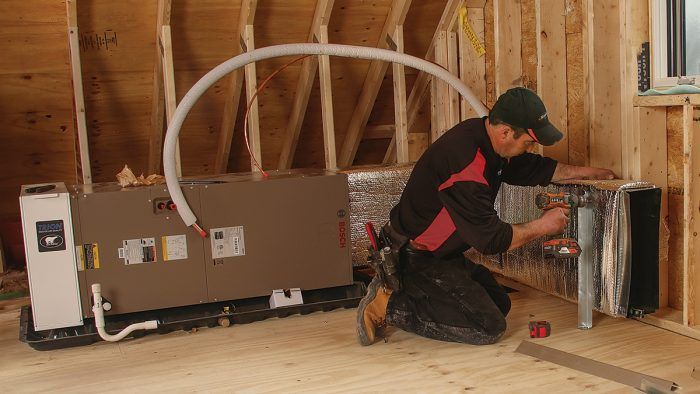 Synopsis: Variable-capacity HVAC equipment has an output that is matched to the heating and cooling loads, meaning the equipment's compressor runs at a slower speed for a longer period of time, offering quieter operation, better humidity control, and greater efficiency than single-speed models. This article includes a drawing of the inner workings of a variable-capacity system, and describes the other advantages of these high-tech heat pumps and air conditioners, how to understand their different specs, and what appliances are currently on the market.
---
Imagine your car's engine only had one speed. To go somewhere, you'd start the engine, and then it would run at its maximum rpm until you wanted to slow down or stop. Then you'd turn off the engine to coast or brake. I think you'd agree this kind of car would be difficult to control and would make for a pretty rough ride. What's confusing to me is that most central heating and cooling systems in this country work almost exactly that way. When your thermostat calls for heating or cooling, your HVAC equipment goes full tilt until the set point is reached and then it shuts off, waiting for the next call from the thermostat.
On top of this, heating and cooling equipment is sized so it can keep the house warm or cool in the coldest or hottest periods, which is often only a few days or weeks a year. The result is a noisy HVAC system that in most conditions only runs for a few minutes at a time, making it difficult to maintain an even temperature and control humidity. Adding insult to injury, American HVAC systems are routinely two or three times bigger than load calculations call for, making the inherent comfort problems of on/off operation even worse.
Alternatives to antiquated and oversized HVAC systems
There is a solution. It's described as variable capacity, which means the HVAC appliance's output is matched to the heating or cooling load automatically, contrasting with the on/off operation of single-stage and to a lesser extent two-stage equipment (which has two operating speeds). With variable-capacity heat pumps or air conditioners, the equipment's compressor runs at a slower speed for a longer time, which provides quieter operation, better humidity control, and greater efficiency.
Variable-capacity modulating boilers are well-known by plumbers and HVAC techs in heating climates, and ducted and ductless minisplits, which are also variable-capacity systems, have become ubiquitous in both heating and cooling climates. But variable-capacity central equipment, which has been around for a decade now, is lesser known.
If you want one of these systems, you'll have to do your homework, because HVAC contractors and manufactures sell a lot more entry- and mid-level heating and cooling equipment, which seems to be their focus. According to a 2021 J.D. Power report on HVAC equipment, variable-capacity central equipment represents only about 5% of central HVAC equipment sales, so if you want better HVAC gear for your or your client's house, this article is a good place to start.
The advantages of variable capacity HVAC units
As I mentioned earlier, common HVAC equipment is sized so it can handle the loads on the hottest or coldest days of the year. (When you add in safety factor and conservative load calculations, equipment is often sized at 20% to 30% over the peak load.) The rest of the season, it runs for a few minutes and then shuts off. Variable-capacity equipment has a compressor and control circuitry that can slow down the refrigeration cycle, so it runs for a longer time. (For this reason, these systems are also described as variable-speed.)
Why are these modern HVAC systems more efficient?
The big difference among variable-capacity HVAC equipment is the "turn-down ratio," which is how much the system can throttle back. The most sophisticated variable-capacity central equipment can turn down to about 20% of its maximum capacity to better match the heating or cooling loads. Less-desirable equipment may turn down to as little as 70%. For comparison, some minisplits operate at less than 9% of their maximum capacity in low-load conditions. Turn-down means variable-capacity systems can offer the following advantages:
Better humidity control—If you've ever been in a building that feels cold and clammy on summer days, you're experiencing overcooling without effective humidity control. This is a result of the conventional equipment running a short time and then shutting off, a condition known as short-cycling. Variable-capacity systems allow the equipment to run longer for better dehumidification.
Drawings: Christopher Mills
Appears in Fine Homebuilding #302 titled "High-Tech Heating and Cooling"
To read the entire article, please click the View PDF button below.

---
View PDF